Solaire Anguilla...
A Stunning Luxury Villa Hotel on the Caribbean Sea
By: Kristin Bourne
Set on Anguilla's south coast, overlooking the Caribbean Sea, lies a modern and green development, inspired by the sea... Solaire.
Turn here off of Jeremiah Gumbs Highway
(in the Lockrum area)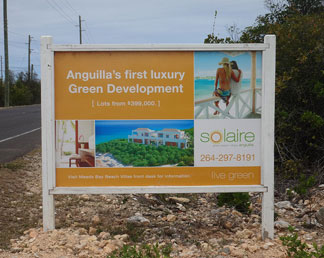 Solaire is owned and managed by the very same folks as Meads Bay Beach Villas.
Meads Bay Beach Villas carries an excellent reputation. Management and staff go above and beyond and the villas are beautifully maintained and set on one of Anguilla's top beaches, Meads Bay.
Opened in mid-December 2015, Solaire features private, 2 bedroom villas located on the southern side of Anguilla, which overlooks the Caribbean Sea and the mountains of St. Martin.
Solaire from its parking area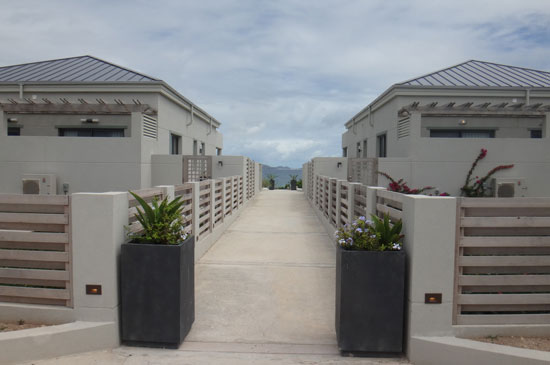 Imagine top-notch hotel service (housekeeping, security and concierge), as you indulge in the privacy, spaciousness and beauty of a luxury villa complete with its own Caribbean Sea view pool - that's Solaire.
The view from inside a Solaire villa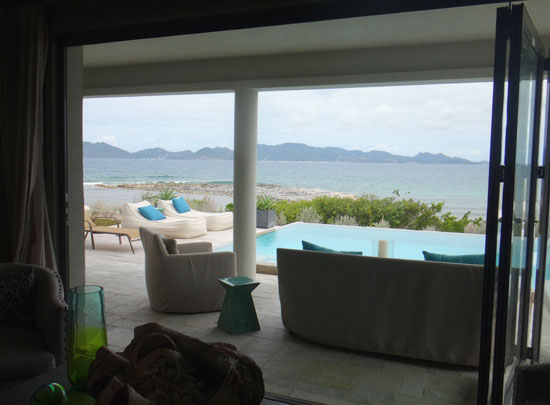 Outdoor dining and relaxing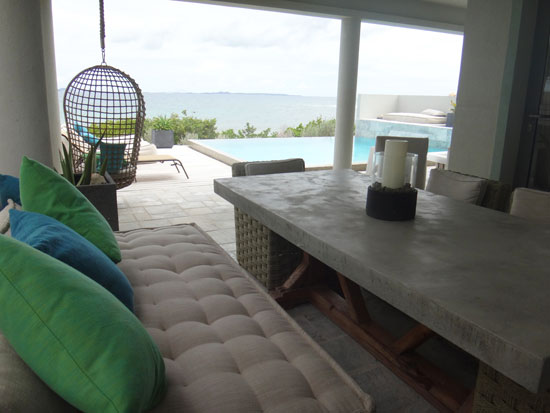 Sea front pool at Solaire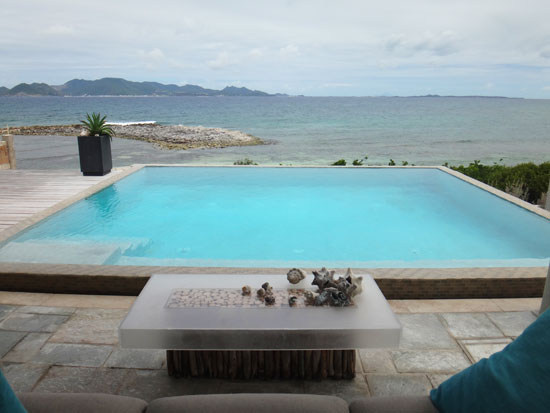 Solaire Style
Solaire sea-inspired decor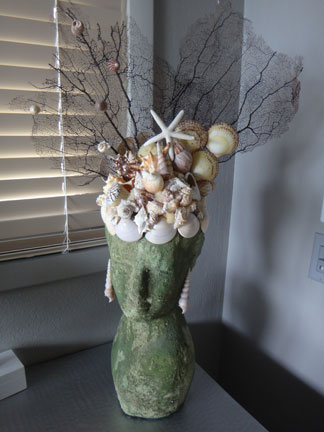 The sky was a little grey the afternoon that I met the manager, Chris, to have a look at two of the four sea front villas.
It didn't keep the view from evoking a gasp from me once I stepped inside the first villa.
Quickly taking my attention from the incredible view beyond the pale turquoise pool, was the furniture and decor of the villa itself.
Each 2 bedroom villa has slightly different layouts - but their superior interiors and exteriors are equally lovely.
I have a tendency to favor the cozy, unostentatious and non-ultra modern.
Solaire's villas are a perfect blend of modern and classy, tasteful coziness.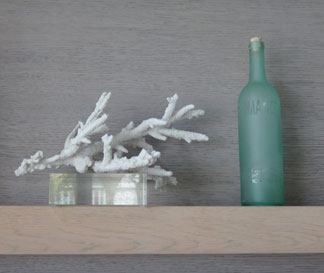 The colors and the sea-inspired interiors are idyllic, and continue on to the covered and uncovered pool verandahs creating a calm and comfortable atmosphere amidst luxury.
I could have hung out there all day.
Appliances and fixtures are well-selected, state of the art and many, a work of art…
One of the bathroom sinks even looked like blown glass.
Solaire bathtub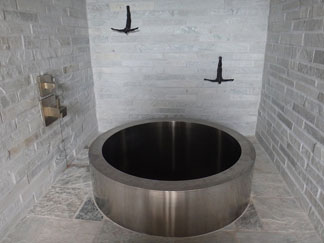 The bathrooms have indoor and outdoor showering options.
One bathroom, in addition to a shower, had a bathtub like none I had seen before.
I would call it a plunge tub.
It is surrounded by tiles adorned with downward facing diver decoration hooks.
More spa-like than bathroom like. Another strong point of luxury.
Further Inside Solaire's Villas
Each Solaire villa has 2 bedrooms...
Solaire bedrooms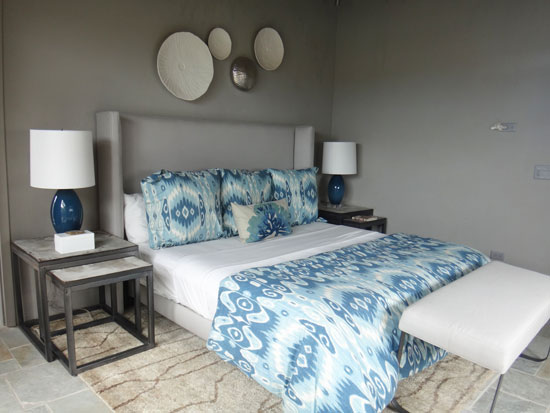 2 bathrooms...
Solaire bathroom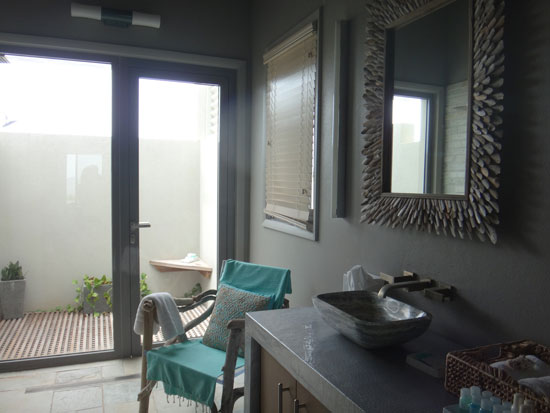 A full kitchen...
Solaire kitchen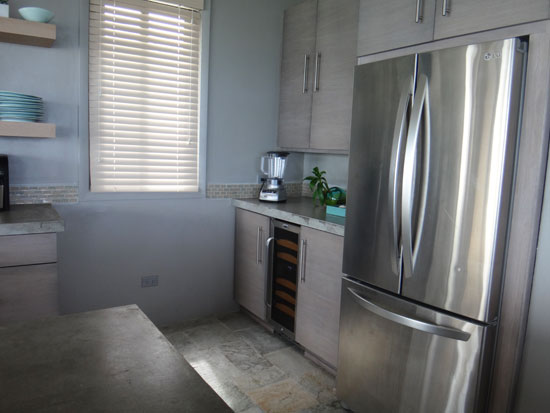 Living room...
A Solaire living room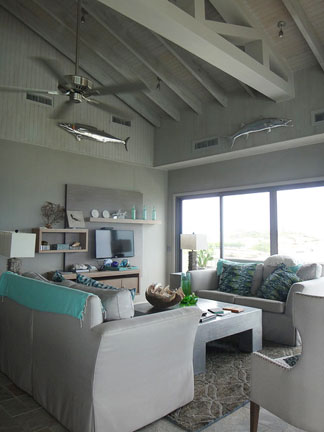 ... indoor and outdoor dining areas, a pool, outdoor seating on both sides (front and back) of the villa and finally, something you don't see much of in Anguilla - central air.
Having lived in Anguilla for almost 6 years now, it was strange to see the vents which I only noticed after Chris pointed them out. Many of the accommodations in Anguilla that have air conditioning are via wall units, making central air a true and much more quiet luxury.
More amenities...
When you arrive at Solaire, a rum punch awaits you.
There are modern amenities for entertainment and networking, including free WiFi.
The windows and doors open to sea breeze (and can be closed to keep the a/c inside).
Original artwork adorns the walls.
Parking is conveniently located immediately behind the villas (on the non-seaside).
The Grounds
For now, a new heavily graveled road leads you to and from Solaire's four beachfront villas.
The grounds immediately surrounding the Solaire villas are manicured with new plantings of shrubs, flowers and potted plants. It's not abundant yet, as it's new and is structured to allow room for growth. This doesn't detract but only enhances the neutral, crisp and clean look of the luxury villas.
View of the villa from pool deck

There are also plantings strategically placed in between villas to assist with privacy.
The remainder of the grounds away from the beach is clear and ready for new Solaire villas to be built. When that time comes, no construction will take place while guests are occupying villas.
More great news about Solaire…

Conveniently cool off in the pool OR the sea...


This part of Anguilla has a constant breeze making it an unfriendly area for mosquitoes. In fact, Chris said he'd never seen one there.
The villas are close enough to the sea to hear a distant roar of the water and not an overwhelmingly loud sound. They're also a quick walk to a sweet, sandy area that has a perfect spot for a cool-off dip.
Solaire has many eco-friendly qualities. One in particular is that it has a "grey water system". This system captures all water, filters it and uses it for gardening and power washing.

Waterfall


There's also a Meads Bay perk included if guests should feel inclined to venture out. The Meads Beach Bay Villas loungers and umbrellas, are available for Solaire guests to use.
Solaire is open year-round. When most places close down in the lowest of the low season months of September and October, Solaire offers 3 free nights off of a week stay. In regular low season, they offer 2 nights off of a week stay. And since they're new, they're even discounting their high season rate by giving a free night with a week's stay!
Now is a great time to try Solaire! If you haven't experienced the genuine and professional service of Chris and his staff, there's another good reason to visit... in addition to the calming luxury that is Solaire.