Tao Garden...
A Neighborhood Favorite in Cupecoy
By: Louise Fayet
Tucked away in Cupecoy lies the small neighborhood, Jordan Village. This little town is home to the American University of the Caribbean School of Medicine. Over the years, a wide variety of businesses have sprung up around the school and the students who call it home. Carrefour supermarket, condos, places to stay, and a plethora of eateries are all found within this tight-knit community.
One of the top restaurants in Jordan Village?...
Welcome to Tao Garden

Opened in 2020, Tao Garden has quickly become a neighborhood favorite. The restaurant opens onto a large outdoor terrace that backs into a cozy interior dining room.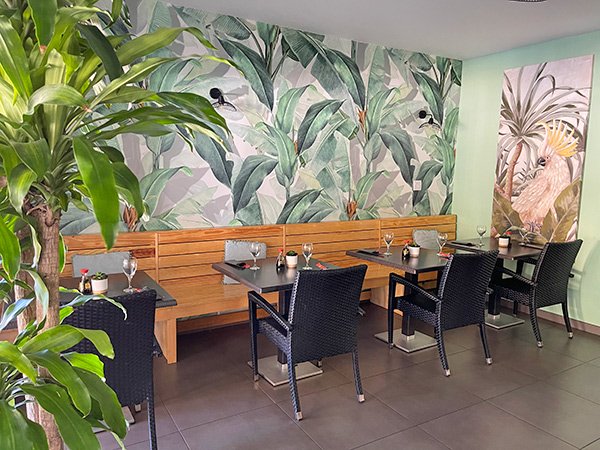 We love sitting outside on the terrace, especially come evening time. The roof is covered in lights that twinkle, creating a lovely ambience.
Here's a look at Tao Garden's top eats...
Authentic Thai Cuisine
The menu starts with appetizers. Choices include beef or vegetarian samosas, steamed dumplings, shrimp or vegetarian spring rolls with nem sauce and...
Japanese Shrimp Tempura

Four panko-breaded shrimp are served with a sweet and sour dip. Crispy and tender, these tempura strips make for a tasty way to start the meal.
Also from the appetizers...
Fried Spring Rolls

Choices include chicken and vegetarian. Extra crispy and filled with savory goodness, be sure to dip them in the homemade nem sauce with crushed peanuts. A match made in flavor heaven!
Another "must eat" from the starter menu...
Chicken Gyozas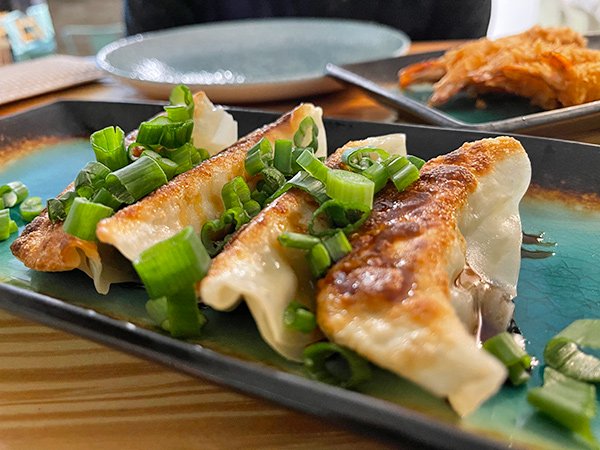 Dumplings are filled with chicken, wrapped in a thin dough and pan-fried until crispy. These bundles of joy are garnished with chives and come with a soy dipping sauce.
Next up on the menu are salads, soups, curries, noodles and main dishes.
Options include Pad Nor Mai with bamboo shoot, black mushrooms, shiitake mushroom, veggies & protein of your choice; Moo Wan, a stewed pork in a caramel sauce, with star anise; or go with a classic Thai dish...
Pad King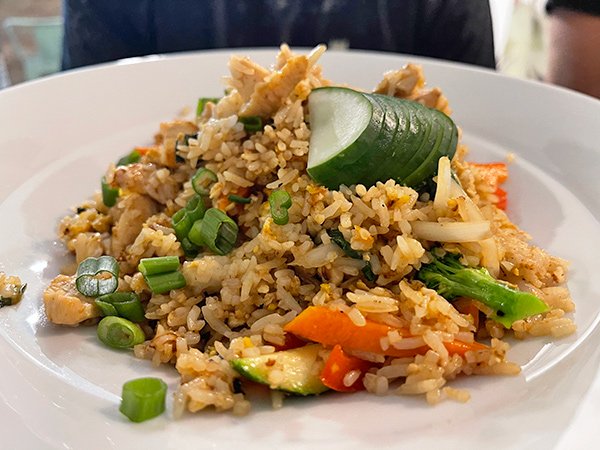 Vegetables are stir-fried with ginger, shiitake mushrooms and your protein of choice.
Another option from the main courses...
Sam Rod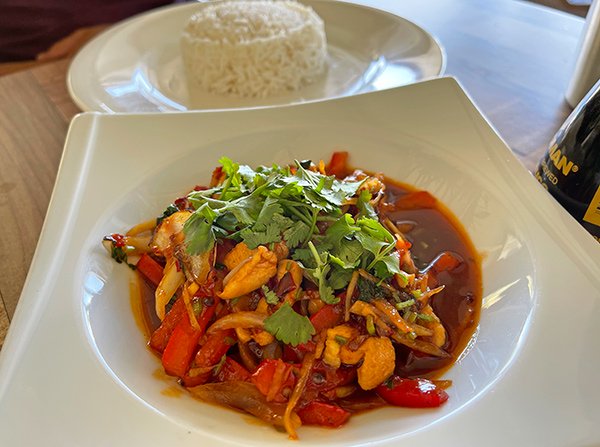 The Sam Rod brings sweet, sour and spicy flavors together in one aromatic dish. Vegetables are mixed with a protein of your liking and served with a side dish of Jasmine rice, Thai fried rice, Cantonese-style fried rice or stir fried wheat noodles with veggies.
Tao Garden's menu also features specials that change daily. Here is a sampling of their specialty dishes...
Traditional Pad Ka Prao with Patagonia Calamari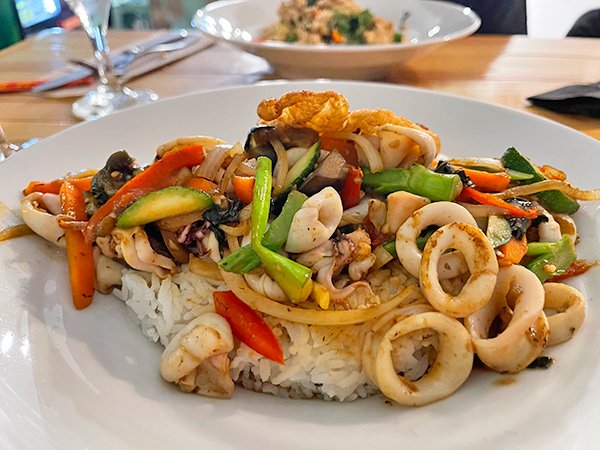 A twist on the traditional Pad Ka Prao, Tao Garden stir fries theirs with vegetables, fresh basil, chilies and Patagonia calamari rings. The dish is topped with a fried egg and laid on a bed of Jasmine rice.
Next up? My favorite...
Sweet & Sour Crispy Shrimp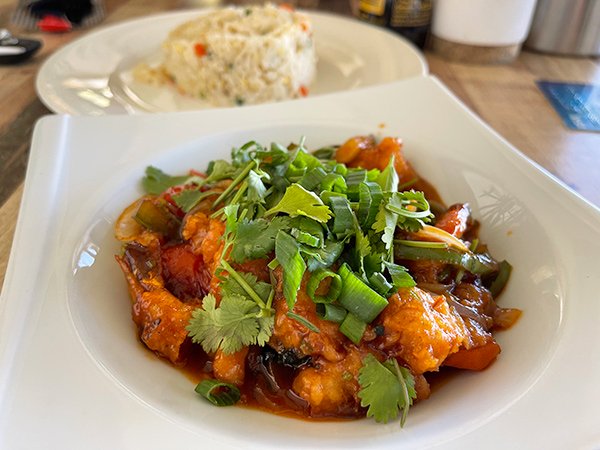 This dish had my name all over it! I can't get enough of sweet and sour sauce!
Tao Garden's sweet and sour flavor is spot-on. Shrimp and a mixture of vegetables are tossed in the tangy sauce and garnished with herbs. I went with the Cantonese-style fried rice as my side. The two pair perfectly.
Lastly, the roast duck special...
Red Curry Roast Duck

Slices of succulent roasted duck are bathed in a red curry with veggies, lemongrass, coconut milk and fresh basil.
If you still have space for something sweet, Tao Garden has you covered!
Desserts include chocolate or banana samosas, coconut sticky rice with mango, ice cream, half baked chocolate cake and...
Japanese Double Cheesecake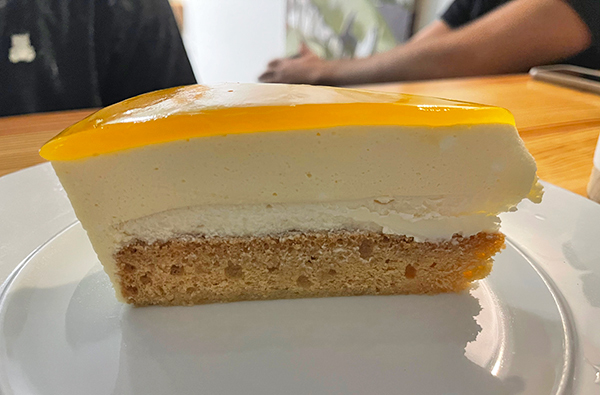 Made fresh that day, this Japanese-style cheesecake is finished with a mango jelly glaze.
With dishes rich in authentic Thai flavor, and prices that don't break the bank, it is easy to see why Tao Garden has become a neighborhood favorite. If you find yourself in Jordan Village, Tao Garden is a top choice for a casual bite!
Open hours: Monday to Saturday, 11:30AM to 2:30PM and 5:00PM to 10:00PM. Sunday from 5:00PM to 10:00PM
Tel & Email: (721) 554-0904