<![endif]-->
Anguilla Car Rentals
When we're in Anguilla, we love to bounce around the backroads, even off the back roads and across the open fields.
Getting off "the beaten track" will deliver sights and experiences that you don't find in the tourist books!
But you can't do it without a car. And, you can't bring your own!
So the solution is obvious...
... Anguilla car rentals!
If in need, we always rent from Island Car Rentals. They have fast, friendly service, reliable cars, and will go to just about any extent to keep their customers happy!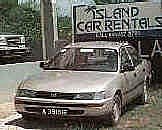 For example, let's say you're coming into Anguilla on a night flight. They'll leave the car at their lot, with your name on the windshield and with the keys in the car. Just take care of the paperwork a day or two later, whenever it suits your schedule. (Can you imagine that in New York?)
Our #1 vote among Anguilla car rentals.
And they're only a two minute walk from the airport!
Now, if you're worried about reliability, well... my dad is the acid test. He's banged their little Toyotas over some of the worst terrain you can imagine. (I probably shouldn't say this because the Island Rental folks might faint). But those Toyotas just keep on rolling.
This is the car we used...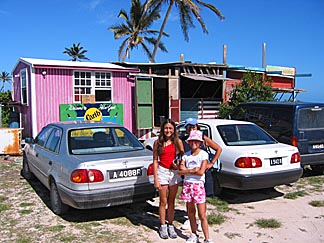 ...and we never once got into trouble!
Well, OK... we got a flat once, from a very nasty rock on some particularly harsh back road.
My Dad isn't really a handy man -- he doesn't know which end of a wrench is up! And he certainly has no idea how to change a flat tire. So...
Over to our favorite Anguilla car rental people!

Yes, we headed back to Island Car Rentals, slowly riding on the rim. Unfortunately, they were closed. And so was the tire repair shop, just across the road.
But luckily, a relative was just upstairs. So, he came down and changed the tire for us.
"Above and beyond" service!
Another thing... we've come to know the nice people there. We happened to run into them at the airport once, as we were arriving. They insisted on driving us over to their office, even though it was closed, and set us all up.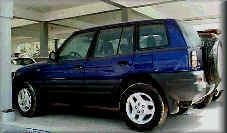 They're just plain nice, friendly folks. And we'll do business with them forever.
So, if you're looking for some Anguilla car rentals, look no further than one of the first just outside the airport...
Island Car Rentals!
P.S. While you don't need a 4x4 to cover every inch of the island, you don't have to be as stubborn as my Dad. They look great, and I bet they work even better. He did finally cave, as a matter of fact. We rented a 4x4!
To book a car, jeep or bus with Island Car Rentals, e-mail the form below directly to them...
More on Driving in Anguilla
Email Island Car Rental
More Anguilla Car Rentals
Junie's Car Rental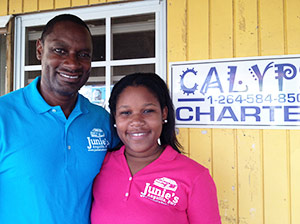 A family-owned and operated business, Junie's Car Rental is run by the warm-spirited and friendly Junie himself, his partner, Nancy and his daughter, Keneesha.
They offer a variety of vehicles, including hard-tops (Toyota Corolla), soft-tops with sun-roofs (Mazda Demio), compact 4x4s (Daihatsu Terios) and mini vans (Mazda Premacy). Right hand and left hand vehicles are all available, too!
Prices start at $35 per day for standard, four-door cars and go up to $55 per day (for the mini van).
Junie's Umbrellas, Chairs and Coolers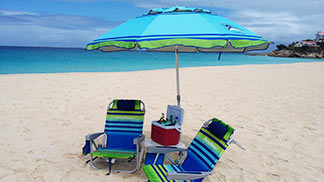 Operating out of Blowing Point, Junie's is an especially convenient option if you are coming over from St. Martin for the day, or if you are arriving via Blowing Point. Just look for Keneesha or Junie at Calypso Charters (to your right when you walk out of the arrival area) and they will get you set up with you car right there in Blowing Point!
And now they have an extra-special offer... 2 Beach Chairs, 1 Beach Umbrella and a Cooler for US $10/per day (with a security deposit of $50 that is refunded when rentals are returned) AND 1 complimentary drink per person!
Tel.: 264-584-3720 or 264-235-6114
Email: info@JuniesCarRental.com
Website: Click here
More car rental options to come! Stay tuned!