Home Cooked English Meals
in Anguilla BWI
Since we started visiting Anguilla BWI in 2002, Sundays have always been a noteworthy night.
One of the first Anguilla restaurants we dined at frequently was The Arawak Cafe. Time and time again we would munch on the hotel's tasty pizza, and chat with the lively, welcoming owner, Maria, a British ex-pat.
And each time she would say, with one hand on her hip, "now, you must stop by on Sunday. We cook a traditional roast beef, with Yorkshire pudding. You will love it!"
Despite years of receiving this recommendation from Maria, we never did try the roast beef.
Anguilla is a British Overseas Territory, Anguilla BWI standing for Anguilla British West Indies. So, you are bound to meet many British in Anguilla.
And, of course, Maria isn't the only one serving traditional roast beef and Yorkshire pudding. We have heard good things about The Arawak Cafe, but "they" tell us that Roy's Bayside Grill is #1 for beef on the island. Like Maria, Roy serves his roast beef dinner on Sundays, too.
One Sunday it happened. We had a hankering for a good, old fashioned, home cooked, English meal. It was a toss up, The Arawak Cafe vs. Roy's Bayside Grill. In a mood for the Sandy Ground atmosphere, and curious about the "#1 beef on the island", Roy's won this round. But we will sample Maria's soon!
We arrived at Roy's and took a table closest to the water. We scanned the menu, no sign of roast beef. We checked the "specials chalkboard", no roast beef. Our British waitress told us the specials, still no roast beef.
When she came for our order, I asked, with my heart on my sleeve, "do you have any roast beef?" "How could I have forgotten?!" she exclaimed.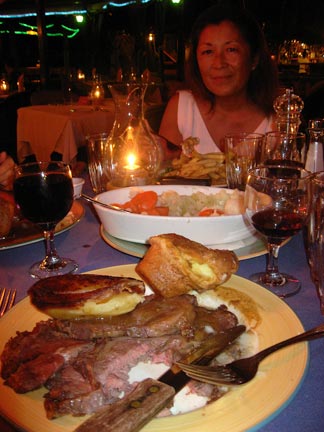 Without hesitation, 3 roast beefs, and 1 order of fish and chips (my mom couldn't be swayed from one of her favorite meals on the island!). With a bottle of red wine on the table, my mouth was watering.
The service at Roy's was prompt, yet friendly as always.
First came the piping hot rolls and butter...
My Mom's fish and chips were up next...
Then, three huge plates of roast beef, served with a baked potato, and Yorkshire pudding...
If that wasn't enough, a large plate of mashed potatoes, carrots and cabbage for my Dad, Yuki and me was placed in the middle of the table.
Dig In!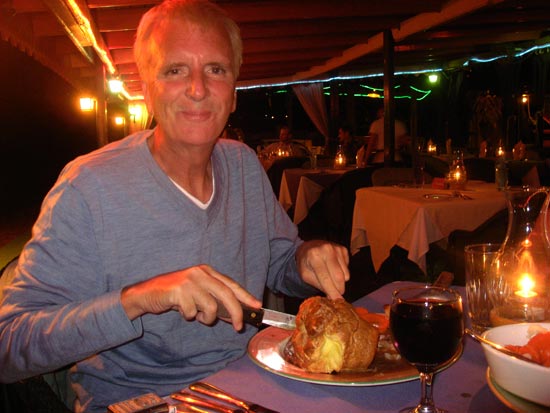 I love comfort food... those meals with all of the toppings and sides that warm your soul!
Mmm.
The assertion that Roy's beef is #1 in Anguilla? No exaggeration! That title doesn't even do his Sunday roast beef any justice: maybe it's the best in all the BWI? Or in any land which was once or still is owned by Britian? Britain itself, too?
This was by far the best roast beef I have ever dined on. The meat melted right off the bone, so tender. Mashed potatoes, baked potatoes and steamed veggies all cooked to superior standards. Yuki and I had never tried Yorkshire pudding before. She ate hers right up!
Sundays at Roy's is a real tasty treat.
The roast beef dinner is reminiscent of home cooked meals at home with Mom, but this one...
Well, unless your Mom is a master chef, Roy's probably does it better.
Sorry Mom...
At least there are no dishes to do when dining at Roy's!
Next Sunday? Maria's roast beef at The Arawak Cafe. Roy's roast beef may be in my top three meals on Anguilla BWI, but we still need to sample the spot that started it all. :-)
Update: Since this page was written, Arawak has changed hands and Maria's roast beef Sundays are no more. You can still get excellent roast beef at Roy's every week!