Anguilla Hike Of Scrub Island
by Steve
(Long Island, New York)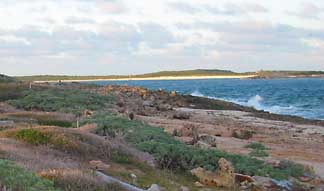 Scrub Island, Seen From Windward Beach
I will never forget getting off the boat on Scrub Island to do some Anguilla hiking and exploring. We didn't realize how hot and dry this little Island was.

We hiked to the remnants of the plane crash on the makeshift runway.

We stumbled upon the old resort and made it to Dead Mans Cay.

Nori's Note: See a video tour of Deadman's Bay via the video below.


Although we thought we might not make it back, we actually made it back to the beach to have one of Smitty's boys pick us up and take us back to Smitty's for Rum Punch and Lobster.
What a great adventure.
Dose anyone know the local tale of the plane and old resort?
Nori's Reply:
Thanks, Steve, for a great summary of what is truly one of Anguilla's best hikes. Scrub Island is very close, yet feels remote. Depending on the seas it can be difficult getting onto that alluring beach.
But it's worth the effort. Having an entire island all to yourself is special. Othere SBIers have raved about a day on Scrub.
We have been out to Scrub a couple of times, once just to swim to the beach during an around-the-island boat tour. But I do have quite a bit more information for you, Steve, on this page about
our camping trip to Scrub Island
, here when we went
snorkeling in the cave on Scrub Island
and
here when we went to Deadman's Bay with Nature Boy
.
And here's a
detailed hike of Scrub Island
. It's by Bob Green, who wrote the first website about Anguilla (it's no longer active, unfortunately). He talks about some of the mysteries that you ask about.
If anyone reading this is considering this hike, print all the pages of Bob's story and follow the map!
On a wider note...
Anguilla is a great island for hiking. Not too hot or humid, fairly flat, most hikes are in the "easy" category. Bring lots of water, though, since the heat does catch up with you.
Here are a few other great hikes in case you are interested...
If you bring good sneakers (flip-flops won't suffice on some of the terrain) and lots of water, you you can do any of the hikes above.
Scrub, though, has that special, slightly eerie and exotic feel to it. Enjoy!