A Cozy Anguilla Home Rental...
True Caribbean Charm in Island Harbour
By: Kirmani Honoré
What happens when an Anguilla vacationer-turned-resident and an Anguillian native and experienced chef open their home to you? You get a home rental infused with Caribbean charm, character and hospitality!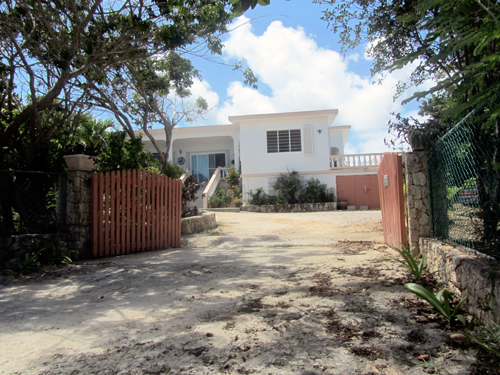 Before moving to Anguilla full-time, Susan (she owns this home rental with Ambrose), was an avid Anguilla vacationer. In 2013 her love for Anguilla burned so strong she took the plunge and moved on-island full time. She's never looked back.
Ambrose is true blue Anguillian! Born and raised in Anguilla, with decades of experience in the hospitality business, he's known for sparking up conversation about Anguilla and Island Harbour's history... usually while he's grilling fresh, grilled snapper in the afternoon. ;-)
What makes this home rental so unique? Gracious and kind, Susan and Ambrose live on property. Knowing that they are just a few steps away makes everything so much more comforting, personal and warm!
Let's look inside their home...
Inside This Island Harbour Anguilla Home Rental
The home's personality is warm and inviting, inside and out. From the bright green hues of the trees that encase on all sides, to the brightly colored flower garden trimming the front and eastern side of the house.
Gardens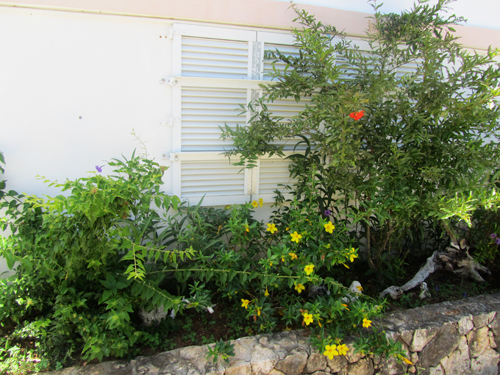 It doesn't take long to warm up and feel right at home!
Your first step through the front door is your first step into a truly Caribbean-inspired home. The bright almost sea-foam green and white walls reminds you of cresting ocean waves.
Comfy!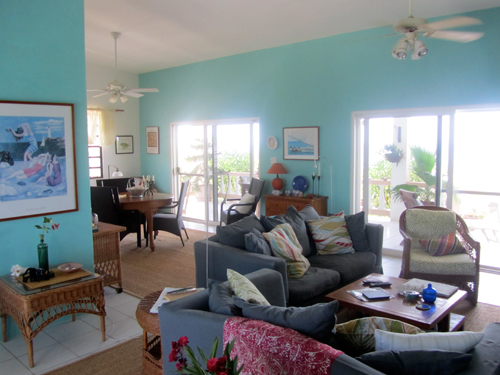 Slate colored couches are accented with fanciful throw pillows in the main living area. There's also a computer available for use, with free WiFi and a bookcase complete with a variety of good reads.
The Living Space

To the right, the gallery-style kitchen is equipped with the essential modern appliances, and a counter top looks the dining area. It's a perfect set up for preparing meals in and serving them to hungry diners. :-)
The Kitchen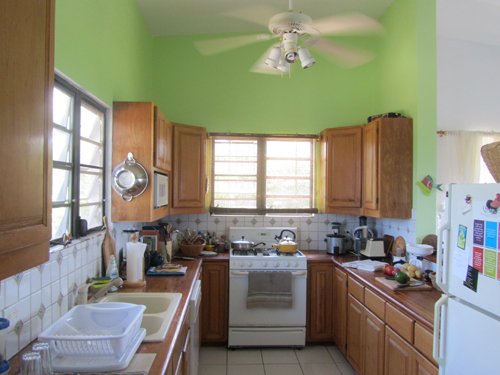 Dining Area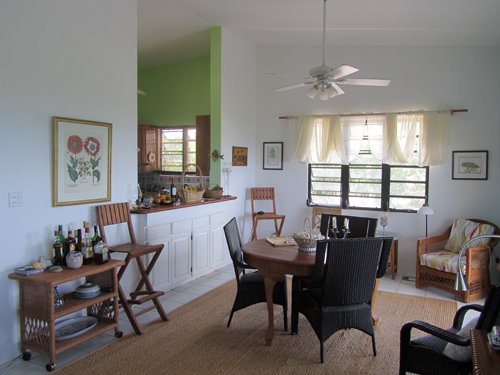 The Artwork
Susan has a put a lot of thought into the local art pieces that adorn the walls. Each has its own story and a deeper meaning and capture the essence of Susan's home.
"Past, Present and the Future"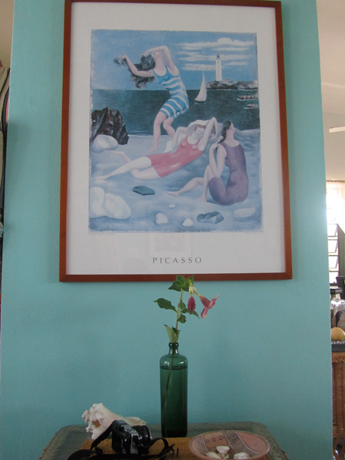 A Lynne Bernbaum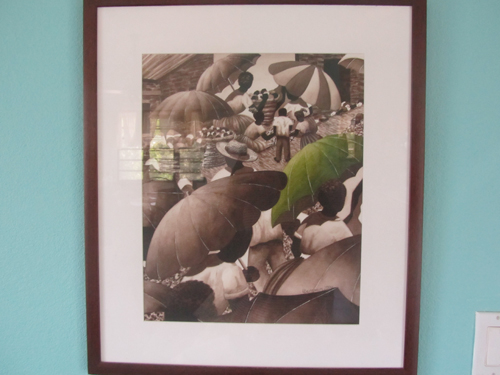 Haitian Artwork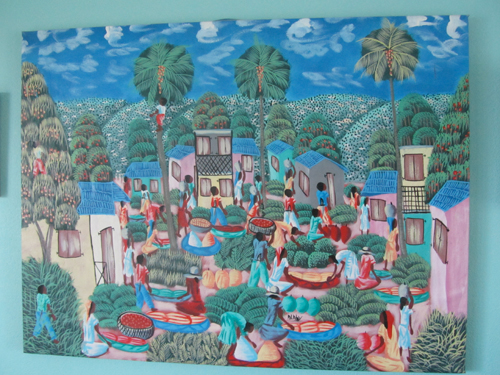 The Bedrooms
On opposite sides of a short, peach hallway are the two bedrooms, each with their separate baths.
Mmm Peachy!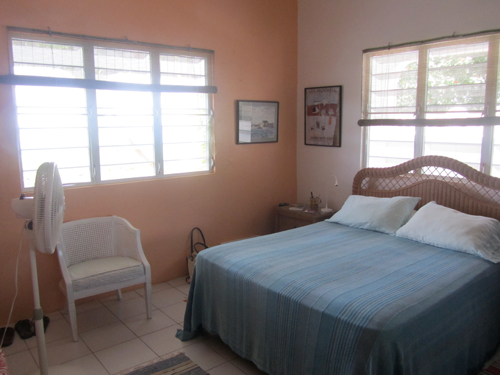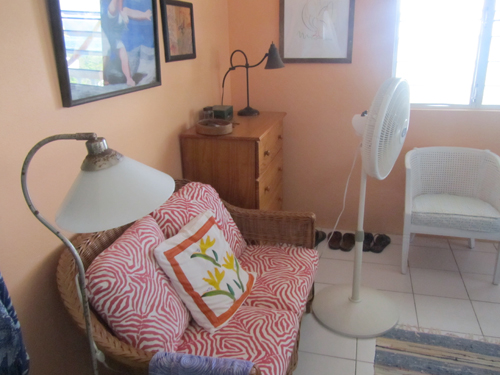 Each room has been thoughtfully decorated with its own personality, and plenty of space and privacy.
The Green Room!

Perfectly Selected Artwork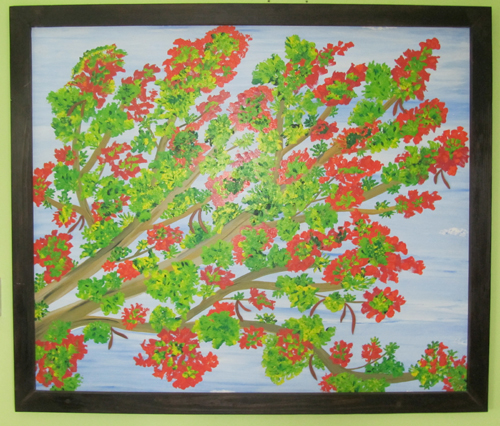 As for the bathrooms? They are clean and well-kept, and with all of the toiletries you need.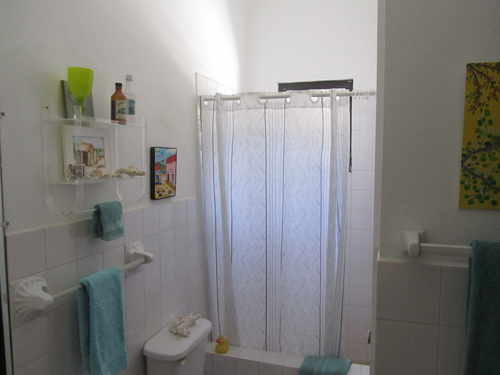 Each room has an A/C unit for those nights when Anguilla's heat gets a little too hot. ;-)
Outside Living
This is where things get especially scenic!
The home's patio is located in the back of the home, and it is my favorite part of the house. The veranda offers stunning view of the sea rocks and the oh-so-blue ocean. These views can be enjoyed from all three terrace levels: the upper deck, the patio and the garden.
View From the Patio...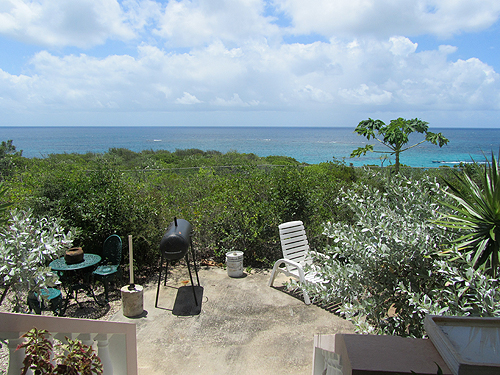 View From the Upper Deck...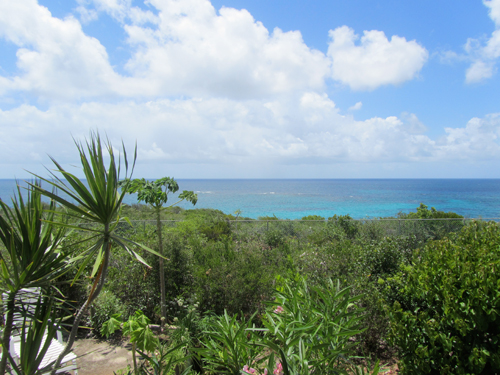 The villa features two grills and a dining area. It's a perfect spot for a lime, with your host Ambrose manning the grill!
The Patio Grill

The Garden Grill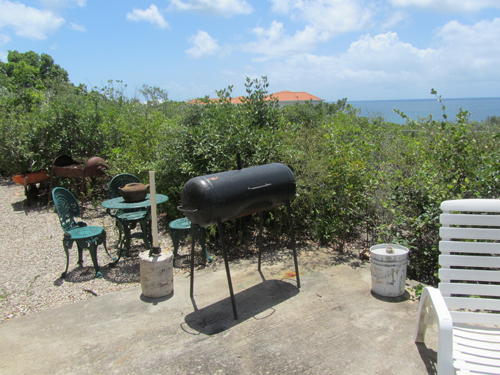 Once your mouthwatering meal is ready? There's only one thing left to do...
Sit Back, Relax and Take In All of the Scenery!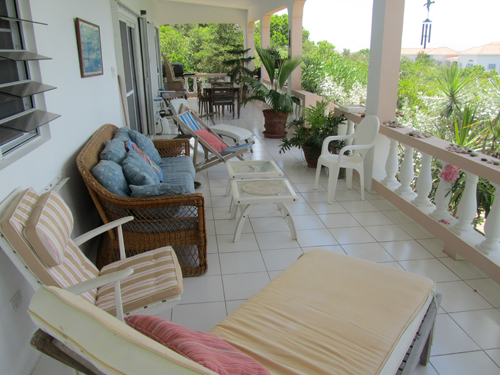 The Studio
And, if all of that is too much villa, Susan and Ambrose rent a studio apartment downstairs, with a separate entrance.
Best for couples, the studio features a living and kitchen area to one side, a large sleeping area (to the other side) and a private bathroom.
The Studio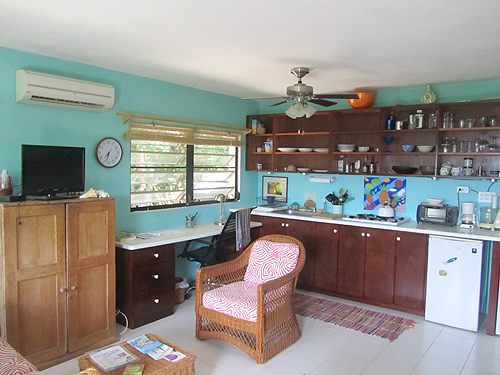 Decorated in a similar, Caribbean fashion, the studio is smaller than the villa upstairs and is best for a couple or a solo traveler.
Dreaming Under The Coconut Tree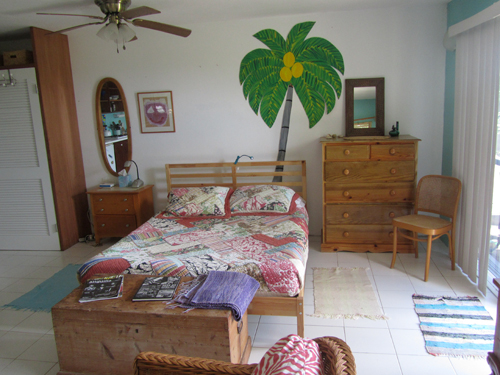 Location and Directions
Location
This home rental is a 5 minute drive from world renowned Shoal Bay East and a 2 minute drive from the picture-perfect fishing village of Island Harbour.
Directions
While driving in to the direction of Island Harbour, take a left onto the dirt road directly opposite of Le Bon Pain bakery. Follow that road and turn left when you see the sign for Villa Serenata. Follow that road up and around to the right until you come to a stone wall with another Villa Serenata sign. Take that right and continue down that road until you come to a wooden gate with a Rhode island license plate.
Now you can relax! You're home! :-)
Contact and Rates
Rates in the off season start at $195/per night and raise to $250 in the high season.
Rooms can also be rented separately, in classic B&B style.
For more information, you can contact Susan by phone here...

Phone Number : 1-264-583-2114
... or direct through the form below.