Anguilla Hotels: The Guide...
Shoal Bay West
The red pin (below) is Shoal Bay West.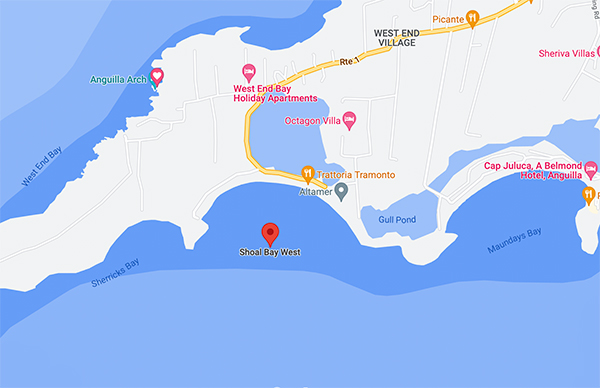 Shoal Bay West
Shoal Bay West is home to many centi-millionaires on their trips to Anguilla.
From luxurious villas available to rent to private homes (Chuck Norris' old house), the likes of Jay-Z, Denzel and many others grace these shores and dine at the one restaurant on the beach, Trattoria Tramonto.
Trattoria is also a five-star experience for both lunch and dinner. Alan Piazzi and his wife Chantal cultivate a certain laid-back ambiance unlike any other restaurant on the island.
In the midst of the super luxurious, there is one very special, affordable Anguilla hotel, too.
Blue Waters Beach Apartments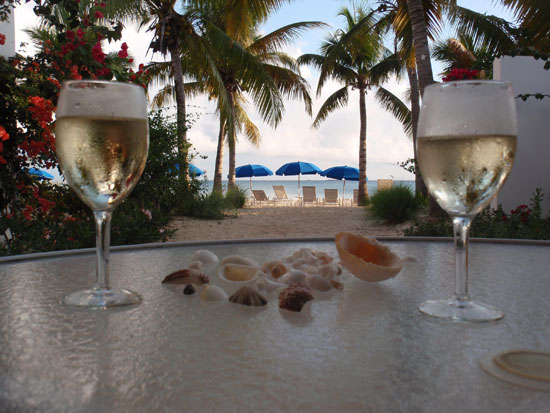 Size: Medium
Location: Towards the Eastern end of the beach.
Description: Clean and fresh, Blue Waters Beach Apartments have a loyal list of repeat guests. It's not hard to understand what so many love about this special place.
Blue Waters offers nine nicely appointed units right on the beach. Units are either one or two bedrooms, complete with a private patio or balcony (depending on if your room is on the first or second floor). There is a full kitchen in each unit, in addition to air conditioning, TV and Wi-Fi.
The property is immaculately kept. The apartments are right on the sandy beach, surrounded by pretty gardens. Palm trees sway and lend a certain amount of privacy to guests.
The owner lives next door and is welcoming and accommodating.
Click for more on Blue Waters Beach Apartments.
Price: $$$ — Return to Hotels By Price
West End Apartments

Photo Credit: West End Bay
Size: Medium
Location: Inland on the road towards Shoal Bay West, just past West End Bay.
Description: West End Bay is essentially a complex of comfortable and nicely furnished apartments.
West End Bay offers tremendous value, especially if you are on an Anguilla vacation lasting for more than a couple of weeks. It is an extremely affordable option.
Each have 1-2 bedrooms, a kitchen and living area too.
I would recommend booking an apartment on the top floor of the first building (the building that's on the road). While the apartments are not on the sea, these ones will have views of the salt pond, and St. Martin and the Caribbean sea in the distance.
While West End Bay Apartments delivers a much more independent style of vacation, there are many units side by side and there is a property manager on site, making the complex feel slightly more hotel-like. Many guests love the friendly service and helpful nature of the staff.
Price: $$ — Return to Hotels By Price
---
ARCHIVES:

Hotels That Are No More
Covecastles

Size: Medium
Location: West end of the beach.
Description: Covecastles has been home to many celebrities and centi-millionaires, including Denzel Washington and the Bronfmans.
Covecastles is compromised of two storey villas that sit right on Shoal Bay West's sandy shores. Large windows, private pools, wide terraces, bedrooms facing the sea and St. Martin... it is truly luxurious.
The property is spectacular. Set on the beach's Western corner, the villas have sweeping views down all of Shoal Bay West, and stare out to St. Martin, too. Lush gardens surround the villas, too, affording more privacy and a tropical feeling.
Lastly, service. Five-star service is an element that defines Covecastles as a high-end resort. The staff is courteous, kind and have been known to go above and beyond.
Click for more on Covecastles.