...And The Mystery Unravels
On An Anguilla Drive
From the very first time I ever stepped foot on Katouche Bay beach, I was in awe.
The beach? Spectacular!
The Massara resort? Picturesque!
But sand and structures aren't what really caught my eye.
Katouche Bay's western half of the beach nestles into massive mountains! (Massive by Anguilla standards that is. And "mountain" by Anguilla standards, too!)
These "mountains" can be described with one word... mysterious.
Big and looming. Dark and dense with forest.
I must have asked my Dad a thousand times, "What is up there?"
Trolls? Witches? Warlocks and wizards?
My Dad never did answer this question.
I think he secretly believed that all of the Brothers Grimm story-book-characters lived in this enchanted forest.
He just didn't want to reveal this truth to me.
If he had, he knew he'd have the untimely job of checking my closet for monsters every night for the rest of my life.
But one day, all fairy tales aside, I did finally get an answer...
In the hot and high early-afternoon Caribbean sun, my Dad pulled out the super-detailed map of Anguilla.
He plotted a smooth, scenic drive through Sandy Ground's back roads, heading East along the coast.
It was time for another adventure! I should have brought my magic wand...
We cruised along Sandy Ground's hills, enjoying the beach's serenity from high above. Before I go any further, however, I must mention this...
Sandy Ground has sensational Anguilla villas.
Spyglass Villa. Bird of Paradise.
Forget Hansel and Gretel, a night in that place would be a true fairy tale!
We kept on driving with the awe-inspiring Atlantic on our left, and the sparkling Caribbean sea to our right, when, wait!...
What was this in front of us?
Could it be?

It wasn't possible...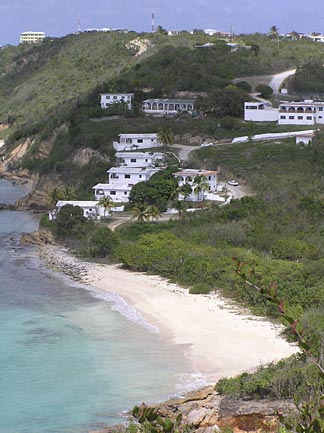 ...But oh, it was!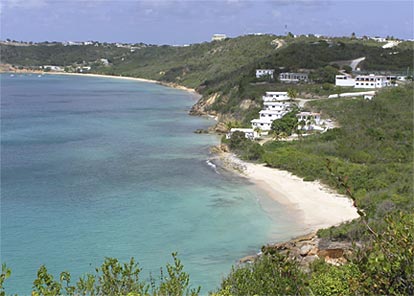 Recognize the buildings in the foreground?
Massara Resort.
Katouche Bay.
Crocus Bay in the background.
All taken from where we were standing...
On that oh-so-enigmatic-mountain on Katouche's coast!
But so much for the gremlins and gingerbread houses...
The mysterious mountain turned out to simply be a part of the well-known town of North Hill, with a few roads and private homes, but without boiling cauldrons or dragons and castles.
But even without mystical creatures buried its depths, a drive out to North Hill certainly is magical!