Anguilla Real Estate: The Guide...
Flat Cap Point
Welcome to the cliffs of Flat Cap Point!
Let's see where we are...
There's this delicious restaurant in Montreal called L'Entrecote St. Jean.
Their menu consists soley of steak and fries.
It's flawless.
Best.
Steak.
Ever.
Flat Cap Point is similar.
You may think I'm crazy comparing a spot in Anguilla to a Steak/Frites restaurant, but wait! Like L'Entrecote St. Jean, Flat Cap Point specializes...
Stunning Cliffs
Providing Equally Sensational Views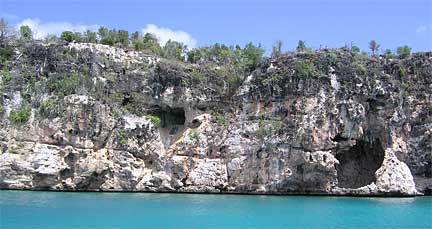 Flat Cap Point thrives on those awe-inspiring cliffs and the endless views. The best part is you can enjoy them in almost complete solitude!
I say "almost" because two luxury villas have been built along Flat Cap Point. I have heard that they've bought the rest of the point, too. It would be a fascinating place to live if real estate is still available. It's worth checking.
It is all cliffs here though! So, if you're looking for Anguilla beach real estate, you've come to the wrong place. On the other hand, you're close to both Limestone Bay and Little Bay.
The views are outstanding. Let's take a peek (don't lean too close over the edge)...
Looking Southward, Towards Little Bay...

If you look closely, you can see charming Little Bay at the end of the line of cliffs (the white sand visible below the dirt-colored cliffs facing us).
Just look at that infinite stretch of blue...!
It's an abundance of beauty, and that hole-like cove makes me just want to jump right in!
Almost.
Speaking of jumping in... my Dad nearly fell in!!! It happened like this...
From Limestone Bay, we had turned right (West) at the road toward Flat Cap Point. It was exciting, because the cliff edge was so close. My Dad was extra careful parking the car.
Looking Eastward
Along the Cliffs Towards Limestone Bay...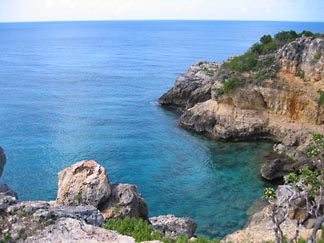 Anyway, with care we all got out of the car and took a look at the vivid vistas! We were in awe! My Dad was too.
How could I tell? He said he wanted to hike down the face of the cliff... in loose sandals
He found a gradual slope and picked his way down slowly, then disappeared from view. Forty minutes passed. Just as we were growing worried, my Dad's head popped up over the edge of the sheer cliff.
He was tired, hot, and thirsty. It turns out (as he told us later), that the descent was so slow and winding that he was just too tired to take another 35 minutes to do it again... uphill.
So instead... he climbed the cliff face... something he had never done. And he still had the camera and those flip-flops!
So yes, pretty dangerous. Leave it to my Dad to do the stupidly impossible! But we were all quite relieved that he didn't damage the camera (heh heh).
But the views are honestly spectacular! So, if you're the type of person who likes cliff side properties, you may just want to check this out!
For more of Flat Cap Point, take a look at this video here...