Anguilla Real Estate: The Guide...
Limestone Bay
Welcome to the tranquil and tucked away Limestone Bay! I still remember the days when Limestone Bay would sit all by itself down a dirt road. But all things change...
Let's see where we are...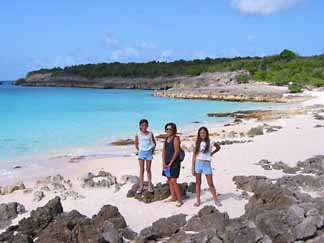 There was once a time when my family and I would go down to Limestone Bay, and be among the company of only a local family, fishing.
We'd nod a friendly hello, then they would continue to fish quietly, and we would go back to soaking up the rays of that warm Anguilla Caribbean sun.
And that would be that.
It seems that those days, those days of empty Limestone Bay (seen in the photo above) are over.
Limestone Bay Today

That restaurant you see in the photo is Limestone Bay Cafe.
After Limestone Bay cafe was built, two luxury villas went up along the villa's eastern cliff.
Lay on the sand, or take a dip in the clear Atlantic and you still feel the same as you did when you came before Limestone Bay Cafe.
It really is a tranquil, remote, perfect little beach. The only visitors you'll ever see may be the occasional Anguillian family fishing from the rocky shore and the owners at the two large luxurious villas on the eastern rocky shoreline.
To see more of Limestone Bay, watch this video here...
Limestone Bay has become discovered today. It was only a matter of time since Limestone Bay is far more accessible than other beaches in the area, like Blackgarden Bay.
Take a closer peek...
As you can see, Limestone Bay had rocky land adjoining the sandy beach, perfect for "non-belongers"... Take just a couple of steps from your villa, and you'd be on the sand. Sandcastle Villa has now built on that land.
A Family Fishing. What a Crowded Beach!

Looking West... Both Rocky Oceanfront and Cliffs

See the rocky oceanfront grow to become cliffs behind us (in the photo just above)? That land is still undeveloped!
Also, if you follow the bumpy road that runs along that cliff. It's a beautiful drive and you'll see lots of undeveloped Anguilla real estate. Take the road right to the end, where you'll reach Flap Cap Point.
First, though, before you take off on that bumpy ride...
Let's sit a while...
Ahhh... How Relaxing...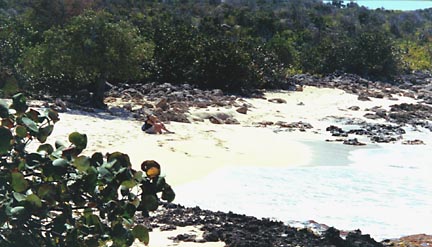 This beach definitely does and doesn't have it all! It does have peace, beauty, and that Anguilla breeze... and it still doesn't have crowds despite the two villas on its shores.