Anguilla Real Estate: The Guide...
Forest Bay
Welcome to the home of abandoned houses, the site of the future Jack Nicklaus course, and conch shells... Forest Bay! Oh! There's also the soft sandy beach and interesting Anguilla real estate opportunities!
Let's see where we are...
Right now, a large part of Forest Bay is simply a long line of abandoned, blown-out Anguilla villas....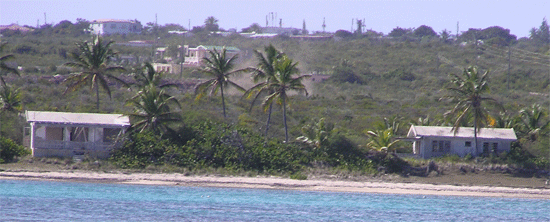 It almost feels haunted! I'm sure you're wondering, "abandoned houses"... what's wrong with this place??? The truth is, nothing. A In 1995, Hurricane Luis swept through Anguilla, flattened the island. This part of Forest Bay still hasn't recovered.
The rest of the island rebuilt, but Forest Bay didn't. The western shore of Forest Bay is still lined with abandoned, blown-out homes. (Everyone builds with concrete nowadays.)
I'm not sure if any of these are available -- check with Jackie Pascher.
What a shame.
Time to tour the area...
The homes that do remain are gorgeous.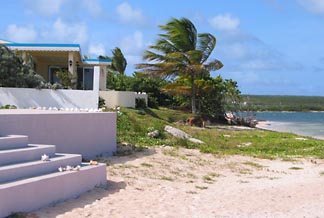 If you look closely at the picture you may be able to see the conch shells lined up on the edge of the steps! This bay has tons of them!
Palm Trees Swaying!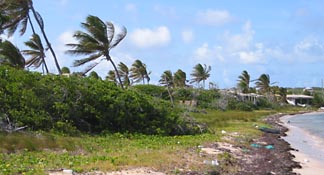 View From the Old Straw Hat To the Western Shore


See more of Forest Bay by playing this video...
Forest Bay's other claim to fame was the popular restaurant Straw Hat. From the moment you step foot onto Anguilla, you see signs advertising "Straw Hat". They seem to be all over the island.
Why not? It's a mouth-watering restaurant, with sensational vistas out to St. Martin. And it's literally on/over the water. (Straw Hat has since relocated to Frangipani Anguilla).
Here's a nice shot of Straw Hat, taken from the sea...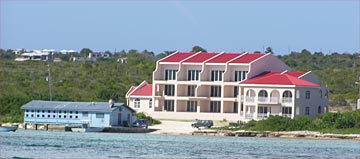 This shot from the sea shows you the "nicer part" of Forest Bay...
Forest Bay


Raw land, developed residential, and abandoned houses... the full range of outstanding Anguilla real estate exists at Forest Bay. Now that the Jack Nicklaus course has plans to develop though, these opportunities may be limited. You may want to consider a condo on the golf course (when they're available for purchase), or look at land inland.