Anguilla Real Estate: The Guide...
Long Bay
Welcome to Long Bay beach, one of Anguilla's little known big beauties.
Let's see where we are...
Long Bay is truly a spectacular beach! The second best big beach on the island, in my opinion.
Hello Long Bay...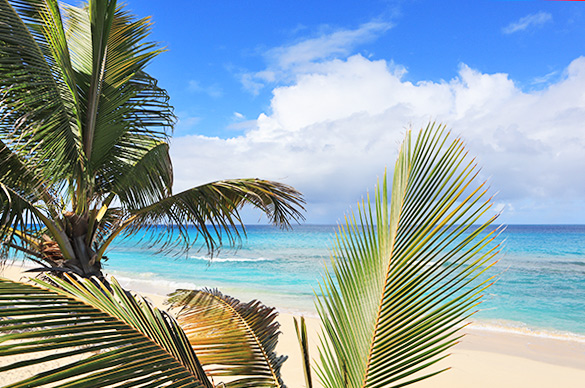 The wide stretch of scintillating sand, the blowing palm trees, the phenomenal shade of turquoise in these particular waters...
It all adds up to an a atmosphere that is unforgettably unique.
For more of Long Bay, look at the video below...
Long Bay is tranquil and exclusive. Unlike its neighbor to the west, Meads Bay, the only structures on Long Bay are a handful of luxury villas...
Which means, there's lots of real estate potentially available.
The usual strategies apply to Anguilla real estate here too. Search for either...
rocky oceanfront at either end of the sand, or
inland, up in the hills, or
a home that is for sale (make them an offer they can't refuse!)
To get a feel for the high-end vibe of Long Bay, let's take a look at a few of our favorite villas on the beach...
Starting from the Eastern tip of the beach, you have luxurious Santosha Villa Estate.
Beach All to Yourself!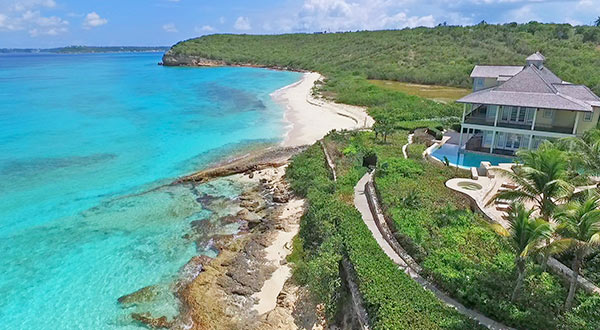 Santosha Villa Estate is the only structure on this half of Long Bay.
Stroll the beach for a few minutes and you are met with Santosha's sister property, Long Bay Villas.
Ultra-Luxury Long Bay Villas

When paired with Santosha, the entire property can sleep 55 guests. The expansive space makes the whole property a top choice for large events, including weddings and corporate retreats.
Further West, the grand Quintessence Hotel cannot be missed...
Anguilla's First Relais & Châteaux

Quintessence offers two restaurants, one which is the only restaurant on Long Bay. Grab lunch and lounge on the beach at Coral Beach Bar by day and enjoy a magical sunset dinner at JULIANS - A French Tropical Bistro come evening time.
Lastly, at the end of Long Bay beach, a slice of beachfront heaven...
Nevaeh Villa

Nevaeh truly is heaven on earth.
These are ultra-luxury Anguilla villas, so prices will be high, but if you're interested in these properties (or properties in general in the Long Bay area), don't hesitate to drop Jackie Pascher a line.
Long Bay Love

My Dad's #1 favorite beach, he certainly isn't lying when he says that, "Long Bay has a certain je ne sais quoi."
Isn't the color of the water just out of this world??
Perhaps it's the shade of turquoise only found here... or maybe it's the brilliance and texture of the sand. Whatever it is, the beach has grandeur and elegance.
Long Bay certainly has it all... magic and majesty.