Anguilla Real Estate: The Guide...
Long Bay
Welcome to Long Bay Beach. What big beach in Anguilla is the hardest to find, yet the easiest to get to? Long Bay!
It's easy to get to, but only if you have a Land and Survey map. And once you walk on that beach, a single step and a glance around make the effort more than worthwhile.
Let's see where we are...
Long Bay is truly a spectacular beach! The second best big beach on the island, in my opinion!
My Mom on Long Bay...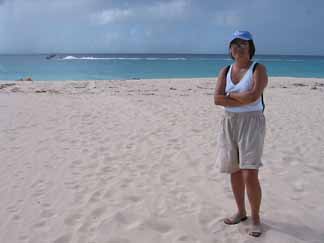 The wide stretch of scintillating sand, the blowing palm trees, the phenomenal shade of turquoise in these particular waters...
It all adds up to an a atmosphere that is unforgettably unique.
For more of Long Bay, look at the video below...
The beach is also home to Oliver's, an excellent cliff-top restaurant. Order the roasted range chicken dinner for four, four hours in advance. Thank me after you eat it. It's absolutely delicious!
The Blanchards (authors of A Trip to the Beach) live in the area. But there are only a handful of villas, including the ultra-ritzy Temeno Villas.
Which means, lots of real estate potentially available.
The usual strategies apply to Anguilla real estate here too. Search for either...
rocky oceanfront at either end of the sand, or
inland, up in the hills, or
a home that is for sale (make them an offer they can't refuse!)
Let's take a look at a few possibilities...
Inland view from the far Western end...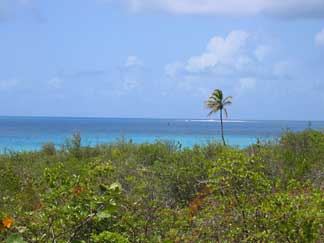 Waterfront view of the Eastern end...

Hmmm... Wonder if This House is For Sale...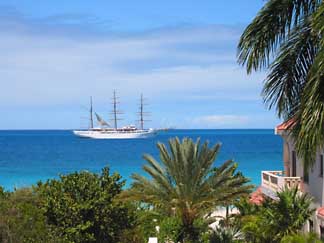 Now, THAT is turquoise!

Isn't the color just out of this world??
It's amazing how a beach like this is so undiscovered!
In my family, we each have our own personal favorite beach. For example, mine is Captain's Bay and my mom and sister's is Shoal Bay East. But what about Dad?
Long Bay!

My Dad certainly isn't lying when he says that, "Long Bay has a certain je ne sais quoi."
Perhaps it's the shade of turquoise only found here... or maybe it's the brilliance and texture of the sand. Whatever it is, the beach has grandeur and ellegance.
And the Anguilla villas and mansions certainly live up to Long Bay's physical splendor. Let me show you...
Temenos Villas
Paul Simon's villa of choice.

And here is another magnificent castle in the sand...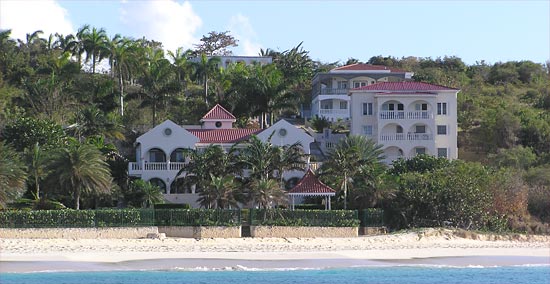 These are ultra-luxury Anguilla villas, so rates tend to run high, but if you're interested, don't hesitate to drop Jackie Pascher a line.
Long Bay certainly has it all... magic and majesty.
We have never seen anyone else on this beach, either. Why?
Maybe because it's so easily bypassed from the road. Even if you are looking for it, it's difficult to find. But just follow the map. The road does not take you right to the beachfront -- you'll have to walk down a long path to the beach.