Mummy's Anguilla Home Cooking At Klassik
One of our favorite cheap Anguilla restaurants is Cheddie's Klassik Café.
Cheddie recently had the idea of introducing real Anguillian home cooking, the way his mother used to make it...
pea soup
crusted pot fish
stewed pork chops
potato dumplings
rice and peas
fungi
fried plantain
coconut johnny cakes
potato pudding
coconut tart
Quite a feast! It makes you wonder how Cheddie keeps his trim, youthful figure!
Our parents were invited to the inaugural event...
Klassik Café's Mummy's Home Cooking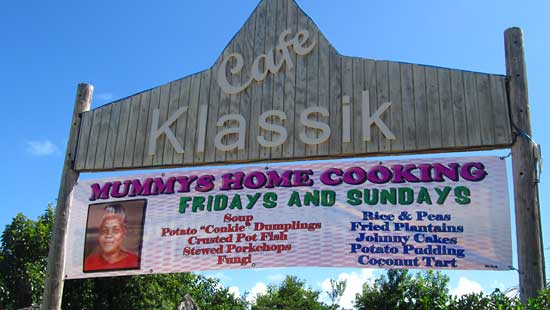 They pronounced it an unqualified success, from the pea soup (photo left) to the main course, plate overflowing with "yummy mummy" food (photo right)...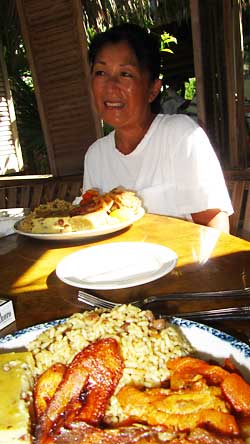 To top it all off, you eat to some sweet Anguilla music, delivered by none other than Cheddie's brother, Dice (AKA "The Calypso King). Dice has won awards for his singing. And, to my parents' great surprise, Cheddie's daughter sang, too. They had no idea what an excellent voice she has....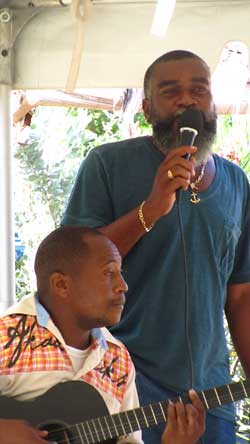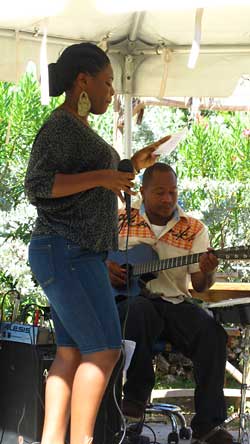 Dedicated to Cheddie's mother, this is truly a family affair!
What about dessert? You will probably be so full that you'll be taking the coconut tart and potato pudding back to the hotel with you. My Dad reports that it makes a great midnight snack....
If you eat in the early afternoon, he says that midnight is just about the time you'll next be hungry!
This is real "take-your-flip-flops-off-and-relax-awhile" eating, drinking and relaxing. And Cheddie's doing it every Friday and Sunday, from 12:30 to 5PM.
Price for 2 for all that food and entertainment? Only $80. Enjoy!