The Top Spot For a Cheap Eat
On a Holiday in Anguilla
Klassik Cafe At A Glance
I'm sad to report that Klassik Cafe is closed.
Run by one of our favorite Anguilla artists, Cheddie Richardson, Klassik Cafe is a unique spot. Made up of little tikki huts, you truly feel secluded and calm dining here at Klassik. The food (don't miss the steak!) is so flavorful and reasonably priced.
More on Klassik Cafe, below...
This year's holiday in Anguilla was different than all the rest.
My parents arrived in Anguilla before I did...
way before I did...
a whole four months before I did!
This time around we weren't on a holiday in Anguilla, we were there for life.
Our Caribbean home was inching ever so close to the move-in date.
My parents relocated in September, while I finished studies back home in Montreal.
Four months later I too, bid our snow-capped province adieu!
Living in Montreal, with my parents in Anguilla, was frustrating. Not because I had to cook my own meals, or because I had to do my own laundry. It was what I couldn't do that drove me crazy! I would hear all about their lazy beach days on Shoal Bay, day trips to Sint Maarten, and of course, about the latest tasty spots to eat.
One restaurant they mentioned time and time again was...
Klassik Café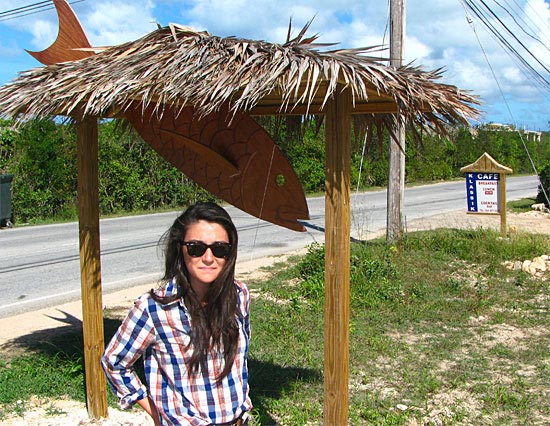 That is me in the picture, so you know this extended holiday in Anguilla has a happy ending! ;-)
I finally got to try the spot my parents were raving about. Our favorite Anguilla artist, Cheddie Richardson, opened the delightful restaurant alongside his carving studio in the west end of Anguilla.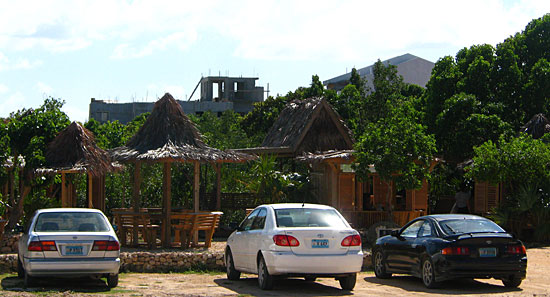 "Inside" Klassik Cafe
Klassik Café is the ultimate in outdoor eating! The restaurant is an accumulation of exotic tiki huts arranged to catch the cool breeze, sculpted from the natural Anguillian brush that once covered the land.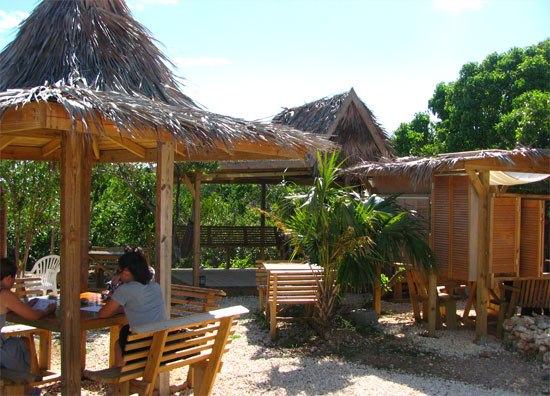 Most of the seating is out in the open, but for a little more privacy (or complete shade from the sun!) there is another option...
(On my second visit to Klassik Café we sat in this exclusive seat! You really feel like you're in a world of your own here.)
Before we chose a tiki hut, my Dad popped in to say "Hi!" to the friendly chefs... Our mouths were watering!
I haven't tried this restaurant for breakfast or dinner yet, but they serve a wonderful lunch. The menu revolves around chicken and shrimp, either on a bed of fresh salad, or served with rice & peas, corn on the cob and steamed vegetables.
For steak-lovers, it's on the menu and I hear it's divine! When it was just Mom and Dad dining at Cheddie's, the steak was only a special, making an appearance now and then. But high demand earned it a permanent spot on the menu, I guess!
Let me know if you beat me to tasting it!
The service at Klassik Café is quick and friendly. Perfect if you're starved (which we were)! The food looked delicious... My Dad went with his favorite, the jerk chicken salad. Yuki, my Mom and I chose garlic shrimp served with all the yummy sides!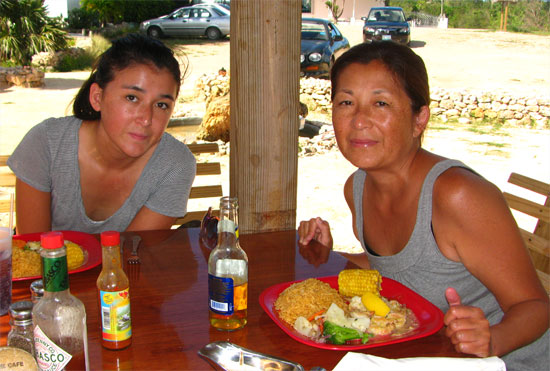 My parents definitely weren't overdoing it, constantly cooing over Cheddie's restaurant. The garlic shrimp was spectacular, cooked just right with tons of flavor! The rice & peas and the corn on the cob were tasty too. And guess who gave our table a visit right as we were cleaning off our plates?
Cheddie Himself!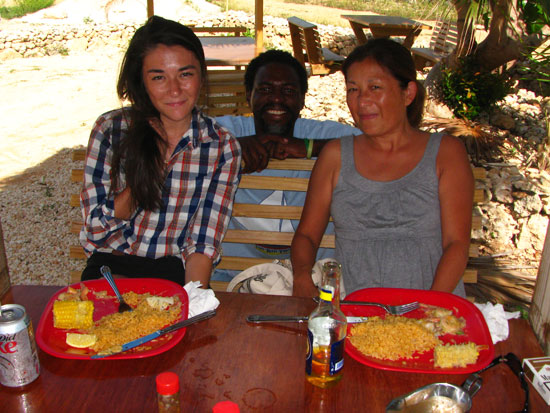 Cheddie is such a kind man! We chatted for a bit, before he reminded my Dad to show us the nature trail... Excited and curious, we took the final bites of our meal, shook Cheddie's hand, and off we went exploring...
Before we got too far, we stopped for a picture of the bar. It's too pretty and cool to not mention!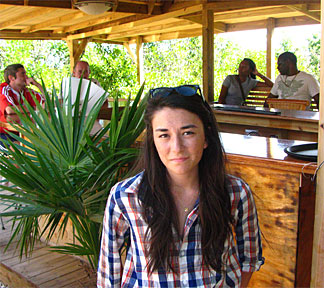 OK, now it was time to go discovering!
Down the path we went...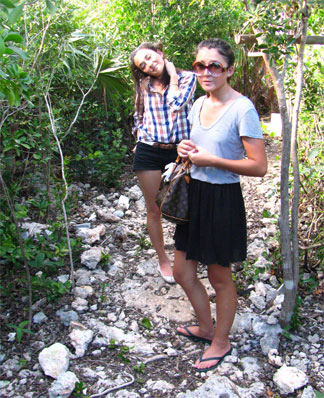 Cheddie built this neat nature path just behind the café.
It's an interesting and unexpected feature for any Anguilla restaurant that we've ever found on a holiday in Anguilla, that's for sure!
You'll find a small variety of animals along the trail.
Most of them fit right in with the Caribbean feel and flow. But there was one species that I'm particularly familiar with, but never would have imagined finding one here...
And definitely not on such a nature path.
You'll see what I mean, soon!
The first creature on the way...
The Turtles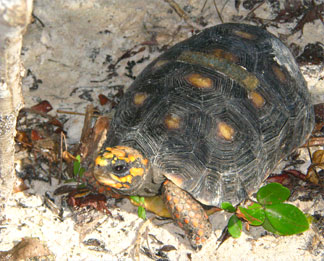 Cheddie has them enclosed in a beautifully crafted, high, stone wall, but one turtle managed to get away!
Then...
Searching For The Ever-Elusive Iguana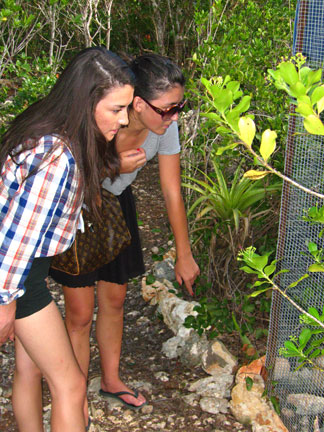 We managed to find him burried under leaves, hiding.
So far, so good. There was one animal left. We approached the cage with caution...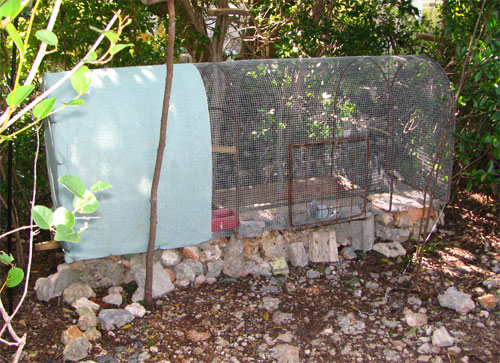 And what did we find?
A Pigeon!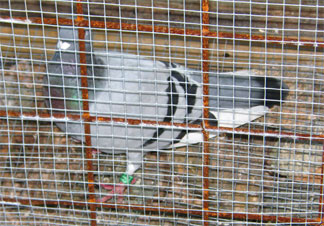 She was so beautiful, clean and healthy! I never knew pigeons could be such beautiful birds. If only all the pigeons in Montreal could be so attractive...
Finding the pigeon marked the end of our trip to Klassik Café.
My Mom took care of the bill... One of the best things about Cheddie's restaurant is the cost. If you want to minimize the cost of your holiday in Anguilla, this spot is a must-visit! You can eat for less than $50 including drinks! A steal of a deal, that's for sure. We'll be back!
Directions, Hours & Contact
Directions: Klassik Cafe is located on the main road, before the turn off to the Cove, if you're heading West.
Klassik Cafe
Good for grilled foods (steak, shrimp, chicken), at very reasonable prices.
Hours: Everyday for lunch.
Tel: 264-497-6027