Oliver's Seaside Grill...
Our Favorite High-End Anguilla Restaurant
Update 2015: I am sad to say that Oliver's has closed its doors.
Oliver's At A Glance
Overlooking Long Bay, Oliver's delivers a five-star experience in terms of Caribbean-influenced food, service and tranquil location.
More on Oliver's, below...
Oliver's is such an easy restaurant to miss. We had passed the sign to Oliver's (on the main road) 100 times at least. And each time we passed the sign, too late to turn, my Dad would say...
"Arrrgh! Next time we go down that dirt road."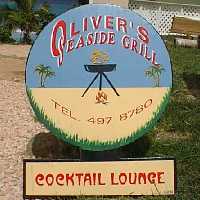 Well, on the 101st time, he stopped, backed up, and went down that dirt road. And if you drive right to the end, almost hidden, you'll find a restaurant that leads you into it by your nose.
That's what happened to us, anyway. The delicious smells, generously "garlicked," teased us closer and closer to the kitchen. The restaurant was closed but my Dad wanted to follow that scent.
And that's where we met the chef, Leon. A happy smiling man, he laughed when my Dad asked him if he used much garlic.
Kitchen and Staff

As my dad looked at the menu, something caught his eye...
Home Style Rock Oven Baked Whole Chicken
Leon said it was delicious and would feed our family of four quite nicely. You have to order this dish at least four hours in advance. Since it was 2:30 in the afternoon, we made reservations for 7 and left in happy anticipation.
First though, we walked out to the dining area, which was absolutely charmingly set, both inside and out. It sits pleasantly on the lesser-known, but spectacular Long Bay Beach.
Long Bay provides beauty in every inch of its sand and sea. Take a look...
Westward From Oliver's

And then east...

Along with the Outlook, Oliver's has the most panoramic view of any restaurant in Anguilla.
And the dining area seems to be constantly caressed by the Caribbean tradewinds...
Some restaurants are stuffy and squished, so you never get comfortable. Oliver's is set to perfection, lots of room to breathe those wonderful scents of Leon and the tradewinds at the same time.
Cost
In a few words, Oliver's isn't cheap. It'll cost you a little more, but not as much as some of the highest-end restaurants -- yet for our money (and taste-buds), it's the best of the higher-end Anguilla restaurants. Oliver's is really the best bargain.
The Atmosphere
Friendly and fantastic... water lapping, wind blowing gently. We sat, chatting.
After we placed our order, we looked around a bit. There is a nicely appointed bar downstairs, but we were hungry, so soon headed back upstairs...
We didn't want our chicken to get cold, waiting for us!
The Food
One word: Delicious. Is there any other way to put it? That "Home Style Rock Oven Baked Whole Free-Range Chicken" was done to perfection. It was stuffed with gingered sweet potatoes and something that I call "mashed potato balls." The entire family ate like we hadn't eaten in weeks!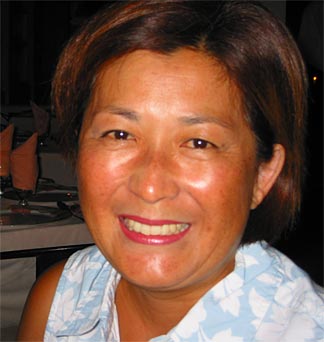 As you enjoy, Oliver himself walks around, introduces himself...
He talks with you for a bit, welcoming you and thanking you for joining him at his restaurant. He is a most friendly gentleman, with a big smile.
As you can probably tell by my Mom's equally wide smile, we were ecstatic.
Ecstatic, yet peaceful, and we were all enjoying the bliss this outstanding restaurant had to offer.
Directions, Hours & Contact
Directions: If you are coming from the East, drive as if you are going to CuisinArt. When you reach CuisinArt's entrance (at the golf course), keep going. You will see a set of lights and a MacDonna's Cafe. Turn right there and follow the road until you see a sign for Oliver's. Follow that sign.
Olivers
Good for tranquil, high-end Caribbean dining.
Hours: Dinner only.
Tel: 264-497-8780