Anguilla Villas...
An Unusual Way to Find Them
"Yes, I'd like a quart of milk, some chocolate chip cookies, and oh yes... Do you carry any Anguilla villas?"
What is the least likely place you'd expect to find Anguilla villas?
Well, I don't know about you, but I haven't seen any Anguilla villas on grocery store shelves. Yet that's how we found a really charming little spot in the sun, on our second favorite "big beach."
This fun mini-adventure began unexpectedly at the end of a long exploring day, during our March 2004 trip. We were staying out in the East end (at the Tortue villa). We had been bumping along the back roads, and walking a couple of beaches, of the West end for most of the day.
On the way back to Tortue Villa on Shoal Bay Beach (East), we were pretty thirsty and looking for snacks. So just before we rounded a familiar bend in the road, Yuki (my younger sister) and I were yelling...
"Stop at Foods 95!"
Frankie and Sandra Lake of Foods 95 are already old family friends. It's a super, growing grocery out in the West end of Anguilla. Frankie and Sandra are the friendliest people. We always end up having the most pleasant chats with them... and of course, Yuki and I love their cats (see Anguilla Movie #4).
We hadn't seen them yet on this trip, since we were staying on the opposite side of the island. So it was good to see my Mom and Dad and Frankie and Sandra catch up since our last trip.
Meanwhile, Yuki and I chugged our favorite brand of lemon iced tea ("Arizona"). And played with their cat.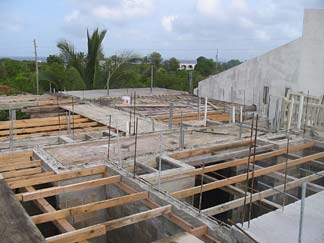 The biggest development since our last visit was pretty obvious. Sandra invited us into their home.
She took us upstairs to show us all the construction that was underway.
Frankie had come down to great us and was covered in construction dust, smiling from ear to ear.
What a wonderful home they are building, one step at a time. (Click here to see how Anguillians build the conservative, optimistic way.)
The conversation kept on rolling and somewhere along the line they started saying something about "Anguilla Villas." My Mom mentioned how much we loved staying at Anguilla villas and before you know it, Sandra insisted on showing us her favorite. (Or was it my Dad who insisted on seeing it? A bit of both.)
So off we went, following Sandra in her car, to a place called "Morgan Hill" on "Long Bay Beach."
Morgan Hill Anguilla Villa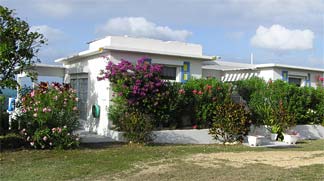 From the moment we rolled to a stop in front of the house, I thought it was the cutest of all Anguilla villas. An "Anguilla cottage," I'd call it.
Would the inside disappoint, or live up to appearances? I could hardly wait for Sandra to open the door. As usual, Yuki and I went tearing around, exploring every nook and cranny. Let me share it with you.
The Living Room
(which extends behind the photo)
The Kitchen (in the background)

Kitchen Close-Up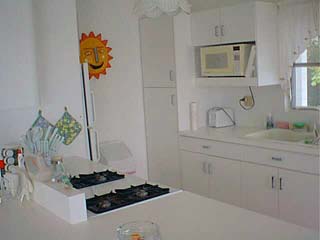 Dining Area

First Bedroom
(Each bedroom has its own bathroom)

Second Bedroom

It was every bit as quaint and cozy inside! At the same time, it felt light and airy and spacious... lots of room for a family of four.
However, our family's "acid test" is...
THE BEACH!
So out we went, past the sliding doors, and onto the terrace. The smell of the sea, the sound of the surf, and the view were A-1. Long Bay Beach is truly gorgeous... and there are no other rentals on it... unless you want to spend about $40,000 at the Temenos villas right next door!
Straight Down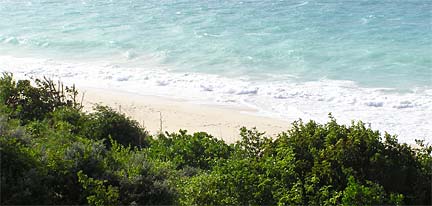 Temenos Next Door

The View We Love

Upon setting foot on the concrete balcony, I knew what my Dad meant whenever he said, "Long Bay Beach is simply sensational. There's no other way to describe it."
And, to top things off, one of our favorite high-end restaurants is almost next door, just on the other side of Temenos. Thanks so much, Sandra, for a wonderful tour of a beautiful villa. This just may be our next Anguilla villa heaven.
The moral of the story? The next time you're in a grocery store, don't forget to ask if they carry any Anguilla villas! Ha!