Anguilla Weather in August-September:
Hurricane Earl, 2010
Although hurricane season begins June 1st, the "riskiest" time to be in Anguilla is during mid-August to end-September.
That is normally when hurricane warnings really loom. You can often spot 2 or 3 at different stages of development in the Atlantic. Here's one such hurricane story...
It's August 30, 5PM, 2010 and the worst of Hurricane Earl has passed.
It was a Category 2 that grew into a 3 as it passed within 30 miles to the North of Anguilla. Anguilla is so thin that, as a result the strongest winds ended up coming from the south-south-west (due to the counterclockwise circulation of the winds), impacting the south shore.
My parents happen to be in Montreal as I write this, but they tell me that they have been in contact with folks back home who report the winds are down now. Lots of utility poles are down, too, so everyone expects land-line phones and electricity to be down for days.
The way Anglec (the Anguilla electrical utility) works, though, the time will be as short as possible. The last time a hurricane hit (Hurricane Omar in October), Anglec worked around the clock.
The whole island really becomes a tight-knit community before, during and after a hurricane. While they'd all prefer not to have one, it's clear that there is a common bond, an experience that everyone shares.
After a hurricane, Anguillians tour the island as if they were tourists. Everyone chats, exchanges stories and takes photos. They also share the relief that another one is gone. Now, Fiona is only a few days behind. Here's hoping it fades or misses.
My Dad tells me that Mike (our builder) has already been out to our home and reports it in perfect shape, despite the winds that hit it at over 100 MPH. Needless to say, they are relieved.
So are we. I hope everyone on the island has come through it as well and that electricity is back up and humming in no time!
P.S. Hurricane Earl is now a Cat 4 and is projected to hit Cape Hatteras as a 4. It will come close to us in New York City ( where I've just started schol again) and then heads straight to one of our favorite beaches in the world (after Anguilla, of course!), Hirtles Beach and the South Shore of Nova Scotia.
You can follow the trajectory as shown by this stormpulse.com screenshot of Earl taken shortly after it passed Anguilla (the "hotter the color, the higher the category of storm)...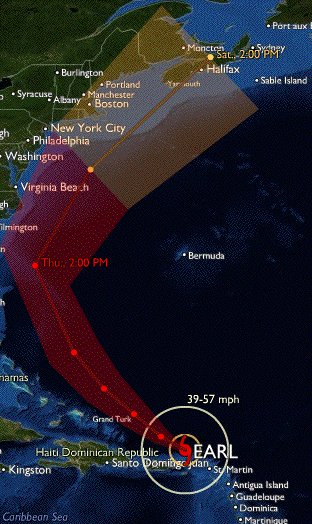 Good luck to those in the path of Earl. We tend to think a hurricane is over once it has passed. Often though, it's on its way to someone else.
Hurricane Earl Update
My parents arrived home from Montreal to find their home safe and sound. Mike did a great job securing our house. They lost a few palm trees, and some cacti but nothing major.
As for the rest of the island?
Thankfully the damage was minimal, mostly issues of landscaping and no power for a few days.
Mike's son Tomy took some great shots after Hurricane Earl passed through Anguilla...
Shoal Bay West - A Seagrape Tree Buried in Sand

Backstreet Road Overlooking Sandy Ground

Sandy Ground

Sandy Ground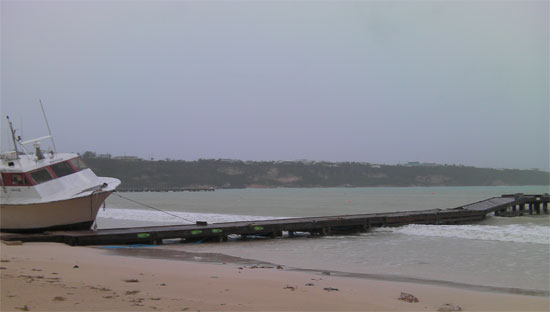 The most severe damage was done to the Road School and to Malliouhana, both locations losing their roof.
Malliouhana

Since Earl ripped through Anguilla the island has pulled together, working quickly to repair and gear up for the Christmas season. Thankfully, Hurricane Earl didn't do great damage and no on was hurt.
What a relief!
Now, bring on that clear Holiday Anguilla weather!