Café de Paris...
Affordable Fine French Dining in Anguilla
Update 2017: Cafe de Paris has closed. You can now find Ben at Pit Stop by Ben.
When I first heard word that Café de Paris was opening their doors, one thought went through my mind...
Ben is back!
He co-owned and operated the extremely popular Big Spring restaurant in Island Harbour. A neighborhood favorite frequented by those "in the know," his French specials, burgers, pizzas and pastas were loved by all.
Now, he has re-opened in the West End with Dominique Thevenet.
Ben & Dominique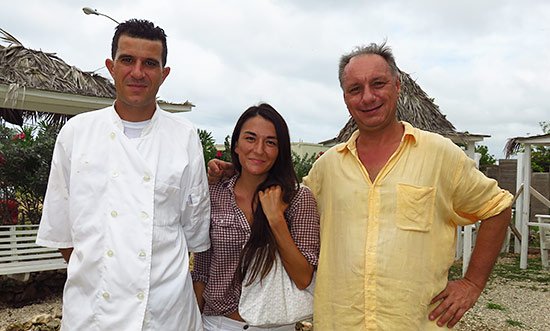 Former chef at Covecastles (since the 90s!), Dominique is no stranger to Anguilla and our fine-dining scene. Ben, too, has deep roots in the island, having worked at Le Bon Pain long before opening Big Spring.
They have teamed up, combining their knowledge of French cuisine at Café de Paris!
The Setting
In a lush garden in the island's west end, set back from the main road, Café de Paris is peaceful and quiet.
Affectionately named after the capital of Ben and Dominique's home country, the atmosphere blends French and Anguillian influence.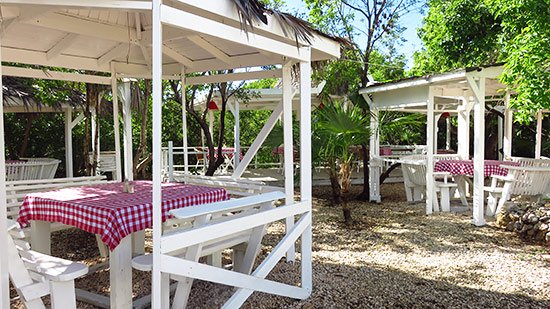 Red and white checked table clothes sit atop white-washed tables. Well separated and surrounded by lush Anguillian plants, tropical palms and native stone work, the restaurant is comfortable and calm.
Breakfast Pastries & Specials
Ben shows off his ability as an expert baker in the morning.
Continental Breakfast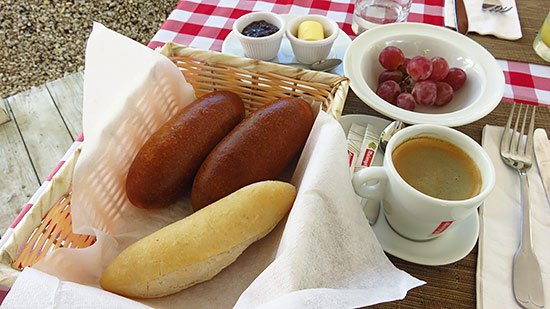 Their "L'Express" option includes one coffee, pastry and fruit juice. The "Continental" adds a fruit plate and French bread, butter and jam. Prices are $7 and $10 respectively.
I chose the "Express" and my Mom went with the "Continental."
Upon sampling the French bread, I would highly recommend going with the Continental. Hot, straight from the oven, the butter melts into this perfectly crisp baguette.
Chocolate Brioche

The breakfast pastry changes daily. When we visited the pastry of the day was chocolate brioche. Again, expertly crafted. Crisp with just enough firmness on the outside, bready and warm inside with a touch of chocolate.
Other pastry specials have included apple turnovers and custard turnovers. Usually though, the pastry is a brioche.
Prefer a full breakfast? They have french toast, pancakes, bacon, sausages, hashbrowns, eggs and a breakfast special of the day. Bacon, onion and mushroom scramble, egg concotte with ham and cheese... these are just a couple of the specials Ben has been known to prepare.
Lunch Cuisine
Lobster Bisque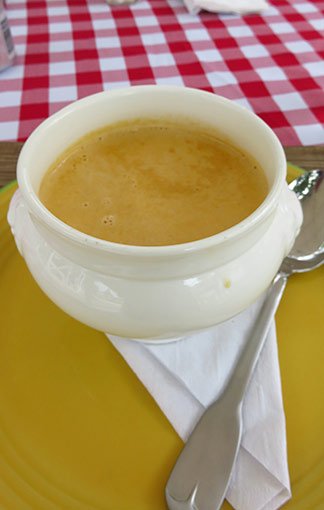 Café de Paris doesn't close its doors at Noon.
They are open through the afternoon, serving divine French specials in addition to their regular menu.
We have been back several times.
What have we sampled?
Creamy and smooth lobster bisque.
A hearty nicoise salad.
Warm goat cheese salad (my very favorite).
Each excellent!
Seafood, lobster and caesar salads also make regular appearances on their special menu.
They can be ordered as appetizers or mains.
Nicoise Salad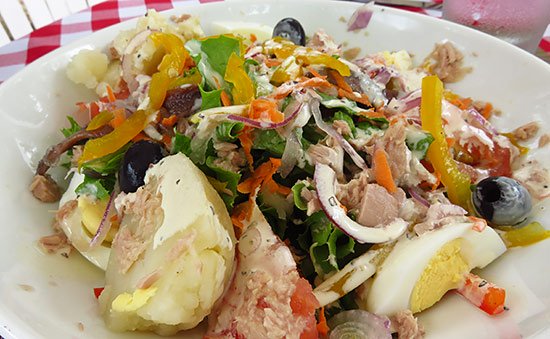 As far as "entrée" specials go, they can include anything from ribeye steak with mushroom sauce, to mahi mahi in a basil oil or chicken cordon bleu.
The specials are always changing. For their latest specials, visit Café de Paris' Facebook page here.
Goat Cheese Salad

One of the best "entrée" specials we have had? Their pork!
Ever since Ben's days at Big Spring my Mom has been an especially big fan of Ben's pork dishes. On a recent visit, she ordered their pork medallions in a pineapple peppercorn sauce.
My Mom & Café de Paris' Pork Special

So tender, it was perfectly seared and seasoned.
Classic Ben style!
Beyond their specials, they have an entire regular menu of classic favorites.
These include burgers (angus beef, fish and chicken), pizzas and pastas.
Whether with mushroom and bearnaise sauce ("Napoleon Café de Paris" - burgers at Café de Paris are referred to as Napoleons) or topped with Canadian bacon and Swiss cheese ("Napoleon Savoyard"), each is served with homemade french fries (or salad) and on a homemade bun.
Their chicken burger is grilled and served with tartar sauce ("Napoleon Bressan"). For seafood lovers? Mahi mahi is breaded and seared, popped into a bun with tartar sauce ("Napoleon de la Mer"). Prices range from $13-16.
Pizzas include standards such as marguerita, pepperoni, Hawaiian, and special creations such as "Three Cheese" (blue cheese, mozzarella, goat cheese), "Cow Boy" (cheese, onion, ground beef) and "Lobster" (Anguillian lobster pesto sauce).
Tomato basil, bolognese, chicken in tarragon cream sauce, carbonara and fish steamed with garlic parsley, all make up their pasta menu.
Updates to come as we try more of their menu!
Finally, what would a French restaurant be without a little chocolat?
Warm Chocolate Cake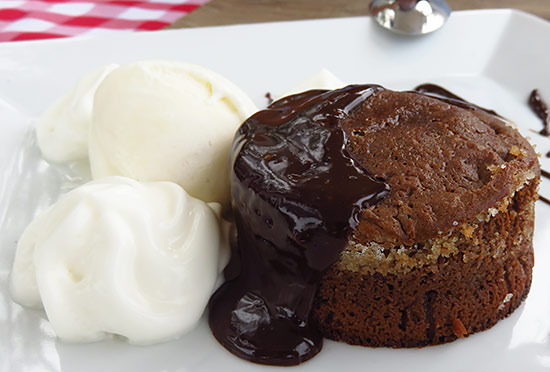 Served warm with ice cream and whipped cream, their chocolate cake is quickly becoming one of our favorite desserts on the island. Sweet and moist, you know it's fresh-made.
After each and every meal at Café de Paris, I have to smile. Having Ben back just feels right. And, now, after several meals at Café de Paris, it's safe to say he's back and better than ever!
Directions, Hours & Contact
Directions: Located in the former Klassik Cafe.
Hours: Open daily for breakfast and lunch and dinner. Closed Wednesday.
Tel.: 264-497-0069 / 264-235-0069