Pit Stop by Ben...
Chef Ben Does it Again!
By: Cassie Lewis
Chef Ben is a man with a following here in Anguilla. Known and loved for his casual-French dining experiences, he is the man behind the two popular eateries, Big Spring and Café de Paris.
Today, he is stirring up the pot again with a whole new restaurant, in a whole new location. If you are looking for a laid-back evening with excellent French cuisine at a terrific price, "Pit Stop by Ben" in Island Harbour cannot be beat.
Ben Re-Invents Pit Stop
Pit Stop has long been a landmark in the East End of Anguilla. It was locally loved for its Johnny cakes and was an evening hot spot thanks to its BBQ and pool table.
All wood with a galvanized roof, it is your quintessential simple and casual roadside restaurant. If you drive too quickly along the road that runs from Island Harbour to Shoal Bay, you just may miss this sweet and tiny establishment. Look for the French Tricolor.
The Tricolor Sign

Open-air and well-ventilated, Ben has added charming touches to the little restaurant. As you enter, your ears are gently kissed by soft melodies of sweet music as your skin is hugged by cool breezes that are owned by the night. Starlights dangle with glee from the ceiling, giving the restaurant a lunar effect.
Pit Stop By Ben

Simplicity rules supreme at Ben's Pit Stop. It is true to the adage that "good things come in small packages." And, if you are a fan of the likes of Anthony Bourdain or Diners, Drive Ins & Dives, you know that the best dining often lies within the most unassuming locales ;-)
With Ben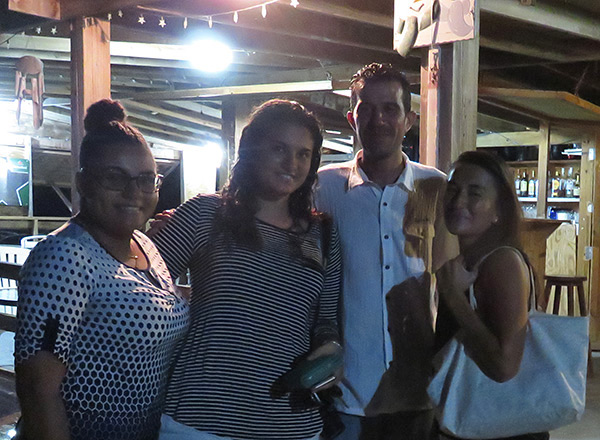 What's on The Menu?
As you step inside, Ben personally greets you and guides you to an available table. Comfortably seated with menus in-hand, Ben took our drink order as we looked at the menu.
Ben's regular menu features a variety of pizzas, pastas and burgers.
He is famous for his thin-crust pizzas that consistently impress. Types of pizzas include "Napoli" with anchovies, olives and capers, "Caribbean" with onions, peppers, chicken and pineapple, "Ocean" with shrimp, garlic, parsley and olives, and many more.
Nori went for the "Three Cheese." The thin-crust pizza is lathered with a rich tomato sauce and topped with a blend of savory mozzarella, blue cheese and, Nori's favorite, goat cheese. The blend of flavors was just right.
Three Cheese Pizza

Ben's pastas are equally famous to his pizzas. Bolognese, Carbonara, veggie and chicken.
Louise went with the veggie-loaded pasta dish. Onions, peppers, mushroom, tomatoes, carrots, garlic and parsley are tossed together, creating a super nutritious dish. With mouthwatering aromas flowing through the air and over to my side of the table, I had to ask Louise for a bite. The verdict? Healthy can taste as good as it looks!
The Vegetable Pasta

Perhaps his most famous creation is the last part of his menu... the burgers! His 7 oz. hamburger just may be the best burger in Anguilla. A thick, juicy, hand-made patty is popped onto a homemade bun and topped with crisp green lettuce, tomatoes, onions and served with hand-cut French fries. Each bite is a bite into burger heaven! It is a serious contender to Anguilla's top burger joints.
Ben's 7 oz. Burger

Finally, in addition to Ben's regular menu is his "Special Menu."
Daily Specials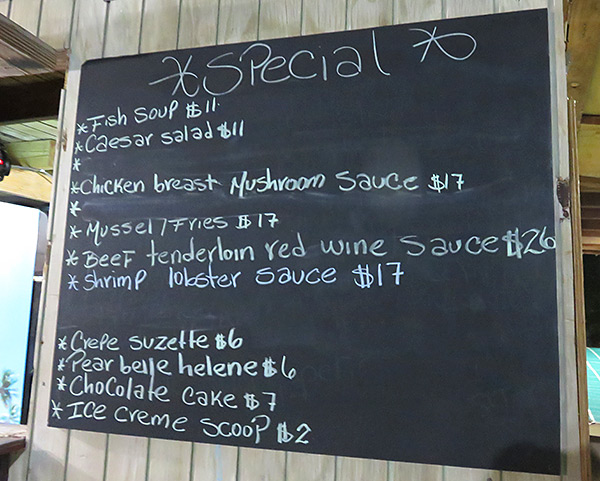 It is this special menu that has set Ben apart for many years. The special menu is written up nightly and hung on the restaurant's bar. People go crazy for his exquisite specials at such a reasonable price.
Nori's sister, Yuki went with one of the nightly specials: Moules Frites Mariniere. One of Yuki's favorite all-time dishes, her eyes lit up when she saw it on Ben's menu.
The key to a good Moules Frites is in its sauce. Ben's? Excellent on all accounts. The shallots, garlic, parsley and white wine were simmered to perfection. So good, Yuki was even drinking the broth! She also noted that "les frites" were true French fries. No frozen fries here. The perfect complement to "les moules."
Moules Frites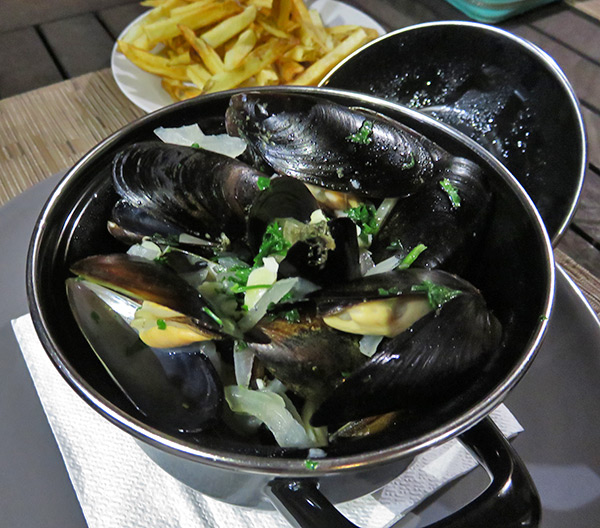 Presented so delicately, it was as good as it looks.
Sweet End To The Evening
As we sat back in post-meal delight, Ben came to tempt us with one more final dish... "Dessert?" he asked with a smile. How could we resist! There were a number of specials that night. Our pick? The crepes suzette.
We placed our order and just before it arrived, Anguilla's skies opened up onto the restaurant's galvanized roof. The pitter-patter on the tin roof was so soothing, allowing for a gentle, calming pause for us to listen to how beautiful nature truly is. The rain intensified and then backed off just in time for...
Crêpes Suzette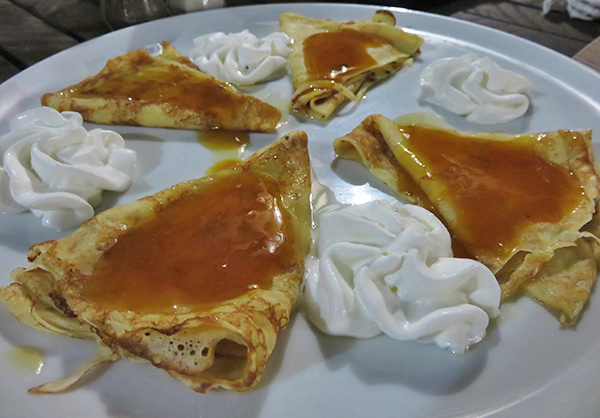 A known French specialty, the ensemble was citrusly delicious! Orange-lemon sauce topped the fine crepes, with a dollop of whipped cream. As if the main course didn't have us throughly satisfied, dessert was just the icing on the cake.
Because Ben is one of the finest, Ben returned with a "digestif" on the house. A shot of vanilla-rum, it sealed the evening!
Such a tiny kitchen produces terrific cuisine, and with just Ben on the floor - it is a credit to his ability to cook and cater to his guests. It's a matter of time before this fantastic little restaurant in the heart of Island Harbour becomes a go-to.
Quality food at a low price? You can't go wrong, whether traveling on a budget or simply seeking top-notch cuisine. The perfect little stop, that's Ben's Pit Stop!
Directions, Hours & Contact
Directions: Located at the former Pit Stop on the road that runs from Island Harbour to Shoal Bay.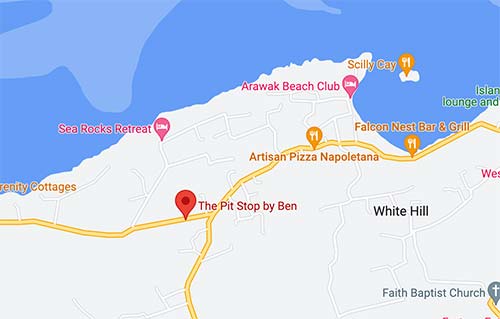 Hours: Open nightly from 6:30-10pm.
Tel.: 264-582-7667
Menu: Click here