Private Chefs in Anguilla...
Chef Hodge of Hodges Catering Service

By: Louise Fayet
"Who is your go-to for private chef services?" is a question we get asked a lot! On an island that consistently wins gold at Miami's culinary competition, the list of excellent private chefs is long. One chef whose name is on the tip of everyone's tongues?...
Meet Chef Hodge of Hodges Catering Service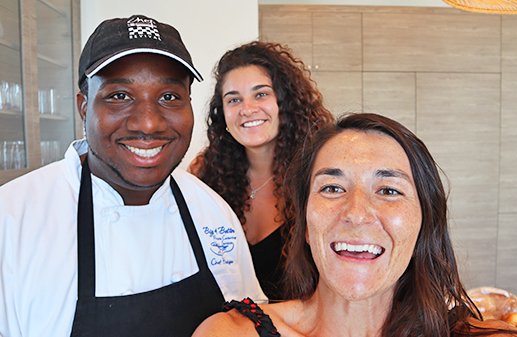 From a very young age Joseph Hodge expressed a love for the kitchen. Chef Hodge comes from a family who loves to cook. His mom would show him how to roll out Johnny cakes, prepare creamy pumpkin soups and do it all with love. What started as helping out in his family kitchen evolved into years at Cap Juluca as a Line Chef and Junior Sous Chef.
Chef Hodge Manning The Grill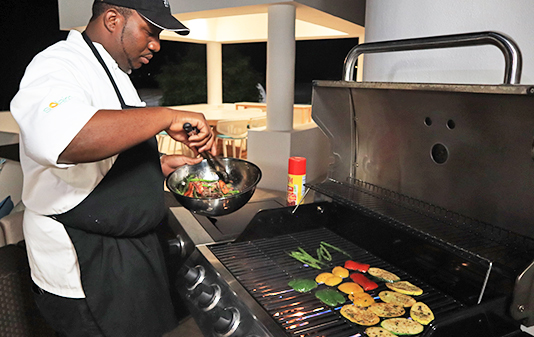 It is no surprise that today he operates one of Anguilla's most popular private chef services. An experience that is equal part yum and fun, here is an example of a night with Chef Hodge...
Pre-Dinner Snacks
Prior to the meal, Chef Hodge emailed us regarding any allergies and food favorites. Each meal is tailored to your taste buds!
It all begins well ahead of dinner time. Chef shows up a few hours ahead to begin the prep. The smells from the kitchen tease your tastebuds as he works. There is nothing as exciting as stepping out of your bedroom to the smell of sweet corn roasting as Chef prepares the evening meal.
Mozzarella Sticks & Pesto Sauce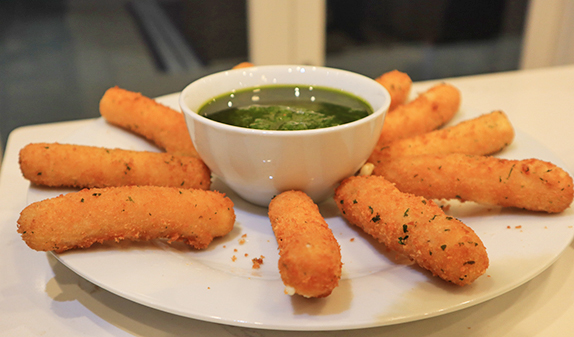 Chef kicked our night off with crispy, deep fried mozzarella sticks. Crispy on the outside and piping hot on the inside, the sauce set this appetizer apart. Chef's homemade pesto sauce is divine. Oh-so-garlicky and fresh, each bite beckoned we take another.
Next up? Chef prepared shrimp in a secret batter laced with coconut flakes.
Preparing The Coconut Shrimp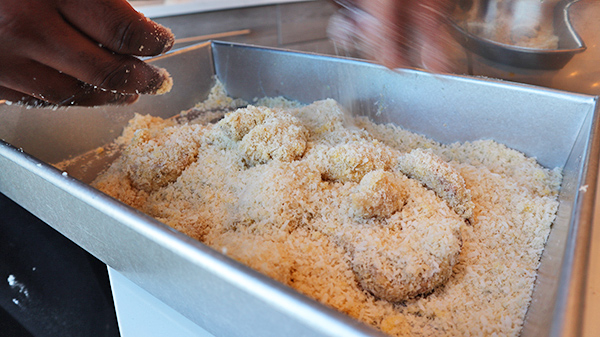 These homemade coconut shrimp were fried to perfection! Chef sides these shrimp poppers with a tasty sweet chilli sauce.
Coconut Shrimp & Sweet Chili Dip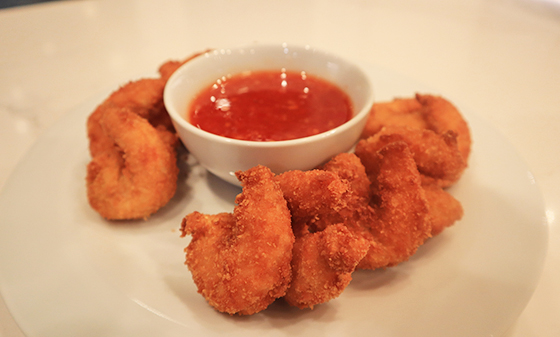 Already impressed with Chef's snacks, we knew we were in for a memorable dinner.
Chef Hodge's Starters
As a starter, Chef roasted corn and tossed it with finely chopped peppers and onions to make a vibrant roasted corn salsa.
Chef Preparing The Corn Salsa

What's the corn salsa for? The smoothest pumpkin soup we've ever tasted!
Pumpkin Soup & Corn Salsa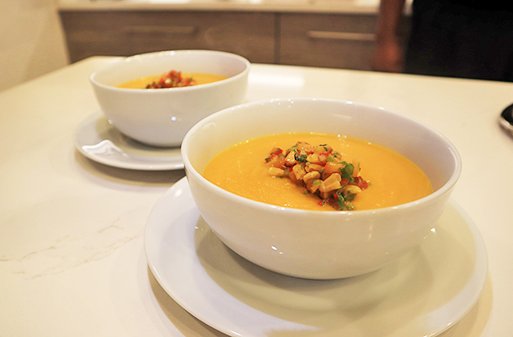 Chef has mastered his pumpkin soup. The smooth and creamy soup is offset beautifully by the kick of crispy corn salsa. Every bite was magical. Nori and I were both in awe. We wanted more, but Chef Hodge had other plans. Dinner was only beginning.
The Entrées: Surf & Turf
Another Chef Hodge specialty? Fresh Anguillian Johnny Cakes. Curious about the process, Chef Hodge patiently showed us exactly how it's done. From rolling the dough, to forming the Johnny cakes, to frying them right before our eyes, Chef Hodge is equal part - delightful host and talented Chef!
Freshly Made Johnny Cakes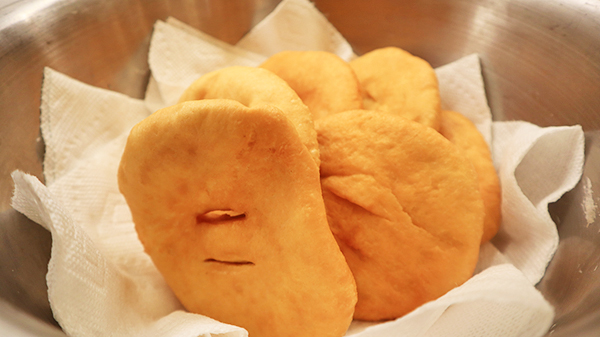 "These Johnny cakes will go with the rice & peas," Chef smiled as he unveiled a mountain of homemade rice and peas.
Anguillian Rice & Peas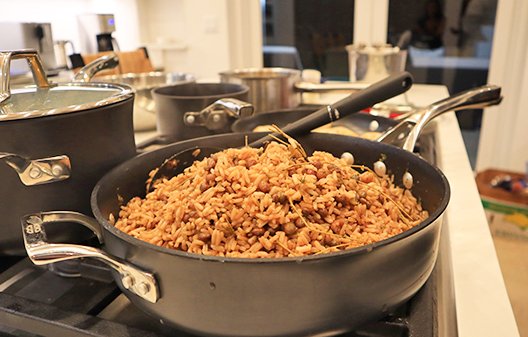 "... and these...," Chef smiled again as he brought out a tray of fresh-caught crayfish.
Fresh-Caught Crayfish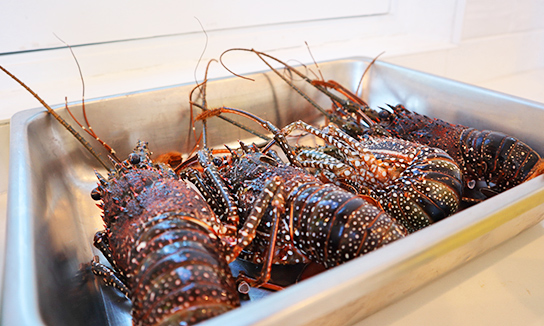 These tasty crayfish were thrown on the grill along with local island veggies. All of the staples for a true Caribbean feast!
Chef plated the rice & peas, homemade coleslaw, piping hot Johnny cakes, BBQ crayfish and vegetables hot-off-the-grill.
The Crayfish Meal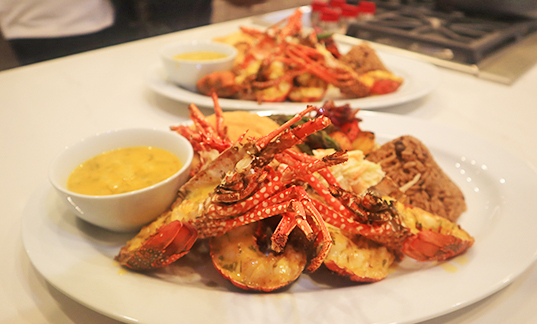 Chef added a special touch to his crayfish meal. Served on the side? A rich mango butter sauce. Sweet and decadent, Chef's sauce made the crayfish pop with flavor.
We had to save room, though. Chef wasn't finished yet!
Next on the evening's menu? Slices of zucchini, peppers, onions, carrots and asparagus marinated in a pool of spices and fresh herbs.
Zucchini, Peppers, Onions & Asparagus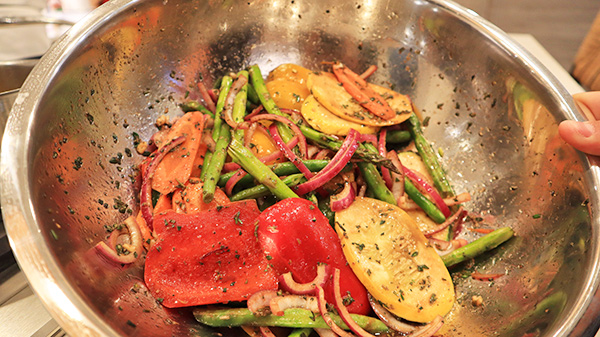 Chef placed them on the grill. The aroma was heavenly. Whiffs of fresh thyme and peppers quickly made their way up our noses.
Grilled Vegetables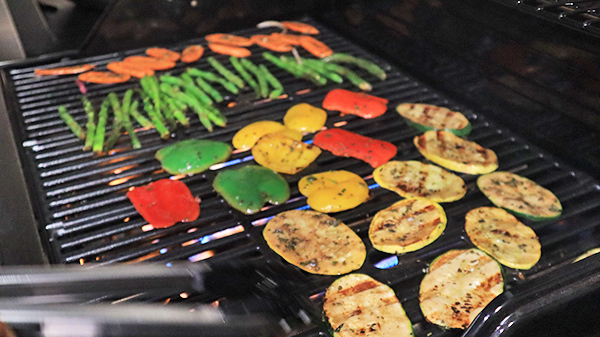 As they cooked? Our eyes widened as Chef placed two premium cuts of Stirloin beef on the grill.
Steak On The Grill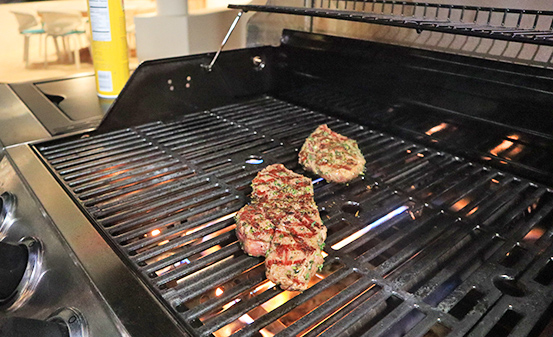 The steak was spot on, complete with the classic grill marks. As the steaks sizzled, Chef drizzled a house-made parsley sauce over the steaks.
Word of warning: Chef does not skimp on size or sides! Chef served this steak on a heap of pan-friend fingerling potatoes, grilled asparagus and vegetables.
The Steak Meal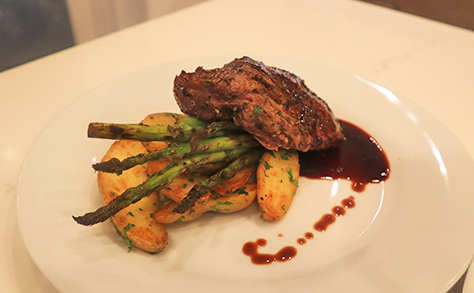 The finger-licking touch? The rich wine reduction jus drizzled over the steak. Each bite of the steak was savory and perfectly seasoned. The potatoes and asparagus all partnered so well with the wine jus. From start to finish, an impeccable meal.
Sweet Endings
Stuffed to our limits, Chef would not let us get up from the table without a spoonful of something sweet :-)
First up, a Chef Hodge classic and a favorite Anguilla dessert, bread pudding. Chef Hodge prepares this dessert with absolute love. He thoroughly mixes sweet bread with milk, raisins and spices. The mix is gently placed in ramekins and then set to bake.
Homemade Bread Pudding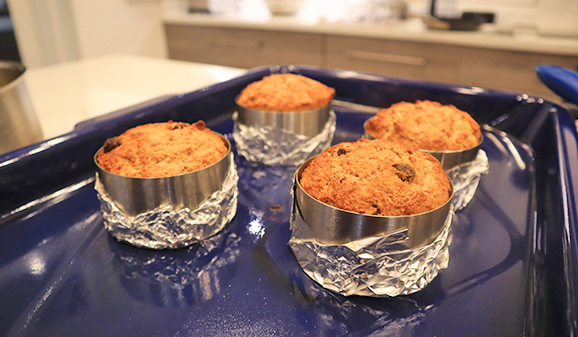 The sweet smell of these mini bread puddings took over the entire kitchen. When they popped out the oven? Chef painted them with a sugary glaze.
Bread Pudding & Ice-cream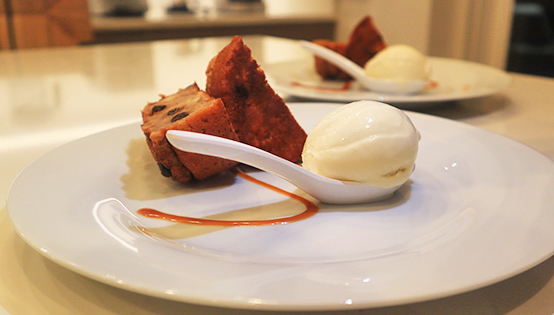 With a scoop of vanila ice cream and a drizzle of caramel, the dessert was complete. Irresistibly delicious, we somehow found room to polish off the entire dessert!
If bread pudding isn't to your liking, Chef Hodge is famous for his cheesecake.
Decadent Cheesecake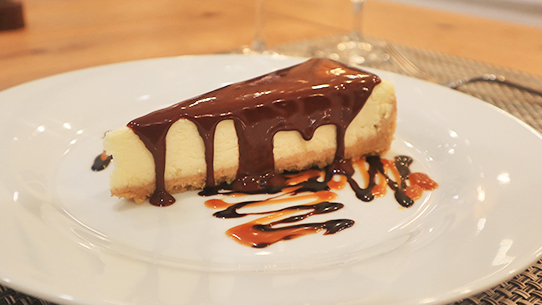 Chef completes his decadent cheesecake with swirls of caramel and chocolate sauce.
Chef Hodge's private chef service is world-class. A warm man with a huge heart, Chef Hodge makes it a night to remember - for the food and for the experience. It makes for a most indulgent and relaxing evening, at a price comparable to a meal at Anguilla's finest restaurants. It is a must do for the full Anguilla villa experience.
Contact Information
To book with Chef Hodge, contact him at...
Tel: 264-235-1141
Email: chefhodge91@gmail.com