Good Korma...
Anguilla's First Curry Take-Out
By: Kristin Bourne
Terrific news for curry lovers in Anguilla: Anguilla is now home to a convenient and delicious take-away curry house with a good story and a clever name, Good Korma!
Good Korma on The Strip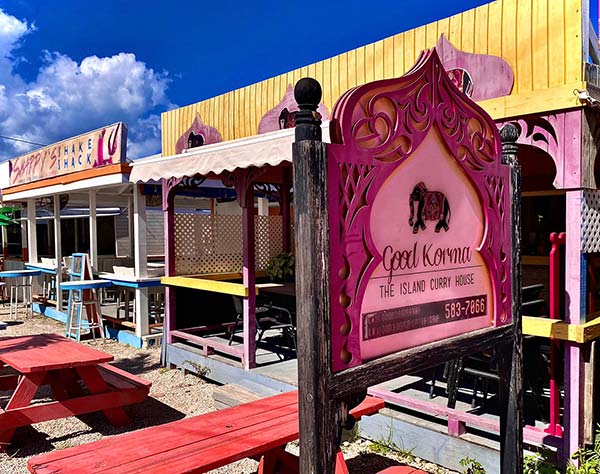 Part of the story is that Good Korma is the manifestation of one woman's proven, undeniable passion for curry and her personal challenge of perfecting each of her favorite curries.
The Good Korma Story
It all started when Anguilla native Serena Banks left to study in England. She was exposed to curry in a broader and different way than before and was instantly a fan.
She sampled curry around England from London, Leicester, Birmingham, Lancaster, Manchester to Kibworth.
After Serena's acknowledged love for the full flavor of Indian cuisine, she could be found not only eating at many of her favorite Indian restaurants in England but also finding her way in to the kitchens of her favorite restaurants where she learned their ways, preparing curry from various bases and with finishing ingredients.
After 9 years in England, fast forward to late 2015 and her dream of sharing her curry recipes from some of England's tastiest curry houses with her home of Anguilla can now been seen on The Strip.
The day I sat with Serena I learned a lot about curry and I was already a fan of it.
Good Korma's Tikka Masala

My apartment in New York City was on the southern border of Manhattan's "Little India". I could almost leave my office north of it to walk home and find my apartment with my eyes closed with the help of the aromas of the Indian restaurants.
The aroma from curry cooking, if you love curry, is a heart warmer.
Those who know that happy, excited feeling you get when you smell curry cooking will understand the excitement behind Anguilla now having a charming take-away curry house. And whose food, from the entrees to the sides, are both delicious and all compliment each other nicely, just as a full Indian tiffin can do.
The Food
You can start with samosas and/or poppadams.
For a meal, your protein options for each curry are either chicken or shrimp. If you'd like beef, call ahead and it's likely to be available to go.
The curry selections are korma, butter korma, tikka masala and balti. Which I'll explain further down.
The chicken meal is $11 and the shrimp is $13, all prices are in US. They are served with basmati rice, bombay potato, raita (a cucumber and tomato salad) and apple coleslaw.
Chicken Korma Meal with Basmati Rice and Bombay Potato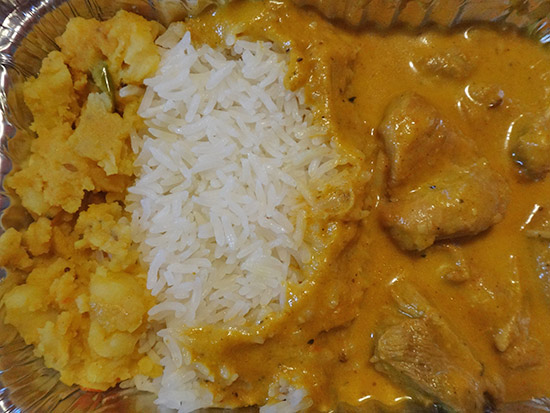 If you'd like to go the "local" route, Good Korma offers curries that are more geared to local palettes. Try the goat or conch curry which is Caribbean in style with garlic, onion sweet peppers, potato and coconut dumplings. They are $12 and $13.
Curried Conch with Rice and Peas and Bombay Potato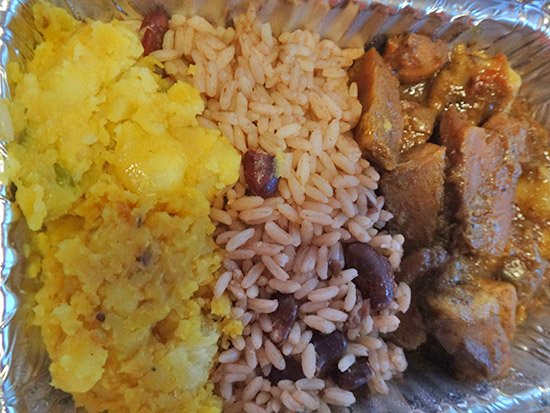 All of the sides that come with the entree can also be ordered as sides along with naan bread.
Apple Coleslaw and Raita from Good Korma

She also offers water, sodas, juices, wine and beer.
The Curry
Serena explained the difference between the "regular" korma and the butter korma. They are structurally almost the same; both coconut based but the butter korma uses creamy cashew butter and the other uses almond.
Good Korma's Butter Korma

Another curry option is the tikka masala. It's a tomato based curry with herbs and spices.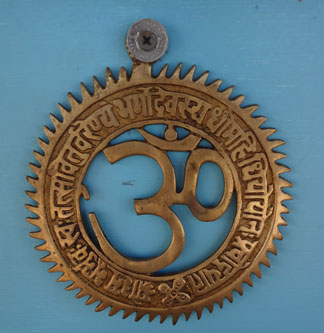 Since I just brought up the word "spice" and a lot of people tend to define it as "hot", let me share what I learned from Serena about the spice/heat in her curry.
England Indian curries are generally more creamy and not very spicy at all. Keep this in mind as you try Good Korma's curries and know that you can request any amount of "heat" you might like, or up at least to Serena's current hottest pepper.
The next and final curry option is made from a recipe from Birmingham, England and it is her balti. The balti is a stir fried curry with garlic, onions, sweet peppers and coriander.
So there you have it; korma, butter korma, tikka masala, balti or the West Indian curry.
I sampled the chicken butter korma, the chicken tikka masala, the rice, the Bombay potato and the apple slaw.
The apple slaw was fresh, crisp, cool and sweet with plump raisins. I don't generally love slaw but I ate every bite.
The Bombay potato was warm and rich and perfectly flavored. I could eat it every day.
It got even better when I scooped up a bite of white basmati rice along with a bite of the potato. The rice was cooked ideally.
I saved the main for last although it wasn't easy because its color and texture was so appealing. Pale yellow and topped with fresh green coriander and then there was the smell…
My fork first hit a larger chunk of chicken breast and it separated easily, it was that tender. I ate the bite left on my fork and then there were ooh's and ah's.
It was even better than I had hoped. It had been a while since I had experienced the intensity of both the smell and taste senses being exercised at the same time.
The same great result happened with the tikka masala. Savory, flavorful, fulfilling.
Everything was excellent.
And, Serena's attention to detail and positive, small touches really makes a difference.
For example, the upgraded take away containers...
If you don't know, Anguilla (who's not alone in the region) is notorious for styrofoam container use. Serena has some styrofoam containers depending on what your order is but she also has aluminum containers with cardboard lids. Upgrade!
And… it's all popped into a paper bag, not a plastic bag. Another win.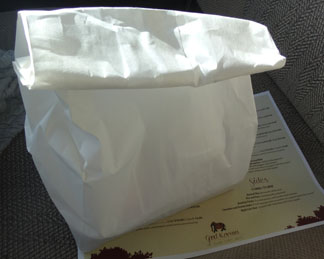 On top of that, she gives out mints!
There are (if you like curry!) so many reasons to check out Good Korma. The food is fresh, savory, hot, cooked properly and delicious.
And if you ask Serena what her favorite is, you could find yourself in a great conversation on curry. She's a pleasure to talk with and has done her homework, practiced and is sharing her passion with Anguilla.
A daughter, sister, wife, a mother of two, a lawyer and now the owner of her own passion-driven business, it's amazing! I thanked her for making the effort to share her passion by opening Good Korma. It really is a unique and happy little place.
Keep your eyes peeled, too, if you're a music fan. There's a possibility of bumping into one of Anguilla's talented reggae artists, Omari Banks, he's Serena's husband.
Location, Hours & Contact
Where can you find this new little gemstone? On The Strip.
If you are visiting Anguilla and don't like the idea of taking curry to the beach or back to your hotel or villa, there are nice picnic tables to enjoy your meal.
Hours: 11am to 3pm in day, 6pm to 9pm at night, Monday to Saturday. Closed on Sundays and Holidays.
Tel.: 264-581-7226