The Manoah Ocean Beach Club...
A Touch of St. Tropez in Anguilla
Update 2017: Since this article was written, Manoah's menu has changed. Today, the menu features Caribbean-esque dishes and a few French options. In addition, the restaurant's hotel has opened. More on The Manoah Boutique Hotel here.
By: Kirmani Honoré
Bright, striking and inviting... that's Manoah!

Manoah...
Hotel in Background, Restaurant & Bar in Foreground

Manoah has been a hot topic of conversation ever since its development began a few years back. Manoah takes the place of the area's former hotel, Ku. The previous hotel structure was completely torn down and is being re-built from the ground up. Hotel construction is nearing completion with a few beachfront units already finished.
A Note on the Hotel: The beachfront units will be available to book this summer. The rest of the hotel should be completed in time for November/December. Updates to come!
While hotel construction is wrapping up, Manoah's restaurant and bar, called "The Manoah Ocean Beach Club," is officially open...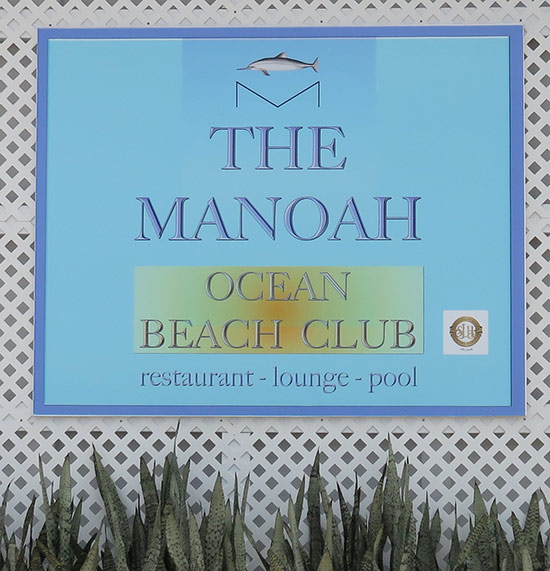 The Manoah Ocean Beach Club
Manoah's Ocean Beach Club takes your breath away. Expansive, sparkling and right on the beach, Manoah is a first class seat on Shoal Bay East.
The mix of stark whites, earthy browns and bright, striking blues create a seamless flow from their hypnotizing pool...
Arriving at Manoah's Ocean Beach Club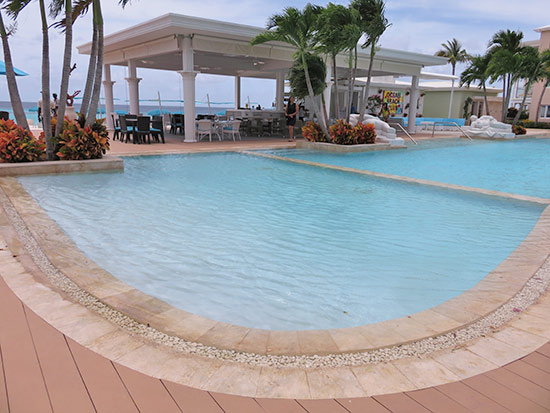 To their restaurant and bar...
The Bar at Ocean Beach Club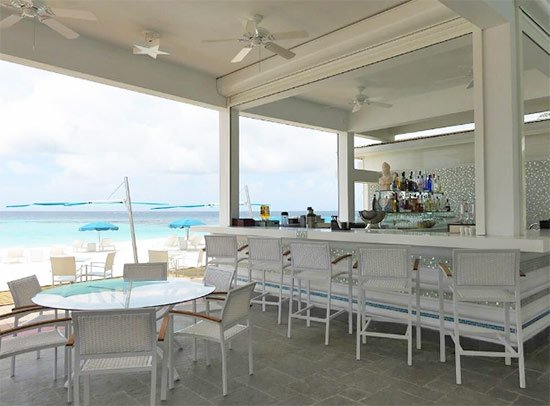 To the powdery white sands of the beloved Shoal Bay East...
Beachfront at Manoah's Ocean Beach Club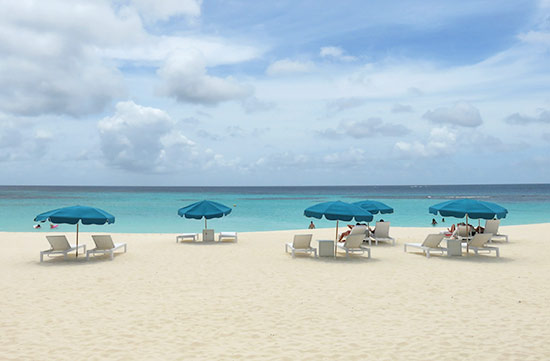 The hotel may still be under construction, but the restaurant, beach and pool areas are more or less complete (a few finishing touches are left to add to the beach area). The pool is complete with cozy cabanas and lounge chaises, and the restaurant offers plenty of comfortable loungers on the beach, too.
Comfy Pool Cabanas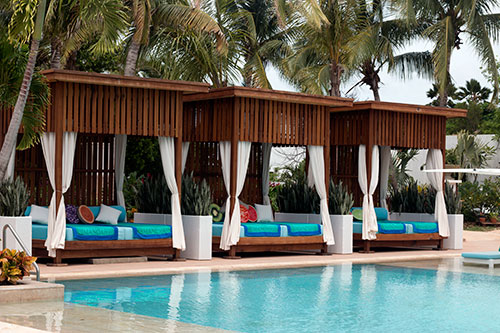 All in all, the pool, restaurant and beachfront setting really dazzles the eye. It blends a French, St. Barths-chic feel (word on the street is the developer has ties to St. Tropez and that influence can be felt throughout the property) with that laid-back air of unpretentiousness characteristic to Anguilla. As time goes on, Manoah is sure to become the place "to see" and "be seen" on Shoal Bay East.
After exploring the grounds, it was time to settle into lunch on Manoah's terrace.
The Terrace at The Manoah Ocean Beach Club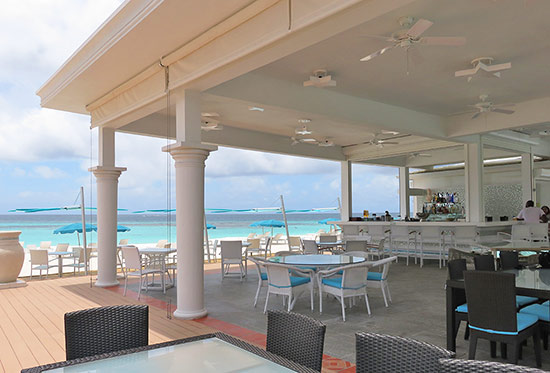 Anguillian-French Cuisine
Ocean Beach Club offers a tight menu of starters, mains and desserts.
This is far from your standard beach bar fair. Items include...
Porchetta Carpaccio... slow-roasted pork belly served with arugula, garlic and sesame oil
Coquelet... roasted whole Cornish Game Hen with roasted baby potatoes, spinach & black truffle sauce
Grilled catch of the day... served with kale, red quinoa and lemon butter
(See Menus.ai for full menu.)
Even the bread they start you off with is far from your average baguette.
Freshly-Baked Rosemary Bread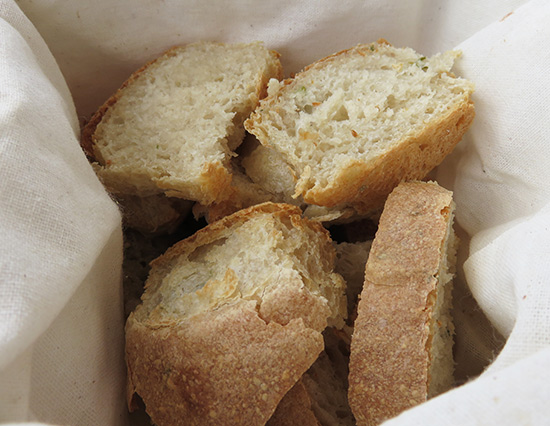 Freshly-baked and infused with rosemary, we finished this bread basket quickly.
As for lunch?
Nori went with the sashimi. You have your choice of fresh tuna or fresh mahi mahi. Nori went with the tuna.
We All Scream for Sashimi!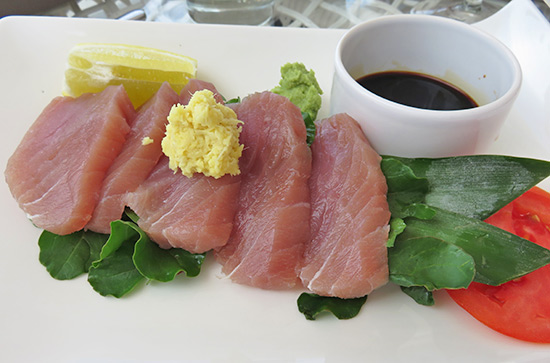 Thick slices of ultra-fresh tuna are served with a side of wasabi, soy sauce and topped with ginger. "You can realllly taste the freshness of the fish," Nori enthused with each bite. Light and refreshing, a side of French fries (order of French fries comes with a homemade tomato dipping sauce) really completes the meal.
I went for the 8 oz. beef burger. A hand-made beef patty is topped with arugula, tomatoes, pineapples, beetroot and onions. The entire concoction is served on an artisan brioche, made in house.
The 8 oz. Burger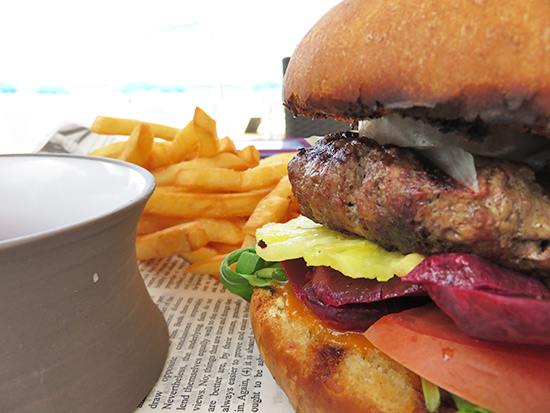 A bit hesitant at first, the rather quirky combination worked well together. My tip? Add a side of mango salsa, if you like a bite of sweet with your burger.
Golden French fries & a picture-perfect burger!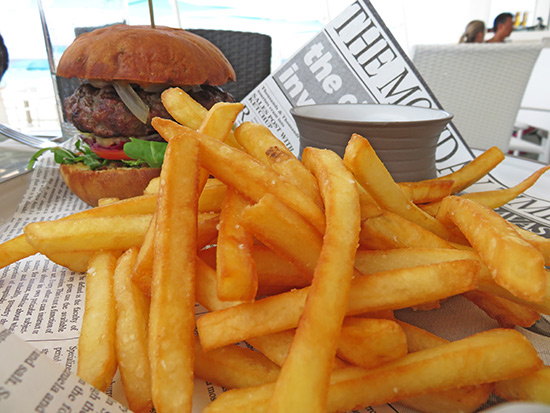 Taste, quality, presentation... Manoah gets 10/10. A terrific meal, it's one that Nori keeps talking about. A day at The Manoah Ocean Beach Club is a day to remember.
Final Thoughts: Manoah opened late April/early May 2016. They are still getting their footing, working out service (very friendly and inviting, but when busy can be slow) and a few other details (the restaurant is currently cash only, for example).
In time, these details will all be ironed out and we expect Manoah's Ocean Beach Club to become one of Anguilla's must-visits. A touch of St. Tropez in Anguilla, it's both glamorous and delicious!
We will keep you posted as more information becomes available on the whole Manoah project.
See You Soon, Manoah!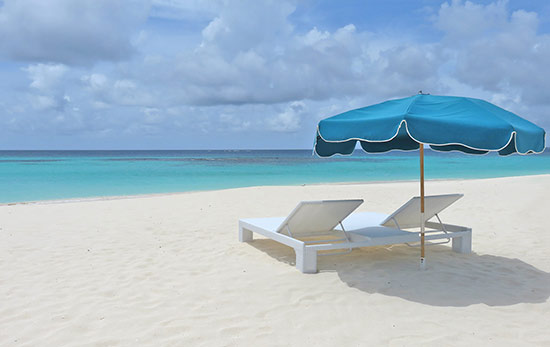 Map, Hours & Contact
Directions: Follow the main Shoal Bay road towards the entrance of Uncle Ernie's and Madeariman. Before reaching the very bottom of that sloped road, take the right into Manoah's strong gates. Parking is available on site (no extra charge).
Hours: Lunch only, closed Mondays.
Tel: 264-498-5900
Beach chairs = $20 for the day