Mirabelle's...
A Unique & Tasty Twist to Anguilla Nightlife

By: Louise Fayet
Mirabelle West, owner of Mirabelle's is known around Anguilla for creating and hosting some of the most impressive events. She always dreamt of opening a bar and night club. With her aspirations and strong work ethic, Mirabelle was destined to create something that would change the concept of nightlife in Anguilla.
Mirabelle and her team revamped an old office space and created a vibrant lounge, bar and restaurant that breathes a lively atmosphere.
The Bar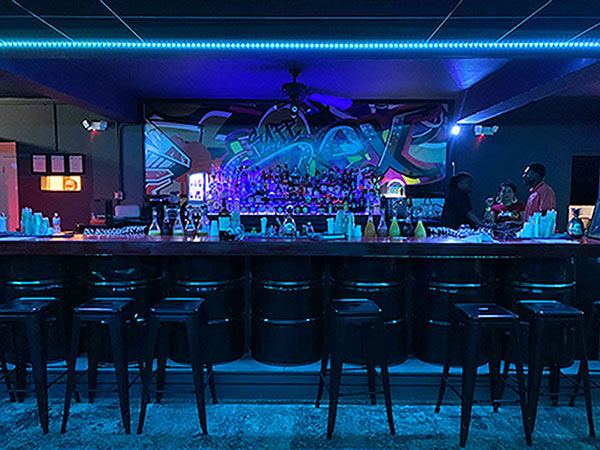 The use of locally made tables from recycled material, the choice of lighting and graffiti all cultivate an energetic and intimate ambience.
Lounge Area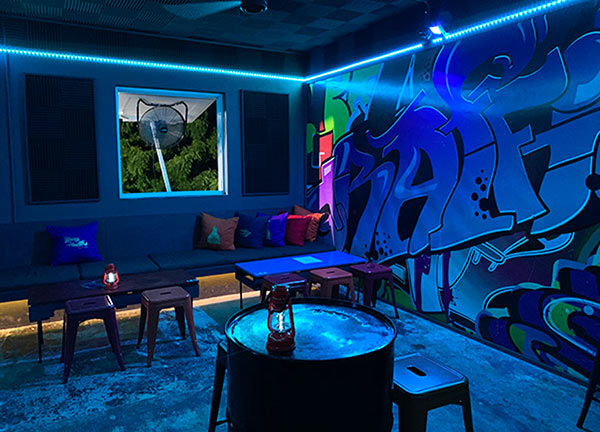 In addition to the bar and spacious lounging area, Mirabelle's has two VIP rooms, perfect for private events.
Perhaps our favorite spot at Mirabelle's? The outdoor lounge. Step outside and the twinkling lights welcome you for delicious tapas bites.
Evening Drinks & Cuisine
Tapas are served inside and outside under the Caribbean night sky. We love the outdoor dining space so we picked a cozy table below the fairy lights.
The best way to begin the evening?
The Signature Cocktail & The Guava Mojito

The cocktail menu features a variety of expertly crafted signature drinks, mojitos and margaritas. All pack a serious punch! Our top choice? The Guava Mojito. Oh-so light and refreshing, smooth and rich in fruity flavor, it goes down as one of my favorite cocktails. It is a "must-try."
More Mojito Mo' Fun! ;-)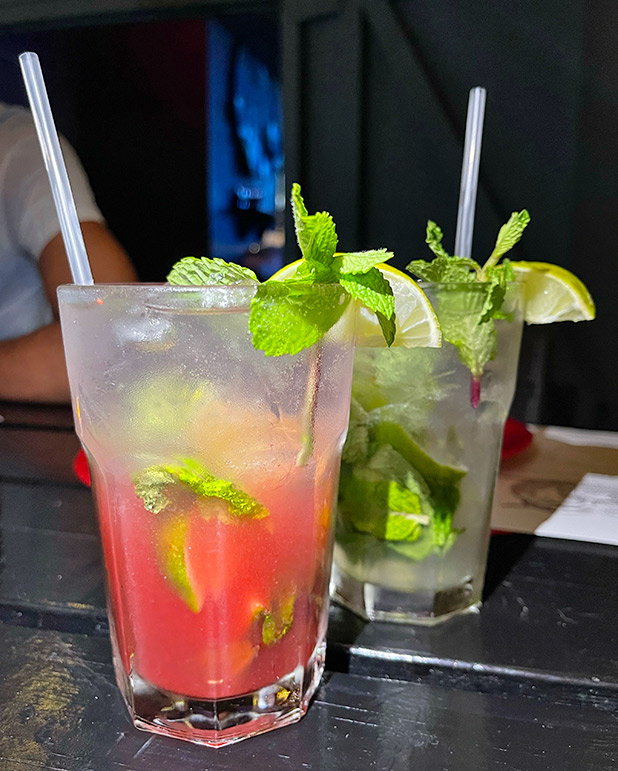 Appetites whetted, let's tackle the menu!
Mirabelle's has completely elevated the concept of "bar food." The magic happens in the kitchen, where Mirabelle and her culinary team whip up innovative dishes all night long.
The menu opens with "Travel Through Tapas." The selection includes Indonesian chicken sate, British fish bits, Japanese tuna taktaki and...
French Baked Brie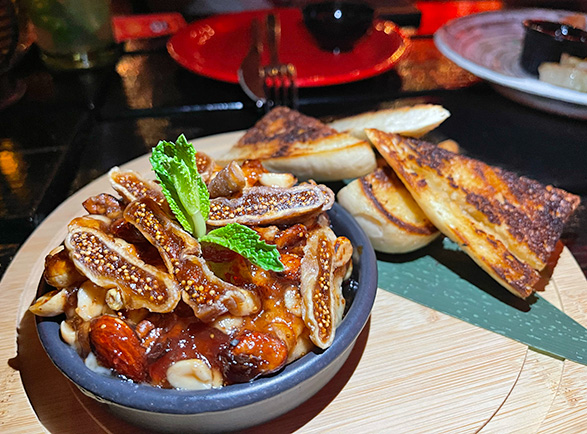 Maybe I am biased because my Dad is French, but this dish is the star of every night at Mirabelle's!
A wheel of creamy brie cheese is baked in a cast iron pan and topped with honey-caramelized fruit and nut compote. Talk about delicious! Spread the brie on the toasted slices of bread and you will be in heaven.
This starter is like a ticket to France!
Coming in as a close second favorite...
Korean Mandu Dumplings

Minced pork fills delicate pastry. These little pieces of heaven are pan-seared and served with a sweet and spicy dip. These dumplings go fast! We suggest ordering two servings.
Are you lover of dim-sum? Mirabelle's is the place to satisfy those cravings!
Cantonese Shrimp Dim Sum Basket

Steamed dim sum are stuffed with plump shrimp and served with a sweet and spicy dip. Garnished with green onions, the flavor is spot-on.
Another unique menu item...
Belgian Mussels

Steamed mussels are bathed in a creamy garlic sauce and served with toasted bread. We could not get enough of the garlic sauce. Order a basket of French fries and dip them in that sauce, too. You won't regret it!
Next up, the Taiwanese Orange Chicken.
Bite sized pieces of chicken tenders are battered, fried and tossed in a tangy orange sauce.
Also up for grabs...
Portuguese Rock Shrimp Tempura

Shrimp tempura is hands down one of my favorite dishes. It is safe to say that these are some of the best I have ever had! The batter has a light and crisp exterior, and each chunk of shrimp inside is extra-juicy. When dipped in the spicy mayo side sauce? You are instantly addicted.
Another seafood option from the "Travel Through Tapas" selection, perfect for sharing...
Mediterranean Calamari

Similar to the shrimp tempura, these calamari are crispy on the outside and tender on the inside. They are served with a super savory tartar sauce.
Another popular choice is the "Wings of the World." Jumbo wings are fried to perfection and served with your choice of flavor and dip.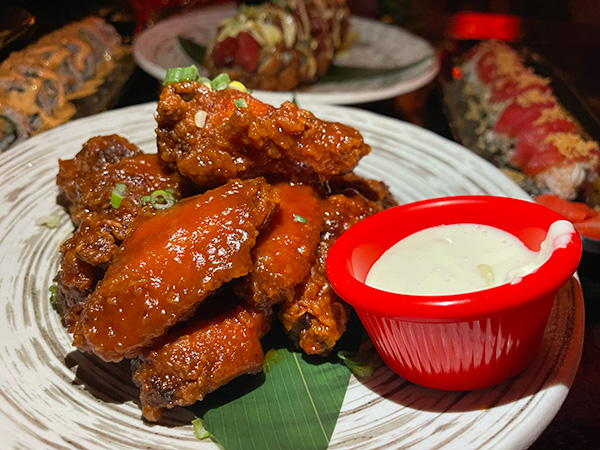 Choices for flavors include Asian BBQ Sauce, Thai Sweet Chili, Hawaiian Teriyaki, NYC Buffalo, Indian Tandoori, Chinese Sweet & Sour, Louisiana Cajun, Italan Garlic Parmesan and Atlanta Lemon Pepper.
As for the dips, choose from blue cheese, mayonnaise, ranch, spicy mayo and ketchup. We recommend the Asian BBQ Sauce. Tangy and sweet, it is finger licking delicious.
The next section of the menu, "Big Bowls", features a handful of build-a-bowl type dishes.
Choosing is so tough with so many tasty bowls. You can never go wrong with...
Hawaiian Poke Bowl (Cold & Raw)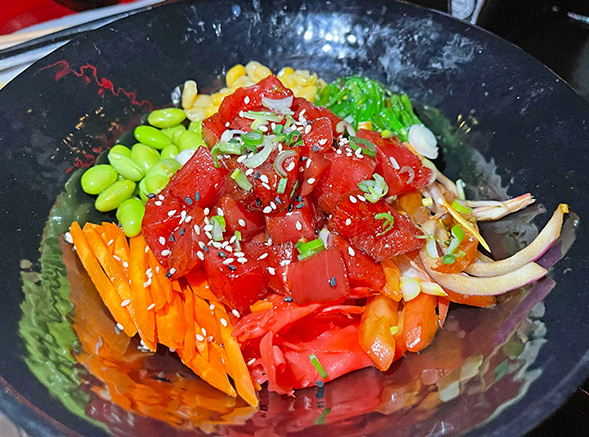 This bowl is jam packed with your choice of sushi or jasmine rice, salmon or tuna tartare, avocado, carrots, tomatoes, corn and wakame. To finish, the poke is garnished with sesame seeds and green onions.
We recommend going for tuna. The tuna MELTS in your mouth! If you're not a fan of tuna, of course, you can swap it for salmon.
Finding good sushi on-island can be tough. A lover of Asian cuisine, I was delighted to hear that the sushi rolls at Mirabelle's are really good!
Let's start with a favorite from the classic rolls...
California Roll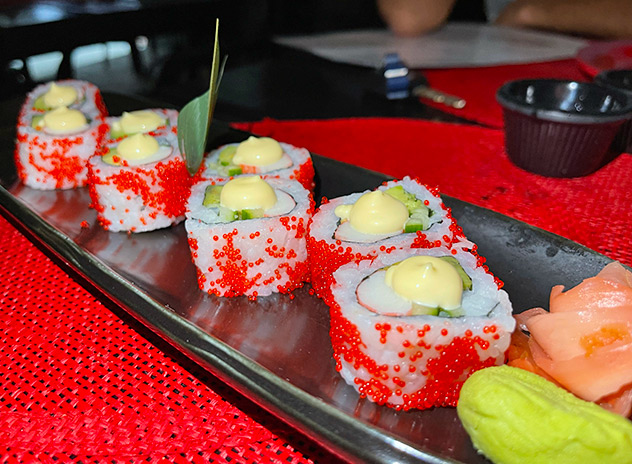 This classic combination of crab, cucumber and avocado is elevated by its unique sauce. Each piece is topped with a dollop of smooth Japanese Mayo. A match made in heaven!
Another from the classic rolls...
Philadelphia Roll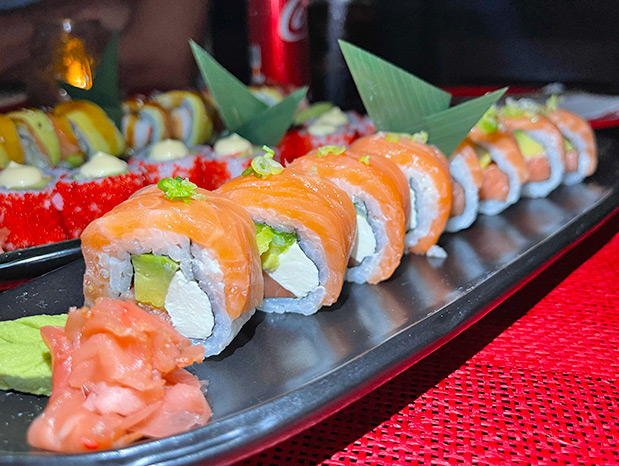 Salmon, avocado and cream cheese pair to create refreshing delight with every bite!
Spicy Tuna & Spicy Salmon Rolls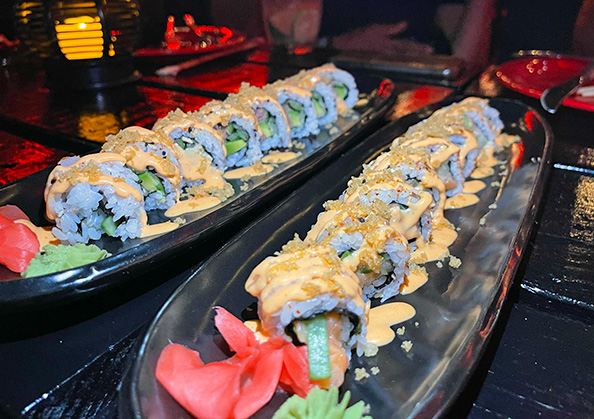 These rolls feature avocado, togarashi, crunchy rice and spicy mayo.
House rolls include...
Rainbow City Roll

Salmon is layered with tuna, avocado and dotted with tobiko and sesame seeds. This full flavored roll doesn't end there. Inside, shrimp and cucumber bring a crisp contrast to the roll's exterior.
The first bite always brings a smile to my face. It brings back fond memories of Chef Ken's restaurant, Cha Cha San. This roll is beautifully executed. It takes the crown every time we dine at Mirabelle's.
Another popular choice...
The Tuna 'Turnt Up'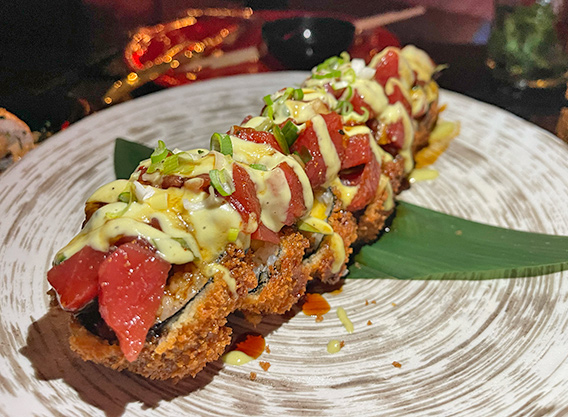 Mango and avocado are rolled and topped with tuna tartare. The roll itself is lathered in a mango marinade and then topped with eel sauce and wasabi aioli. Each piece is a mouthful and super filling!
A huge congratulations to Mirabelle! She has out done herself!
Mirabelle's's team truly goes above and beyond.
Mirabelle's has grown into a hot spot. With excellent tapas and a wonderful atmosphere, it is no surprise. Mirabelle, we will be back :-)
Location & Contact Information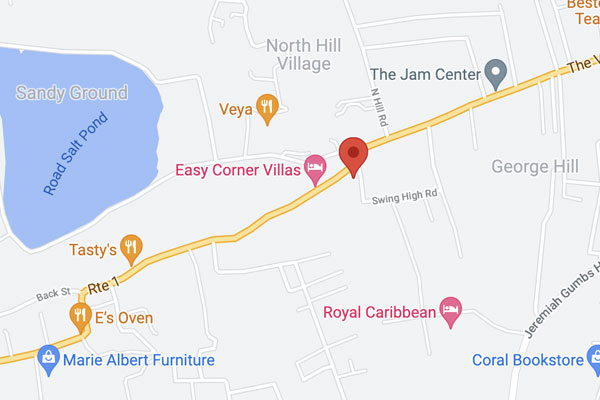 Open hours: Open Thursday - Monday from 6pm.
Menu: Click here
Tel & Email: + 1 264 581 9378(WEST)