Yellow Beach...
Dining in Paradise on Pinel Island
By: Louise Fayet
A mere 10 minute boat drive or 15 minute kayak trip from Cul-De-Sac in Saint Martin, Pinel Island is one of Saint Martin's most popular off shore cays. (Press play below to SEA the beauty of Pinel!)
This micro-slice of paradise boasts two white sand beaches.
The Northern side of Pinel has a deserted beach. Its mini hiking trail is home to hundreds of iguanas and birds. This beach is surrounded by reefs, and being a Marine Reserve, it offers a gorgeous snorkeling experience.
The opposite side of Pinel features a much calmer beach. It is home to two restaurants that welcome hundreds of people daily.
Welcome to Pinel Island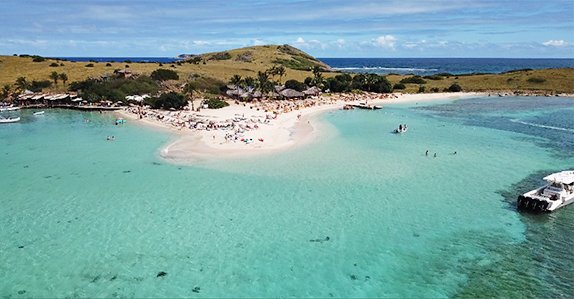 Today we visit and experience Pinel's Yellow Beach restauant...
Approaching Paradise!

We arrived by private boat, which you can moor offshore. Yellow Beach also offers a free taxi boat to and from St. Martin if you are dining with them.
Across those tranquil waters, it is all smooth sailing to the restaurant's wooden dock.
Taxi to Pinel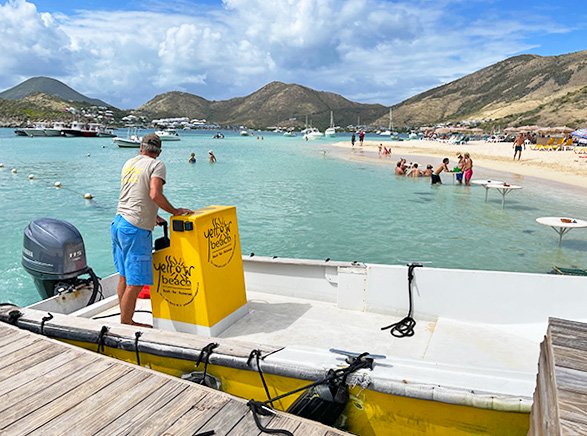 Welcome to Yellow Beach
Clear blue waters meet white powdery sands with yellow beach chairs and swaying palms.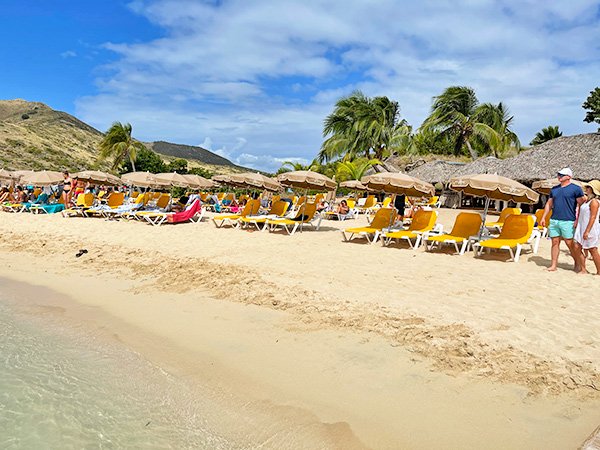 This is the text book definition of paradise.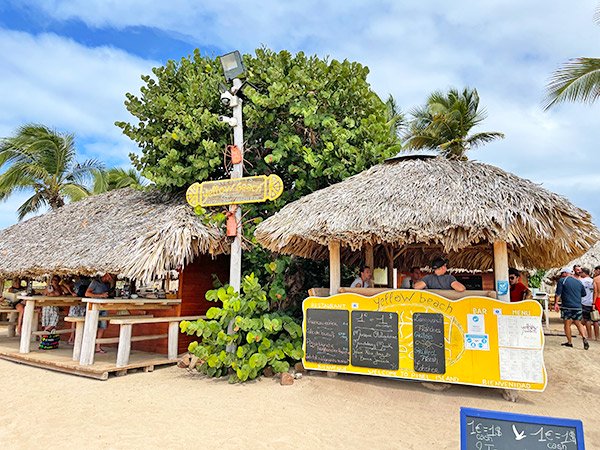 We were escorted to our table for lunch. (Note: Reservations are recommended!) Dining is especially picturesque at Yellow Beach, below the palapa-style roofs.
Table for the Day!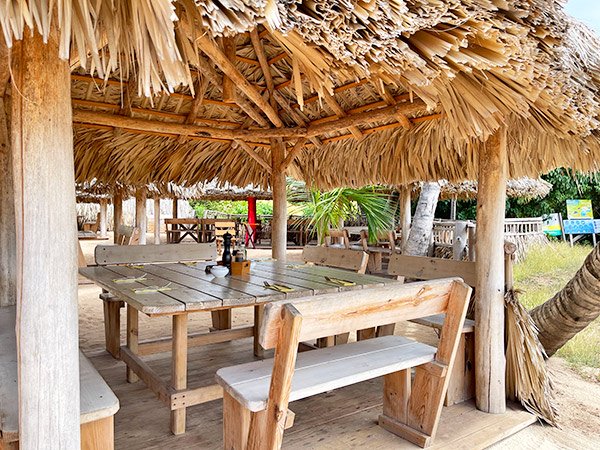 Time to Eat!
Let's tackle the menu. It starts with appetizers of homemade codfish fritters, breaded mozzarella sticks, fried squid, whole roasted famed camembert and...
Chicken Spring Rolls

Fried crispy, these are served with a sweet chili dip and garnished with lettuce and mint. The perfect way to kick off a long lunch!
Next up? Yellow Beach is known for delicious BBQ. Naturally, we had to test it!
Ribs Appetizer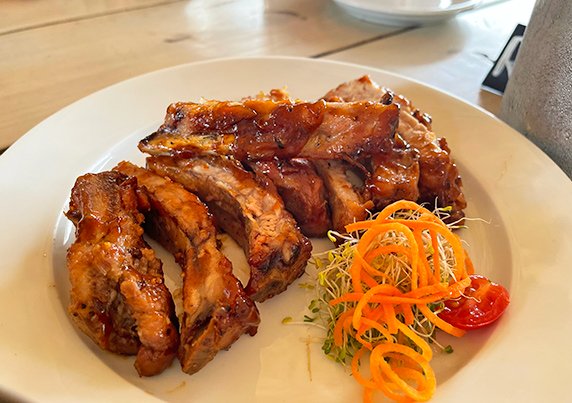 Tender and glazed in a sweet BBQ sauce, these ribs live up to the hype. They are a must try!
The appetizer menu also features a variety of salads, including vegetarian salad, chicken or shrimp caesar, "exotic salad" with crab guacamole and fruit, and the famed shrimp salad.
Next, the Main Courses. First up...
Raw Beef Carpaccio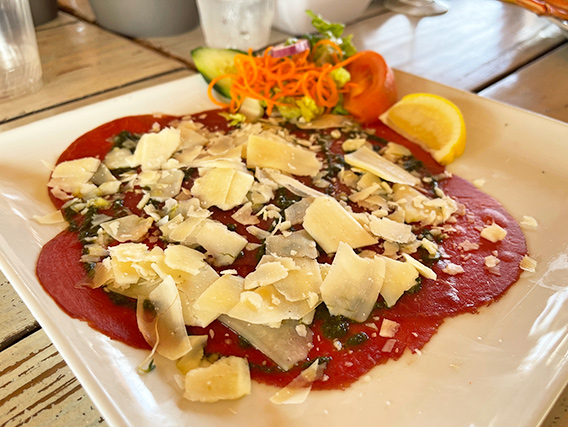 Thinly sliced beef with shredded flakes of parmesan and pesto is served with a fresh and colorful side salad.
Other main course options include grouper fillet, tuna steak, tuna tartar, fresh fish, braised pork knuckel, burgers and...
Rib Eye Steak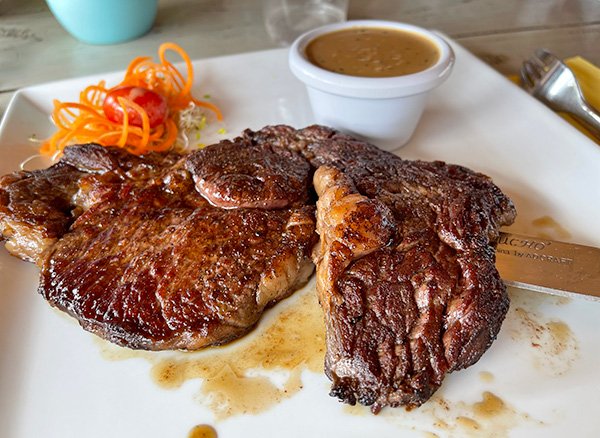 Grilled exactly to your liking, it comes with your choice of creole, lime butter, blue cheese, peppercorn or the "sauce of the day." All main courses are served with sautéed potatoes, french fries, rice, salad or mixed vegetables.
Our tip? The potatoes pair perfectly with the steak and really pop with flavor when dipped in the peppercorn sauce!
Side of Sautéed Potatoes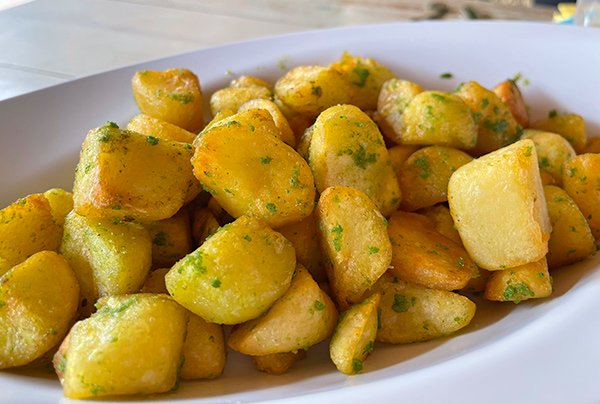 On to the Grilled & BBQ section.
The menu features grilled chicken legs, marinated pork ribs and freshly caught and grilled lobster.
Grilled Lobster

You can't go wrong with a lobster lunch on Pinel! This grilled lobster comes with either creole sauce or garlic butter.
Yellow Beach also makes a terrific pizza! Our top picks are the "Pinel" with tomatoes, cheese, basil and pesto drizzled on top. I devoured every slice! Another tasty option is the "Reine."
Reine Pizza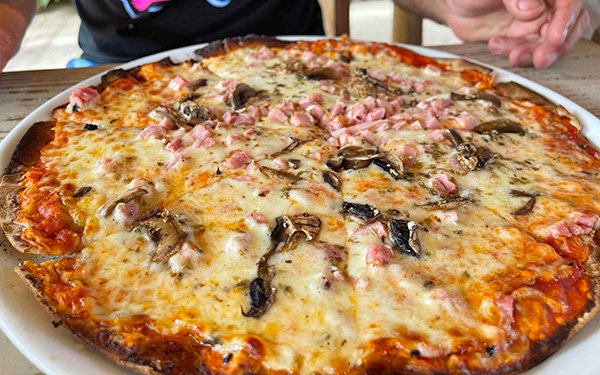 Thin crust dough is topped with tomatoes, cheese, fresh mushrooms and cubes of ham. Extra-savory, we recommend getting this pizza for the table!
Last but not least, our favorite part of every menu, the dessert section.
End your lunch with an ice-cream bar, lemon sorbet and vodka, fresh fruit salad or platters or...
Homemade Chocolate Cake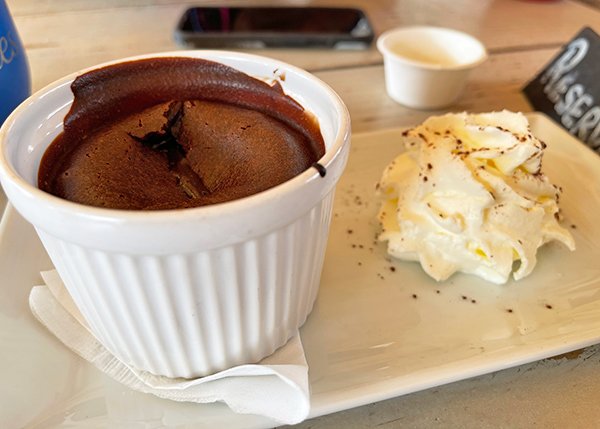 My spoon broke the crust of the cake and dove into a warm and melted chocolate pool. A pleasant surprise! Served with a side of fluffy whipped cream, it is a delightful way to end the meal.
Post-Lunch Relaxation
After lunch? Those clear, calm Pinel blues call your name...
We settled on our beach chairs, enjoyed a couple cocktails and the shallow waters at Pinel.
From the delicious cuisine, to the welcoming service, to the picturesque views, Yellow Beach is a 10/10. We will be back again!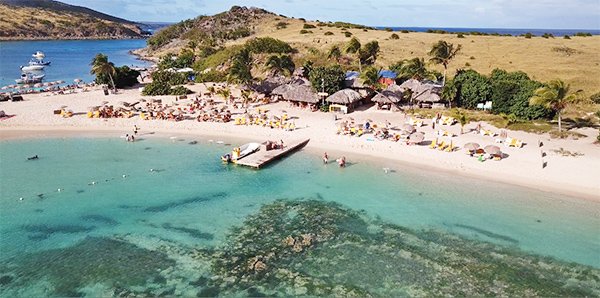 Opening Hours: Open daily from 9am until 4pm or 5pm (subject to change).
Menu: Click here.
Tel & Email: +590 690 33-8833 & yellowbeach97150@gmail.com