Madeariman...
Top Spot for a Shoal Bay Beach Day!
By: Louise Fayet
One of the can't-miss Anguilla activities on an Anguilla vacation?
A Shoal Bay Anguilla beach day!
Anguilla is known world-wide for its breathtaking beaches. From the powdery, soft sand to the crystal clear waters, Anguilla's silky shores are nearly impossible to beat. Countless travel magazines have voted Shoal Bay the #1 beach in Anguilla, the Caribbean, and even the world...
This two mile stretch of sand features many Anguilla hotels, Anguilla villas, and beach bars and restaurants.
For decades Madeariman Beach Bar & Restaurant on Shoal Bay has been one of the best spots for a Shoal Bay beach day!
Welcome to Madeariman

Here's why...
Beachy Blend of Sand, Surf, Shade, and Delicious Food!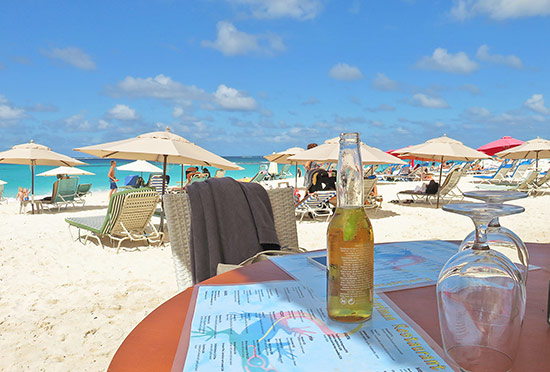 Beachy Eats & Drinks on Shoal Bay
What's the best way to beat the Caribbean sunshine?
Cheers!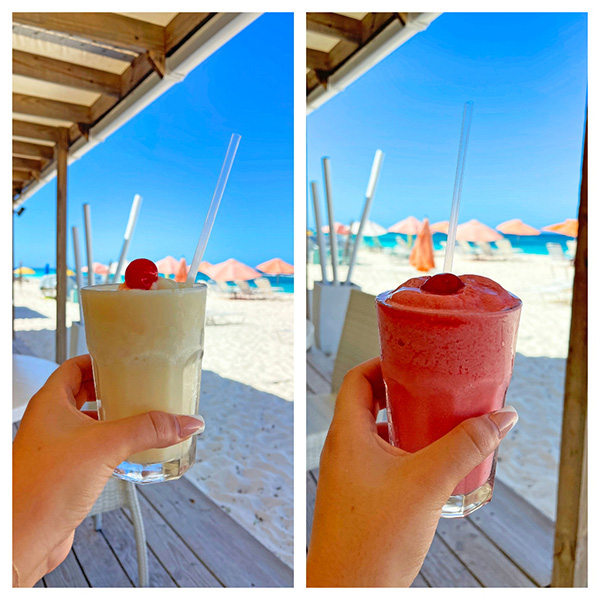 One pina colada and one strawberry daiquiri coming up!
Appetites whetted, what's for lunch?
Equipped with a French chef and a local sous chef, Madeariman serves up a French-Mediterranean inspired menu. With so much variety, there is something here for everyone. Let's start with the appetizers...
Chicken wings or nuggets, spring rolls, French onion soup, a variety of salads, an Asian plate with tuna tataki, pan-fried foie gras and...
Fried Calamari

It's easy to "ruin" calamari and yet Madeariman's is always flavorful and light. Crispy goodness, they pair best with a dollop of the yummy tartar sauce dip.
More fried favorites, the cod fish fritters...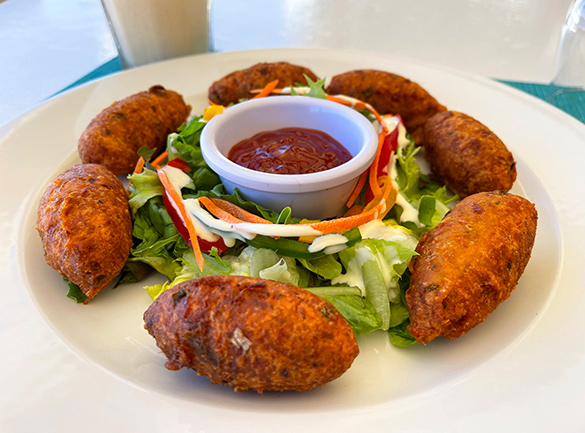 Nuggets of cod fish are mixed with herbs and veggies and then fried to perfection. Paired with a tangy creole sauce, these fritters make for a great sharing plate.
Last but not least...
Spring Rolls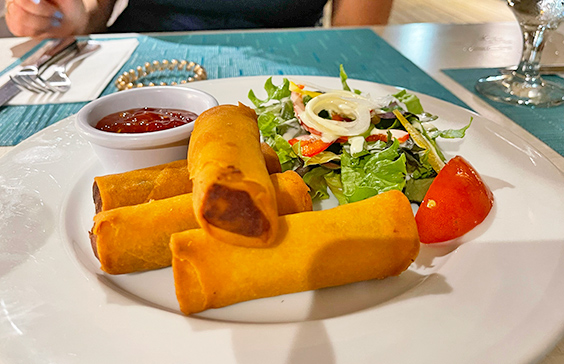 Another perfect sharing plate, you cannot go wrong with these golden-brown rolls.
When it comes to salads, Madeariman offers a wide variety. As a huge fan of caprese salads, this one goes down as my favorite. It never disappoints!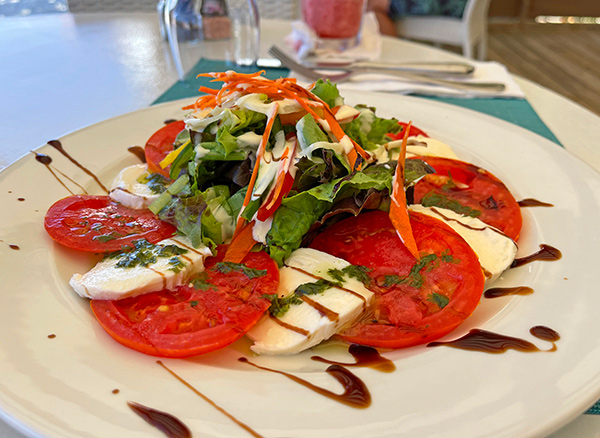 Red and juicy local tomatoes are thinly sliced and layered with fresh mozzarella. This dish comes with a mixed salad, balsamic dressing and basil pesto.
Perhaps most interestingly of all from the starters?...
The Escargot! It is head chef from Veya, Carrie Bogar's favorite dish. You can't go wrong following a talented chef's order! It was quite appealing visually and is next on my list to try...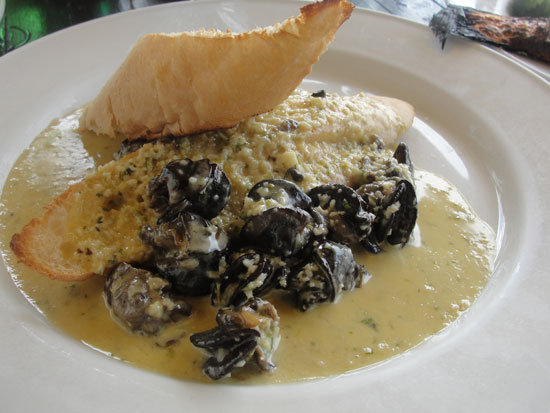 Moving onto Madeariman's "Snacks" section. Hamburger, cheese burger, bacon cheese burger, chicken burger, tuna club sandwich, lobster pita and...
Fish Burger

Madeariman whips up a fantastic fish burger! Flavorful grilled fish is popped on a soft bun and drizzled with a savory tartar sauce. The dish comes with a serving of Madeariman's excellent house-made French fries.
Now, one of our all time favorite sections of the menu, the pizza section.
There are so many toppings to choose from but we always go with a classic pepperoni. Madeariman's thin-crust pizzas are always perfect.
Madeariman's Perfect Pepperoni Pizza

I made note years ago that the pizzas at this restaurant are an easy sell.
A perfect balance of cheese and sauce, a nice thinnish crispy crust, and pepperoni's strategically placed to ensure a bite that gives you a bit of everything.
Now for the main courses. Let's start with the "Pasta" section. Here, the lobster tagliatelle always gets our attention.
Lobster Tagliatelle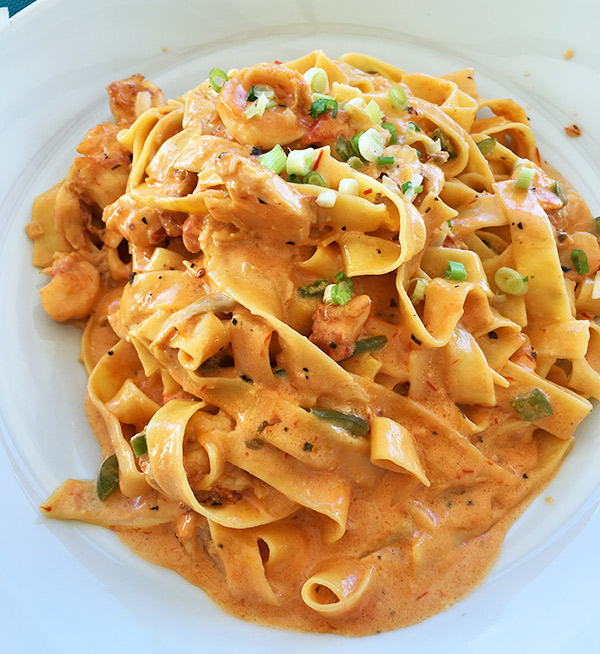 The serving is enough to feed everyone in the restaurant! Tasty, rich cream sauce is loaded with HUGE chunks of lobster. It is a must-have if you're in the mood for a big plate of rich pasta.
If you are a shrimp lover, try the shrimp pasta!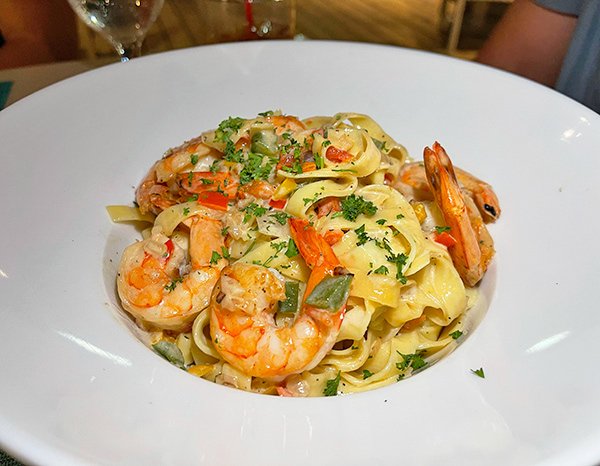 Similar to the rich lobster pasta, this dish is filling and rich.
Other popular seafood entrées include the crayfish in a basil and garlic sauce, with rice and peas, veggies and a side salad...
Let's Get Cray Cray!

Other options from the fish section include mahi-mahi kebabs, mahi-mahi tartare, mussels and...
Grouper Filet

Cooked in a Jamaican curry sauce, the flavors are perfect! Madeariman pairs this main dish with rice and peas, veggies and a side salad.
Next up, if you love tuna you will love Madeariman. Madeariman boasts a wide variety of tuna dishes.
Tuna Tataki

Delicate and mouthwatering tuna is gently seared and topped with sesame seeds. Served with a crunchy salad seaweed, wasabi and a soy sauce, the dish's flavors are well-wounded.
Next, the tuna tartare.
Soft chunks of tuna are tossed with mango and laced with a ginger and cilantro sauce. Every bite is fresh delight! The sides are equally excellent. They include Madeariman's crunchy french fries, a seaweed salad, and a fresh mixed salad.
If you prefer turf to surf, you can also choose from the beef tartare, chicken kebab, beef kebab, flank steak, breaded chicken and the...
Ribeye Steak

A hefty cut of ribeye is cooked to your preferred temperature and served with your choice of sauce. Sides include veggies, and a choice of mash potatoes, rice or French fries.
The Atmosphere
Another important point to make about Madeariman is the atmosphere.
There is always a fun buzz in the air at Madeariman. That buzz ramps up on their live music days and nights!
Madeariman View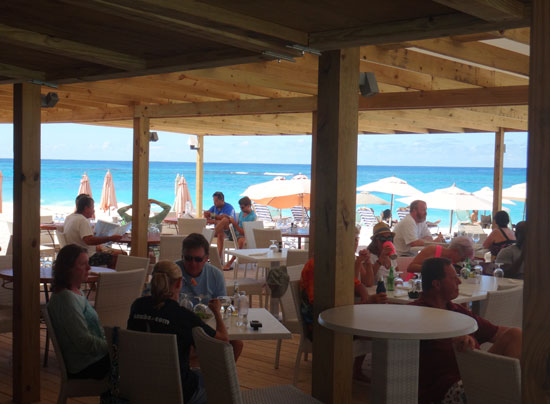 Tip: It's ideal to have a table at the edge of the sand and be able to go into the sea for a quick dip and then come back to for another quick bite or to order a cold drink and enjoy the live tunes.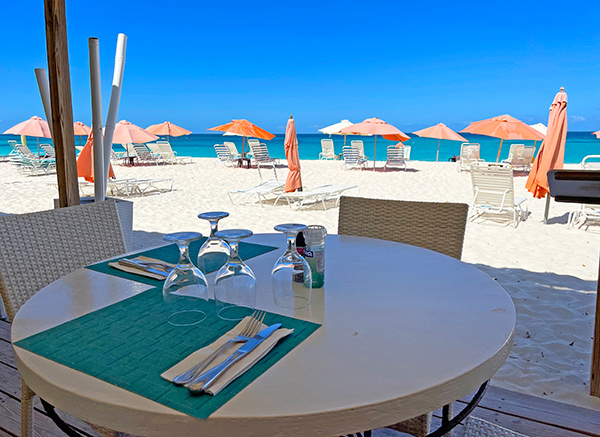 Last but certainly not least, the service at Madeariman is always consistent and well-timed!
If you are looking for an easy going Shoal Bay beach day and need a restaurant recommendation, Madeariman is it. Delicious food in an unpretentious place, on one of the top-ranked beaches in the world...
Not a bad way to spend an afternoon in Anguilla! In fact, fantastic!
It easily ranks as one of my favorite Shoal Bay Anguilla Restaurants.
Directions, Hours & Contact
Directions: Located next door to Uncle Ernie's on the western side of Shoal Bay East.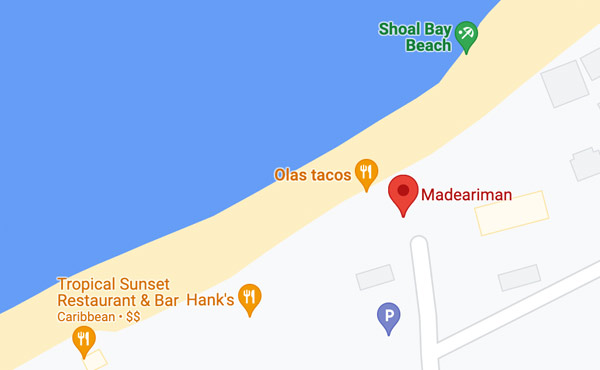 Hours: Daily for breakfast, lunch, dinner.
Tel: 264-497-5750
Menu: Click here