Top Carrot...
A Top Pick For Fresh Dining in St. Maarten!
By: Louise Fayet
Located in the heart of Simpson Bay, Top Carrot has become one of my favorite and most recommended restaurants on the Dutch side of Sint Maarten. The word "favorite" does not do it justice. If I could, I would eat at Top Carrot everyday!
Painted in pretty pastel colors, decorated with exotic paintings and wall hangings and usually playing Bob Marley or soothing reggae, this restaurant always relaxes me.
Welcome to Top Carrot

Top Carrot is also a gift shop! While I wait for food, I love walking around the shop, admiring the natural health products, adorable bags and purses, chakra stones, crystals and so much more.
The outside seating area is spacious and breezy, but we always opt to eat inside. The air conditioned room is decorated with mirrors, walls hangings, wind chimes and comfortable seats.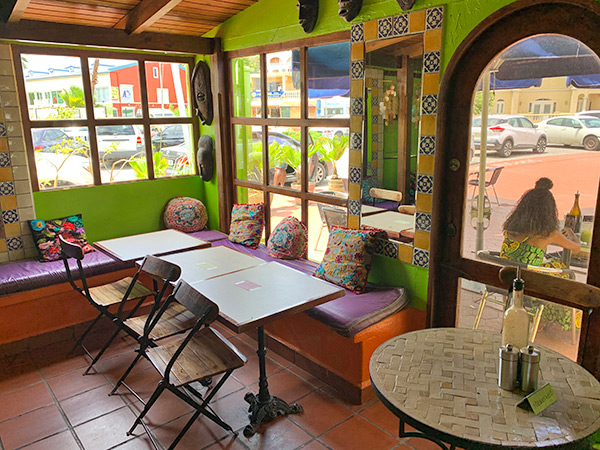 After strolling through the giftshop, it's time to have a look at the menu.
Lunch at Top Carrot
The menu starts with fresh natural juices and smoothies. My all time favorite is the Lemon Breeze - a frozen concoction of fresh mint and lime juice.
Summer Dream & Lemon Breeze

I can never not get this drink! Next up is the coffee section with a variety of teas and coffees.
Now on to the food.
From the "Small Plates" section: falafel, Greek mezze and the soup of the day. Next, the "Salads & Platters" where options include the Greek salad, Mediterranean patter or...
Vegetarian Wrap

Ultra-fresh, this wrap is filled with avocado, falafel, tomato, roasted peppers, pesto and mixed greens. It is served with a mixture of sides, which change daily.
Next up...
Smoked Salmon Salad

Sliced avocado, mixed greens, tomatoes and toasted baguette surround a tower of smoked salmon.
The "Sandwich & Tartine" section features choices of falafel pita, feta cheese tartine, smoked salmon tartine and my absolute favorite...
Tomato Mozzarella Tartine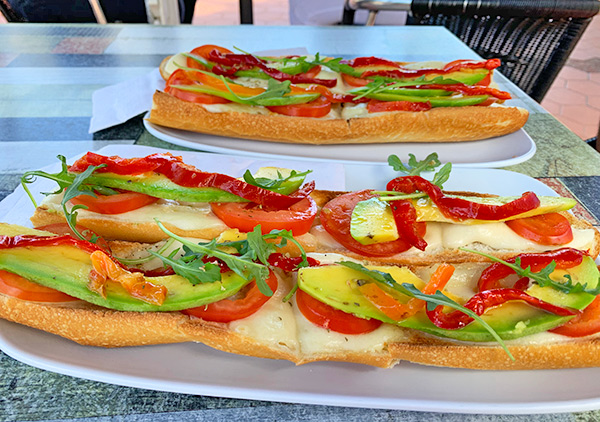 I order this dish every time I dine at Top Carrot! Toasted baguette with melted mozzarella cheese is topped with sliced red tomatoes and avocado, roasted bell peppers, basil and arugula. It is served with an olive oil and balsamic vinger mixture. Even writing about this dish makes my mouth water!
Top Carrot also has daily specials. An absolute stand-out?
Salmon in Dill Sauce

This is a dish so special it should be a permanent part of the menu!
Salmon is cooked to perfection in a creamy dill and vegetable sauce. It is served with rice, fresh vegetables and toasted bread. This special is love at first bite!
Another hit from the specials...
Mahi-Mahi in Creole Sauce

Thick pieces of mahi-mahi are bathed in a flavor-filled creole sauce, served with rice & peas, vegetables, sweet plantain and toast.
If you have a sweet tooth, Top Carrot has a freshly baked goodies selection too!
Baked Goodies

I always look forward to meals at Top Carrot when visiting Sint Maarten! With friendly service, tasty and healthy food at a very affordable price, Top Carrot is one of the top restaurants in St. Maarten.
See you next time, Top Carrot!
Open hours: Tuesday-Saturday from 8am until 5pm.
Tel & Email: +1 721-544-3381