<![endif]-->
Anguilla Restaurant, Elite...
Italian Cuisine on the Beach
Elite At A Glance
Set amongst swaying palms and grapetrees on Island Harbour's beach, looking out to the calm harbour and bobbing boats, Elite's location is soothing, scenic and serene.
The relaxing music and divine Italian cuisine keep us coming back!
More on Elite, below...
From tip to tip, if you are looking for authentic Italian food on the beach, Anguilla has you covered!
Trattoria Tramonto in West End and Dolce Vita in Sandy Ground (the middle of the island) are two of the Evoy's favorite restaurants in Anguilla. They are both Italian.
The latest spot with similar splendid offerings is Elite Restaurant in the East, in Island Harbour.
The view as you enter Elite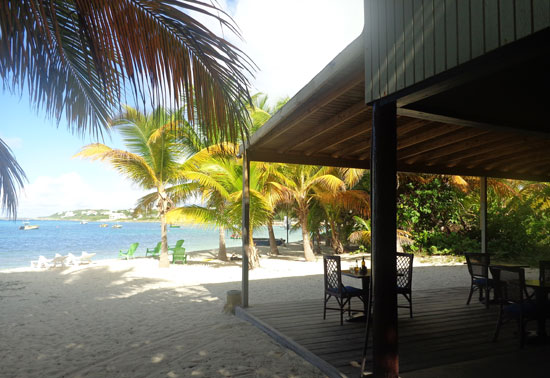 Elite's location was once home to another one of the Evoy's favorite restaurants, Cote Mer.
Elite is locally owned and operated. The chef has many years of Italian cuisine specialties under her belt.
I (Kristin) stopped in for lunch just after they opened in summer 2012 to catch up with a friend and see what Elite was all about.
At first glance, I must admit, I felt a little skeptical because of their sign on the road.
I'd heard this was a more upscale Italian restaurant, yet the sign reminded more of a local bakery or pizza place. Bottom line: don't let the sign deter you from trying Elite.
Inside Elite
Not a bad view!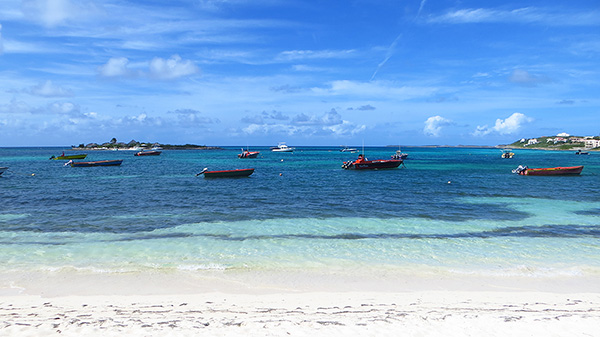 Its location is ideal, nestled amongst seagrape trees and coconut palms that spring right out of the sand on Island Harbour's beach.
The view is one to be reckoned with.
The restaurant was not busy as I visited during the peak of off-season when much of the tourist accommodations and restaurants are closed.
Keeping this in mind, the service was steady and good.
First, our waitress brought us lovely fresh, Italian bread. It was accompanied by olive oil and balsamic vinegar.
Crispy calamari appetizer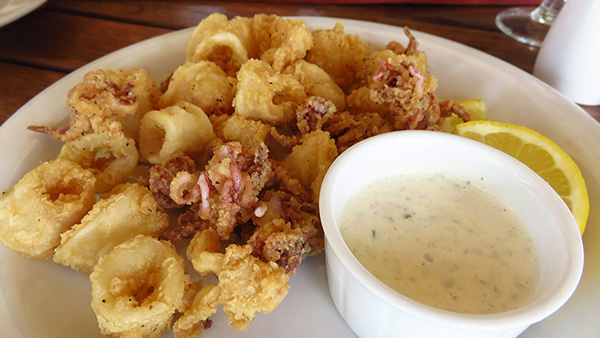 My friend and I shared the calamari which was crispy and tasty.
We followed our appetizer with the penne arrabiata.
The pasta was al dente and the sauce was fresh and had the perfect amount of kick for arrabiata.
Great flavors!
Our server offered parmesan to top this Penne Arrabiata...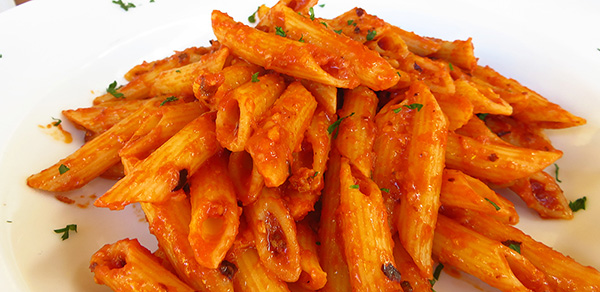 The menu included several other pasta options, a few salads, and pizza. The bar offers beer, wine, soda, juice... everything you would expect. Prices are quite reasonable.
I am looking forward to trying on my next visit is the appetizer of melon and proscuitto and the carbonara entree.
Lunch offers dazzling turquoise views of harbour. During Dinner, the atmosphere is equally relaxing, the gentle surf lit by twinkling lights and rustling palms above.
Elite is a top choice for a quieter, more laid-back meal.
Nori and I will be trying Elite again when the restaurant is in full-swing in the high-season. Stay tuned for a complete review.
Directions, Hours & Contact
Directions: Head towards Island Harbour. Elite is located in between Smitty's gas station and the turn off to Arawak. See the map below for exact location.
Elite
Good for fine, Italian beachside dining. Our favorites are tuna carpaccio, caprese salad and gnocchi.
Hours: Everyday for lunch and dinner.
Tel: 264-498-5178