Best Fresh Conch Soup...
Kenny's BBQ in Sandy Ground

Update 2018: Kenny's BBQ is not currently operating.
Kenny's BBQ At A Glance
By: Kristin Bourne
Under a tent on the main road in Sandy Ground, Kenny serves some of the best ribs and chicken on the island, and my favorite, fresh conch soup and garlic bread. Open till late on Thursdays and Fridays, it's THE stop that follows a night out at Pumphouse and Elvis'.
More on Kenny's BBQ, below...
Anguilla is best known as a luxury destination, blessed with white sand beaches and blue sea, it is home to exclusive villas and excellent dining experiences.
While Anguilla is exclusive and luxurious, it also can be quite economical once you arrive and you can eat just as well as the high-end visitors…
This is Kenny...
flanked by his delicious BBQ and pot of fresh conch soup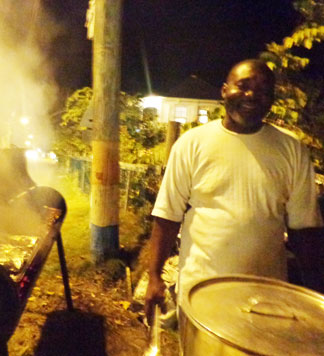 Kenny's BBQ in Sandy Ground is one of the finest examples of how you can do just that!
Kenny's happens to be one of my favorite places to eat. To me, it is ideal... it is affordable, delicious and unpretentious.
Good food in Anguilla, freshly made, under the stars.
In fact, the only thing I might change about Kenny's is that he cook for the public a few more days a week!
Since beggars can't be choosers and Kenny works hard, I'll just remain thankful that Kenny is there at all… every Thursday evening, and almost every Friday evening in high season.
He tries to gauge his availability based on revelers visiting Sandy Ground for the evening.
Likewise, if there is an event or holiday, you may find him set up and ready to serve his fans.
I say "fans" because most of the people I've met who have eaten at Kenny's come across more as fans than as just customers.
What's so lovable about Kenny's?
Kenny is a nice man with a lovely, straight-forward set-up near the dish drain on the main road in Sandy Ground (just north of Ripples and south of The Pumphouse).
You'll find him set up under a tent with a couple of tables, a cooler, and a BBQ.
He serves everyone. Locals, visitors, even some of Anguilla's top chefs! I've known Dale Carty of Tasty's Restaurant to patron Kenny's BBQ after a busy night cheffing at his popular restaurant.
Isn't it wonderful when good taste can recognize good taste, no matter the setting?
Kenny's BBQ in Sandy Ground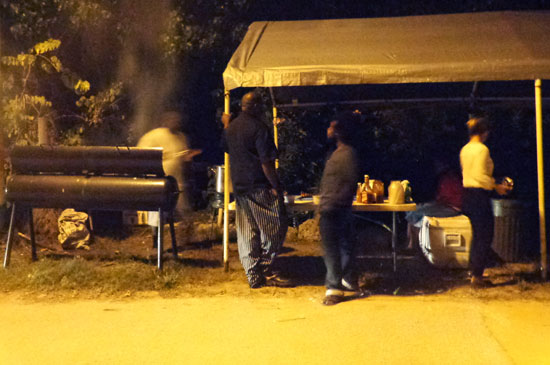 Kenny is excellent at what he does and has the best conch soup I've eaten. He keeps things simple… on his menu: conch soup, garlic bread, ribs, and chicken.
He also has a cooler with soft drinks, water, and beer.
It's difficult to give advice to visitors on what to try should you make it to Kenny's during your trip.
Chicken cooking on the BBQ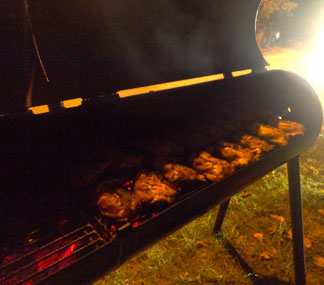 Dipping the garlic bread in the conch soup is such a treat! However, his ribs and chicken are some of the best on the island too.
I guess it would just come down to what you are in the mood for… you can't go wrong with any of the options at Kenny's.
Kenny's prices are fair, ranging from $2 US to $10 US. My beloved soup and garlic bread order is $10 US total.
If you don't want to linger around Kenny's tent while you eat, you can always carry your food over to the beach and have a night-time picnic. But if you want to stick around, Kenny has everything you need… napkins, utensils, condiments, and he'll even let you have a seat on the cooler if you want to rest your legs.
While Kenny doesn't keep hard set hours, you can start looking for him around dinner time. He stays put until the last few Anguilla nightlife stragglers are fed.
If you are early to bed and want to try Kenny's, make this your one late evening night of your trip... It is a special, humble and savory Anguilla spot, I don't think you'll be sorry!
Directions, Hours & Contact
Directions: Located along the road that runs parallel to Sandy Ground beach, on the pond side of the road.
Kenny's BBQ
Good for late night BBQ.
Hours: No set hours.
Tel.: No phone.