Anguilla Hotels: The Guide...
Blowing Point
The red pin (below) is Blowing Point.
There are three smaller areas that make up the whole Blowing Point district. To the East, there is Blowing Point East, a perfectly charming, semi-circle, sandy beach. To the West, there is Sandy Point, which also has desirable sandy shores and generally calm shores. Further west lies an area called Blowing Point West, which is along sea rocks.
This whole area, Blowing Point, offers beautiful views of St. Martin (it is the closest point of access to St. Martin, after all), and is very convenient. Also, the location is central, and any hotel here is just 2 minutes from the Anguilla ferry.
There are many cost-friendly hotels in Anguilla on Blowing Point...
The Ferryboat Inn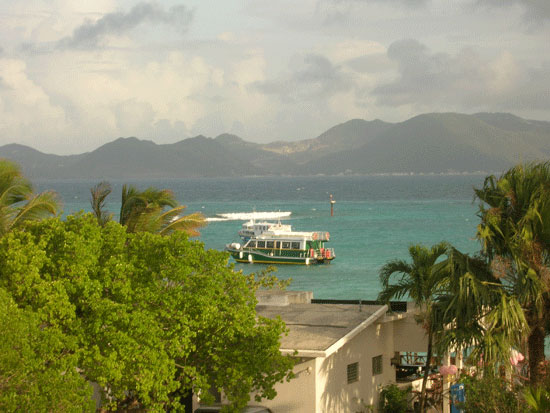 Size: Small
Location: Middle of sandy beach.
Description: Ferryboat Inn offers one of the best deals in Anguilla.
First? Location! Ferry Boat Inn is a left turn up the road from the Anguilla ferry terminal. If you wanted to, you could walk from the ferry to this Anguilla inn. It's that close (5 minutes, easy).
Second? Location! Every unit faces St. Martin and offers breathtaking views of those rolling mountains.
Third? Location! Blowing Point's soft, sandy beach is Ferry Boat Inn's front yard.
No doubt about it, Ferry Boat Inn wins for location.
It hits all of the other key points, too. Their units are apartment-style. All are clean and comfortable. Their top floor apartments are coveted, as is their beach house, which is set forward on the property, literally on the beach. This one books fast.
Each of the units also have TVs, a/c in bedrooms and are serviced six days per week. Internet is available, too. And, one of the island's very best restaurants (Ferry Boat Inn) is on-site.
Last but certainly not least, Ferry Boat Inn is run by two of the kindest people in Anguilla, Marjorie and Christian McClean (her son).
... All of that starts at $140-230/night (depending on the season).
Click for more on Ferry Boat Inn.
Price: $$$ — Return to Hotels By Price
Patsy's Seaside Villas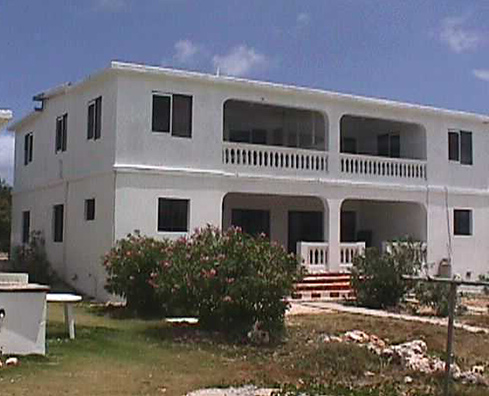 Photo Credit: Pasty's Seaside Villas
Size: Small
Location: Middle of the beach.
Description: Pasty's Seaside Villas is located right next to Anguilla's ferry terminal. From Pasty's, you can easily see all of the ferry boats coming and going in the channel between Anguilla and St. Martin.
From here, access to the ferry easy and views of St. Martin are stunning.
Pasty's Seaside Villas is made up of six units. Villa One, Two, Three, Five are right on the beach, complete with two bedrooms, a full kitchen and dining/living area. They are more apartment-style. The units are nicely finished, with much rattan furniture.
Pasty's provides certain essentials, which you find on your arrival. This is ideal if you're arriving late and don't want to worry about getting groceries for the next day's breakfast.
The owners are helpful and sweet, loved by all of their guests.
Rates start at $100 per night in the off-season.
Click for a review of Pasty's Seaside Villas.
Price: $$ — Return to Hotels By Price
The Pavillion Inn
The Pavillion Inn is not currently renting.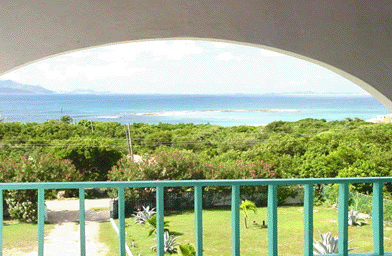 Photo Credit: The Pavillion Inn
Size: Small
Location: Inland from the beach, views of St. Martin.
Description: Just a short walk from the Anguilla ferry terminal, and propped up on a small hill, lies The Pavillion Inn.
This Anguilla Inn has three units: Penthouse, Deluxe and Junior. Depending on the time of year, rates are $80-95 for the Junior, $110-125 for the Deluxe, and $290-359 for the Penthouse.
The building is three stories, and as you may have guessed, the Penthouse is on the third floor. Each unit has living, dining and kitchen areas, as well as air conditioned, and outdoor patios. They are set up as apartments, are well-maintained and clean.
Book the penthouse for the most impressive views of St. Martin!
This hotel is not on sandy beach front, but is a short walk to the beach. Its lawns are manicured and pretty, good for sunning and enjoying the afternoon, if you feel like staying in.
They also supply all that you may need if you do go on a beach day nearby, including beach towels and umbrellas. They also provide coolers.
Price: $ — Return to Hotels By Price
Willie's Inn
Willie's Inn is currently closed
Size: Small
Location: On the way to the beach.
Description: There are sixteen apartment units at Willie's Inn, each have a kitchen and nice views of St. Martin.
Price: $ — Return to Hotels By Price