Endless Anguilla Luxury
on This Idyllic Day at the Beach
Update: Don't miss an idyllic beach day at da'Vida's Bayside Grill, perfect for a relaxing afternoon of lunch, drinks and swimming. Click here to read about the Bayside Grill. da'Vida no longer serves lunch in their main restaurant.
Anguilla luxury is defined by its subtlety and exclusivity.
Restaurants are calm, beaches are quiet. The tranquility is becoming.
By contrast, the luxury one may experience on a St. Barts vacation, washes over you from the moment your prop plane touches down. It is a glamor island for people to be seen.
The beaches are covered with tanning bodies, the restaurants are louder and trendier, and without hesitation, some of the most lush and plush I have ever seen (in photos and in person!) fitted to the highest standards.
I loved St. Barts restaurants, but not the busy scene. I thought, "it would be heavenly to have a blend... a luxury St. Barts restaurant in Anguilla..."
da'Vida is a Beautiful Fusion of the Two Atmospheres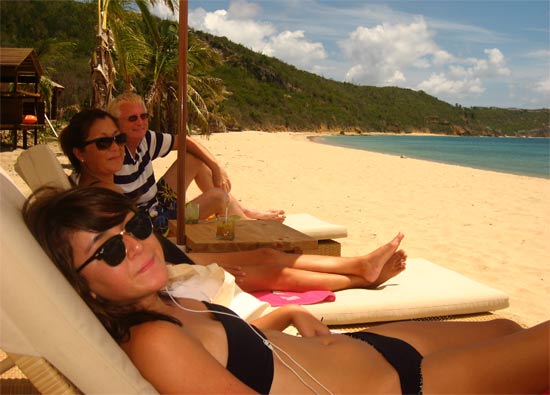 The building's decor and design is on par with any luxury restaurant in St. Barts, but the location? Nothing beats Anguilla's beaches!
Yes, we returned to the luxury Anguilla restaurant, da'Vida again, and so soon too!
We had dined there for a magical dinner, my parents had enjoyed several evenings of tapas and drinks, now everyone was dying for a da'Vida day at the beach, and lunch too.
da'Vida delivered a memorable experience...
It All Began with Drinks on the Beach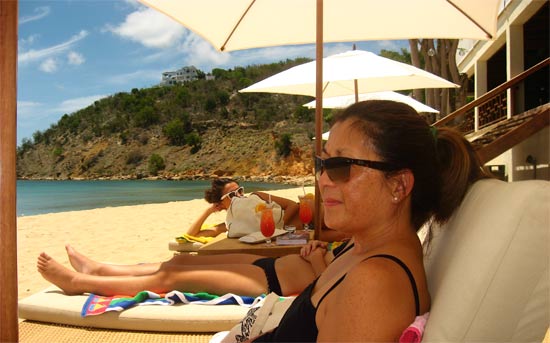 My Dad is on a first name basis with da'Vida's very kind and accommodating waiter, Alex. (Yep, my Dad is at da'Vida that often!). Alex took great care of us and brought us right to Crocus Bay's calm waters, and da'Vida's plush beach chairs.
They are more like beach chaises, perfect for long hours of lounging and napping!
Cool rum punches in hand, that is exactly what we did.
The View Ahead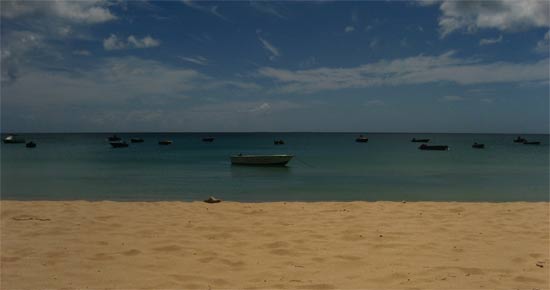 The mid-day sun was hot. Anguilla weather in June is scorching! Crocus Bay looked more inviting than ever. It is always a still bay, even more so during one of the island's calmest months.
You know where my Dad was after an hour of lazing in the shade...
He Loves Floating!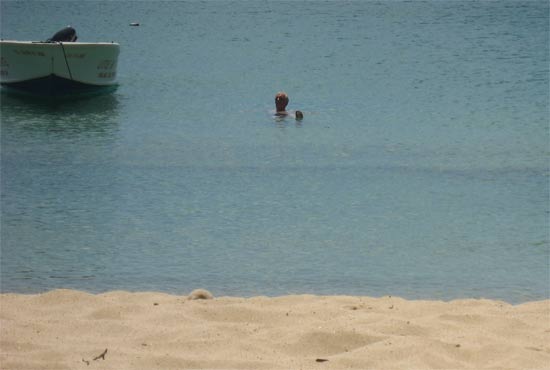 My Mom Nearly Came In, Too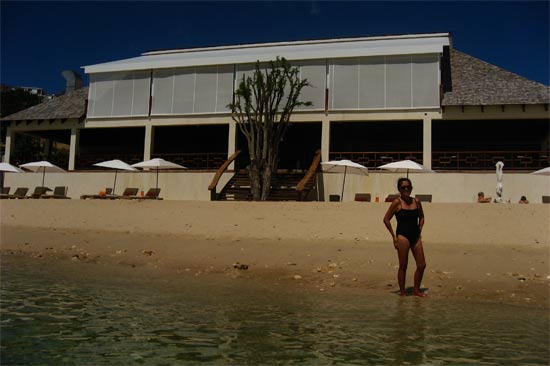 Da'Vida offers more than just swimming in the sea. My Dad and I thought about taking out their nice, orange, sea kayaks...
But... then we fell asleep in the afternoon's warmth!
When we woke up from our sunny snooze, our tummy's were hungry. In we went for lunch. We didn't catch Alex before he headed home, but a kind lady who also works at Cove Castles (dying to try it since reading this great review) made sure we were all set.
We sat at one of da'Vida's beautiful, wooden tables and considered our options... Coconut crusted prawn salad, black angus beef burger, steak sandwich, pizza, stuffed dumplings. The choices, the choices!
da'Vida doesn't just serve your usual beach food. Of course, they have that covered as well, but should you be craving a full meal of steak or curry your needs will be met.
Everyone tried something different...
My Mom Had Curried Chicken, My Dad Tried Their Steak Sandwich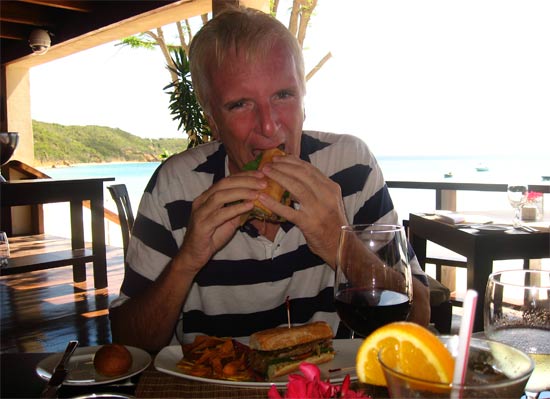 Salads (and a side of fries, he he!) For Me & Yuki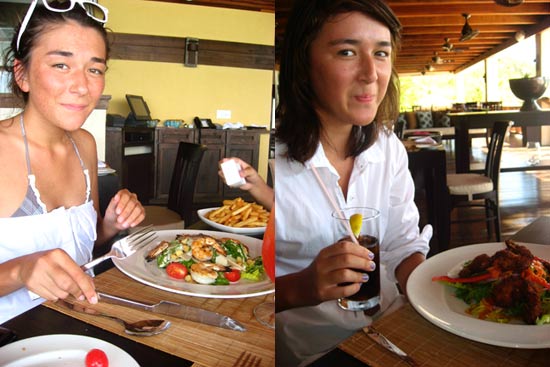 Their food was exquisite! The shrimps were big and zesty, my Mom said the curry was everything she wanted, just how she would cook it (if she could cook West Indian!) and my Dad polished off his steak sandwich.
The meals matched the restaurant's ambience in quality and excellence!
Next time if I have a bigger appetite and I'm not too weighed down by the sun and the sea, I think I'll try the dumplings. I've never sampled West Indian dumplings, but they sound delicious.
After our meal, we moved over to da'Vida's lounge area so my Dad could wash the rest of his rum punch down with a cigarette. On our way we ran into...
Vida & Her Husband Clyde Richardson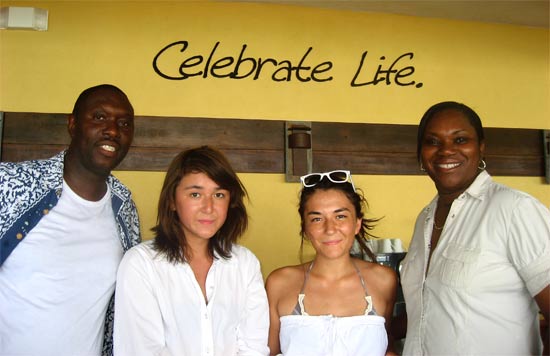 We got the chance to meet the woman behind da'Vida! And, her husband, Clyde, is the man who designed the beautiful structure. They are both such wonderful, interesting people. Apparently, da'Vida's design was heavily influenced by Japan. He loves the country and their minimalist designs. My Dad spent the rest of the afternoon chatting with Clyde.
While they talked away, look what Yuki and I accomplished!
That's Right, We Got Mom In The Water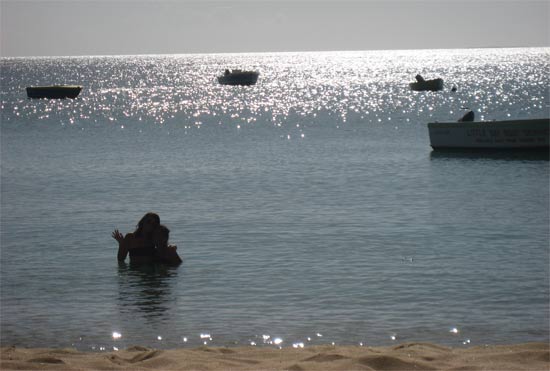 With a final swim, we scooped up my Dad and headed home for a final nap and a sleepy night.
It had been one of the most idyllic beach days, enjoyed in an Anguilla luxury paradise.