An Anguillian Family's Calling...
Daisy's Restaurant
Update 2018: Daisy's has closed.
By: Kristin Bourne
Turn in here!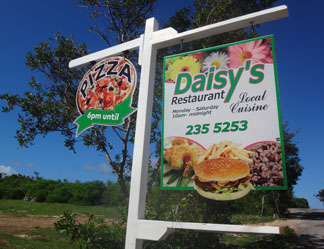 Inspired by an Anguillian matriarch.
Founded and operated by her proud offspring...
Daisy's Restaurant is a family affair that brings the island a new dining view and a unique option for lunch and dinner.
Unique is the view and delicious is the food, but family first: I spent some time with Erica, one of the founders of Daisy's Restaurant who told me the story of Daisy's.
A Daisy's Restaurant Overview
Daisy's Restaurant opened in June of 2014.
Erica is the granddaughter of Daisy, who passed on back in 1970.
Erica along with her sister Esline, their mother Elmie and Esline's son Ekeama, keep Daisy's Restaurant operating at some very convenient hours for their customers while serving up savory home-cooked, local style food, appetizers and pizzas.
An image of Daisy surrounded by daisies
hangs on the restaurant named for her

Erica is your hostess.
You'll find Esline and Elmie cooking in the kitchen.
Ekeama you may not see as much, as he's the one out running around to obtain the freshest ingredients to deliver to the cooks!
Daisy, the inspiration and namesake, loved to cook and the skills she passed on are being used by her loved ones and we get to benefit. How special is that?
A gentle and welcoming family, they are always happy to meet new people and are proud of their heritage.
The Food at Daisy's Restaurant
The day I stopped in to try Daisy's for the first time I was fortunate enough to sample several different options.
I tried the fried whole red snapper fish with some scrumptious sides and their sought after dessert - sweet potato dumplings. They are a local favorite.
Get your fresh red snapper steamed or fried!

A sample plate of Daisy's chicken wings
and tomato-cheese bread

I also sampled, along with my pal Kyrleson, their chicken wings and tomato-cheese bread appetizers.
We were impressed!
As Kyrleson put it, "this food is really good" and we discussed how we very much liked everything we tasted.
The fish was well-seasoned, the wings were crispy and hot, and I especially liked the scalloped potatoes.
Kyrleson and I were ready to dig in

Daisy's menu has its standard players but the entrees do change from time to time. Standard entrees include stewed chicken, stewed pork, stewed ox tail and either fried or steamed whole snapper.
Sides are included and are hearty options like rice and peas and scalloped potatoes. The entrees range between $12 to $14 US.
There are also desserts such as chocolate cake and carrot cake for $3 US.
Erica is proud to share Daisy's piping hot,
freshly made pizzas!
(image: Daisy's Restaurant Facebook page)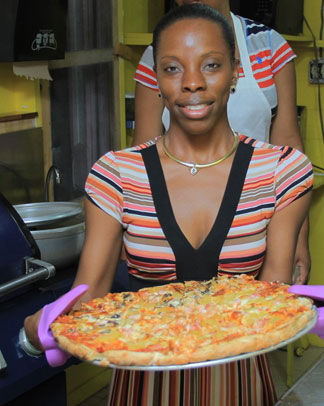 What's not to miss, especially if you are interested in a local treat and "eating history" (as the family recipe has been passed down)? The sweet potato dumplings.
Wash it all down with soft drinks, juice, water or wine. Sodas and juice are $3 US and a glass of wine is $5 US.
Last but not least, Daisy's makes pizzas for the dinner crowd and night owls…
Pizza sizes are 12 inches, 14 inches and 16 inches and come in two different crust options: thin or thick.
The thin pizzas are priced at $9, $11 and $13 US. Thick crust pizzas are priced at $11, $13 and $15 US.
Topping choices for the pizzas are copious! Here's the list: ham, cheese, pepperoni, italian sausage, meatball, tuna, shrimp, steak, chicken, pineapple, pepper, vegetable mix, mushroom, black olive, onion and anchovy.
It's important to note that pizzas are served after 6pm and until closing at 11pm. Daisy's even opens on Sunday nights just to serve their pizzas which are growing quickly in popularity.
All in all? We were happy with everything: Erica's hospitality, the menu options, the food itself and I even liked the colorful place mats and the glass my ginger ale was served in.
The dining table set up itself is unique and quite innovative as well. The tables and chairs face the view and add a different and casual enhancement to dining.
The Setting
An additional highlight of the Daisy's Restaurant experience is the restaurant itself and where it sits in Anguilla…
The restaurant sits on a large hillside lot with wide open views of a portion of Anguilla's southern coast, the Caribbean Sea and St. Martin.
On clear days you can even see the other neighboring islands of St. Barths and Saba.
Daisy's has quite the vista of the Anguilla airport (AXA),
the Caribbean Sea, St. Martin, St. Barths and Saba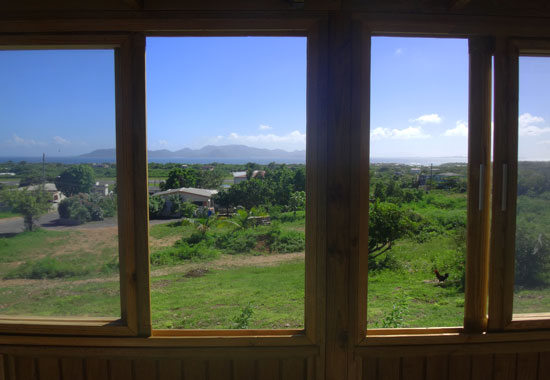 Note: If you are driving to Daisy's, it's located in George Hill, just off of the main road and across from the hard to miss Caribbean Cable building.
That hillside offers stunning views. At night you can look out across the channel to the twinkling lights of St. Martin. Sitting and dining at Daisy's makes you feel as though you are on a perch.
We also loved watching the airplanes come and go from Anguilla's airport (AXA). Daisy's is just up the hill from the western end of the runway, the end where planes tend to touch down and start their takeoff.
It's an exciting highlight!
The restaurant also has music, a TV and karaoke at night for dining guests.
Look who's dining at Daisy's!
Anguilla's very own Omari Banks
(image: Daisy's Restaurant Facebook page)

Another important point about Daisy's… The time you spend at Daisy's, taking in the scenery and enjoying good food is taking place in a classic, traditional Anguillian home.
Daisy's from a distance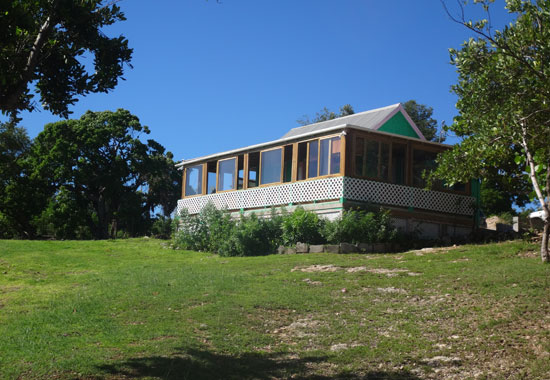 That's right, Daisy's Restaurant is in a traditional wood home with large shutters, a galvanized roof and is painted with bright Caribbean colors.
It's in the center of a nice-sized yard with abundant open space with hens and roosters roaming about.
The home is over 70 years old as of late 2014 and the family has added on the new and natural, unpainted wood wrap-around dining section with large windows for taking in the view.
I can't think of another restaurant in Anguilla where you can experience getting that close to traditional home craftsmanship other than being the personal guests of someone's old home!
Noting all of these perks, I realized that Daisy's would be a really nice spot for a larger gathering such as a party, reunion or even a wedding. I mentioned that to Erica and she told me that indeed, they had hosted some wonderful gatherings already and that their guests were pleased.
Local traditional touches
grace Daisy's Restaurant

The parking lot at Daisy's is also expansive and offers easy access to the restaurant which is handicap accessible.
I was moved to see that they have ramps to allow those who would like to, to avoid the few steps in and out.
You don't see a lot of handicap-friendly places in the Caribbean region. What a thoughtful touch!
The surroundings are special, the view is empowering, the warmth of family is felt and the food is fresh and tasty.
What more could you want?
Bottom line on Daisy's is... I can't think of a reason for anyone not to try it out. Let's review!
unique dining views of the Caribbean Sea
cooking talent passed on from generation to generation
good, local food AND pizza
charm of a traditional Anguilla home
hospitality from a warm family
handicap accessible
fair prices
Map, Hours & Contact
Directions: Right across from Caribbean Cable building in George Hill.
Hours: 6pm to 9pm Monday to Saturday. Closed on Sunday.
Tel.: 264-235-5253