Anguilla Restaurants...
The Best of the Best For Breakfast!
Deon's has closed.
Perched high on a cliff, gazing at the picturesque village of Sandy Ground.
Immersed in the Caribbean heat.
Sipping freshly roasted coffee.
Devouring soft, syrupy pancakes.
Heaven?
There's only one place on Anguilla for such a recipe...
Deon's Overlook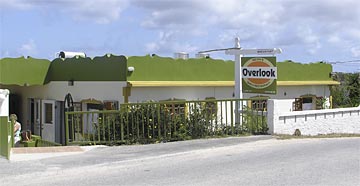 For years, our family has enjoyed lunch or dinner at the Overlook.
Deon was our go-to man for the freshest, the tastiest fish & chips!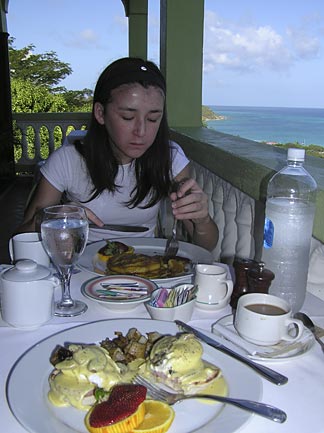 But, then, one early morning, my Mom and I received a phone call in the freezing cold of Montreal.
My Dad and my sister had left for Anguilla a week earlier than my Mom and me that year. They were at the start of their eat-sleep-eat-sleep vacation under Anguilla's hot sun.
They just had to rub it in!
"We just discovered the best Anguilla breakfast!" My Dad exclaimed.
"Yuki and I hit the jackpot... Even Keith Richards has his bacon and eggs here!"
My Mom laughed politely, and rolled her eyes.
"Keith Richards? OK, sure, Ken."
The following week, my Mom and I took off our parkas, and put on our bathing suits as we arrived in Anguilla.
It was now my Dad and Yuki who were laughing at us!
They were about to prove just how good Deon's breakfast actually is...
We entered the familiar, tropical restaurant. However, this time, the scent of fresh coffee wafted from the colorful building, replacing that of bubbling batter.
A kind waitress gave us the best seat in the house. And my Mom and I started for the menus, when my Dad and sister took them out of our hands.
"Take the pancakes or the omelet."
I went with the omelet. Yuki asked for pancakes and the french toast!
Soon a sizzling, zesty omelet presented itself in front of me, complete with pan-fried potatoes and fresh fruit!
I glanced over to my sister...
Before her lay a mountain of piping hot, fresh-off-the-griddle pancakes, drenched in sweet, sweet maple sugar. I had to steal at least one!
The omelet was absolutely delicious. And I sampled one of Yuki's pancakes (she turned her head and one ended up on my plate).
The pancake was melt-in-your-mouth delicious, better than I have ever had before. Yes, um, that includes my Mom's. (Don't tell her I said that.)
Could it get better than this?
Two breakfasts in one sitting!
Keith Richards certainly knows his Anguilla restaurants.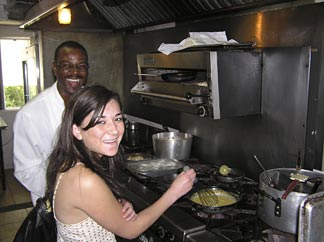 The morning didn't end there. Deon came out to say hello.
A culinary genius, Deon is a wonderful man.
As a matter of fact, he even gave me a cooking lesson! ;-)
He showed me how to whip up an omelet and sizzle bacon to perfection.
I had to ask the question...
"What does Keith Richards order?"
He left me in suspense, and laughed.
But now I know.
Keith does dine at Deon's.