Steve Cohen, from New Jersey USA, really took me up on my challenge to visitors of this site to send in "Your Anguilla Travel Stories".
I'll let Mr. Cohen tell the rest...
1. Time Spent at Stonehenge Minor.
"There is no better reason to spend time in Anguilla than to spend time at this most incredible place. Words and photos seen on the aforementioned website cannot do justice to the serenity one finds here. If you go, treat it with the utmost of reverence and leave your own sculpture in appreciation of its being."
(Nori's note: Steve said previously written about Stonehenge Minor, and that an extra special time to go is at sunrise. Steve took this beautiful photo.)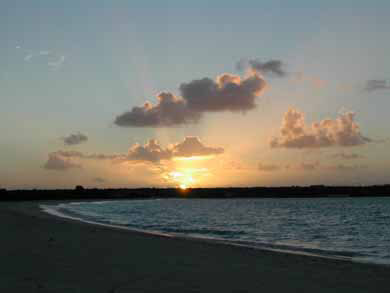 2. Snorkel Trip aboard the Chocolat.
"Captain Rollins Ruan is possibly the finest and friendliest skipper in the world. His day trip to Prickly Pear and Sandy Island about his magnificent 35-foot catamaran Chocolat keeps us returning when we are in Anguilla. A wonderful lunch is served that is prepared by his wife Jacqui (owner of Ripples Restaurant). If the weather conditions are not right for snorkeling or sailing, Rollins will not take your money and waste your time...he only goes out when he knows you'll enjoy the day!"
(Nori's note: Ripples Restaurant is delicious! Try the fish & chips. My mom adored it - they served it with peas. Haha. And the Chocolat boat trip is now on our "to do" list for our next trip!)
3. Dinner at The Hibernia.
"Raoul Rodriguez is chef extraordinaire and Mary Pat O'Hanlon is the most gracious of hostesses. The French/Asian flavored food is outstanding. With an island blessed with many fine restaurants, Hibernia stands above the rest with its food, atmosphere and service. If you go and don't have Hibernia's rum & raisin ice cream with aged rum for dessert, you will make me sad."
(Nori's note: Unfortunately, we didn't have room in our tummies for the rum & raisin ice cream. Next time!)
4. An Afternoon on Scilly Cay.
"Sandra and Eudoxie Wallace's restaurant and tropical playground on tiny Scilly Cay is a must for those seeking a unique and fun way to eat, drink and be merry. Live music, great food (lobster, chicken or crayfish) and potent rum drinks makes for memories that make you want to visit again and again. A free water taxi shuttle service is provided from the dock in Little Harbour. Also, Gwen's Reggae Grill on Sunday afternoons (Shoal Bay east) serves great live music, drinks, food and hammocks to ease the pain of having too much fun."
(Nori's note: We've never attended Scilly Cay, but the location is breath taking! As for Gwen's Reggae Grill, click here to see our page on it.)
5. Sunset from the Bluff at Malliouhana Hotel.
"Watching the sun slowly quench itself in the Atlantic Ocean (yep, the north side of Anguilla is the Atlantic Ocean, while the south side is the Caribbean Sea) as you slowly quench your day's thirst with a rum punch makes life worth living."
(Nori's note: This is our top magic moment on an Anguilla vacation. It is simply gorgeous. And, definitely makes life worth living!)
6. Walking Along Rendezvous Bay Beach.
"The gentle white sand and warm water caresses your feet, while the gentle breeze surrounds you as the sun warms your soul (and tans your body) and the air enriches your life's blood. What more can you want from this normally quiet 2-mile stretch of heaven."
(Nori's note: Rendezvous Bay Beach is spectacular. The dunes add to the absolutely perfect scenery.)
7. Tooling Around Anguilla.
"We keep our options open daily and rent a Jeep for our stay. One of our favorites things to do is to 'hit the road' and see where it leads. There are some really interested backroads on Anguilla that lead you to unusual locales, sights, etc. Spend time chatting with the locals, stopping at local shops, etc. to flavor island life. Anguilla law allows anyone to enjoy the beach at all hotels. Each beach has it owns charm...such as Sea Feather Bay, Little Bay, Windward Point Bay, Mead's Bay and so on."
(Nori's note: Probably my Dad's favorite thing to do on an Anguilla vacation. He loves experiencing!)
8. Experiencing The Dune Preserve.
"What makes life worth its salt...yes, when dreams come true. Such is the case for Bankie Banx. Bankie is an uncommonly warm and spiritual person that has created with the help of friends a place unlike any other you've seen....a place for fine food, fun people, potent drinks (try the Duneshine) and great reggae music to come together overlooking Rendezvous Bay. Bankie is a reggae musician who performs regularly and has released many excellent CDs."
(Nori's note: I met Bankie Banx once, and agree with Steve Cohen. Yes, he is just like his restaurant/showbar...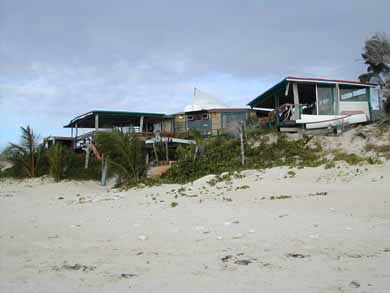 ... wildly unusual, interesting and likeable. However, I haven't heard his music yet. The next trip we'll stop by for a touch of reggae!
9. More Than Just Fine Dining.
"Anguilla has some of the finest quality restaurants you will find anywhere. Finding so many on this little Caribbean gem is amazing. We have eating at both high end (pricey) to local (reasonable) restaurants and find they all offer a certain uniqueness to your visit to Anguilla. Places worth a visit are: Hibernia (already discussed), Tasty's, E's Oven, Palm Grove (on Savannah Bay), Pump House (Sandy Ground), Cedar Grove Cafe, Oliver's (lunch and view), George's (Cap Juluca for lunch), The Overlook (dinner and view), and Roy's (happy hour and fish'n'chips) are some of the places we enjoy."
(Nori's note: Of the ones mentionted, we've eaten at Tasty's, Palm Grove, Oliver's, The Overlook and Roy's. One word: Yum.)
10. Beach Time and Rum.
"Anguilla's own Pyrat Rums, especially XO Reserve, which is an excellent sipping rum. Enjoying it on Rendezvous Bay Beach is the life!"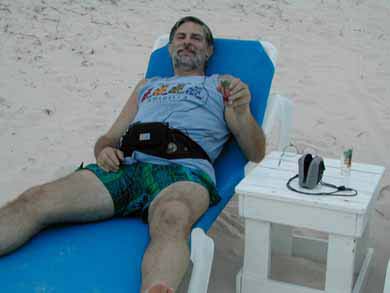 (Nori's note: I wonder why Mr. Cohen reminds me of Dad!)
Wow! What a GREAT Top Ten! Thanks, so much, Mr. Cohen. It was so generous of you to take the time and share Anguilla travel tips and favorites with everyone. And you've added a couple of super things on our own "to do" list.