An Addition to The Best
"Value Villa" of Anguilla
The villas of Anguilla come in all shapes and sizes.
The wide scope varies from the ultra-sensational/super-exclusive that attract the likes of Brad Pitt and Jay-Z, to modest, cute and colorful Caribbean cottages (there's you can rent in Sandy Ground).
But of all the villas of Anguilla, there was only one Anguilla villa that our family called "home" for a few years.
Tortue Villa of course!
No, there aren't chefs on location.
No, there aren't any state of the art kitchen utilities.
And yep, you guessed it, no helicopter pad either!
Tortue villa boasts a reasonable price, big and spacious living areas, a swimming pool, and has a great location perched in the craggy cliffs just seconds from Shoal Bay!
Let me tell you, there's nothing like lazing on Tortue's deck, gazing out at the best beach in the Caribbean all clad with beach towels, beach chairs, beach umbrellas and beach-goers. And of course, the great big blue... clear, turquoise blue.
Could you ask for more?
Well, I don't mean to sound spoiled, but my Dad and I had thought of something that could vastly add to the villa's value!
Since Tortue is built on the edge of a rocky hill side hanging over the water, why not build a little promontory by the edge to catch some rays directly by the sparkling blue?
Months and months passed, after our recommendation and still, there wasn't any construction (that we had heard of anyway).
But then on another beautiful day in paradise, while my family and I were sailing past Tortue, we noticed the latest addition!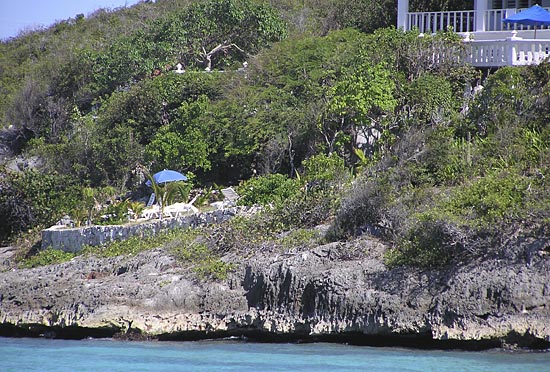 Sadly, we weren't staying at Tortue on that vacation.
It was all booked up! (I think I have to stop recommending it! ;-) )
The competition is unbearable!
Ha! Ha! ;-)
What a great spot. Here's one of the sea creatures for which Tortue was named...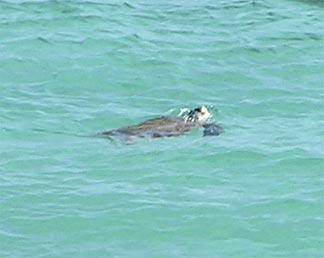 Our family has yet to test out this superb sun deck, but just seeing it, confirms our beliefs...
Tortue Villa is the best of all villas of the Caribbean!
Where else can you watch sea turtles swim and dive, just feet away from where you're sunning?