Tortue Anguilla Villa Update...
Still The Tortue We Know & Love,
Forever Our First Home Away From Home
Once upon an Anguilla villa rental, Tortue Villa was our #1 choice!
Back when we lived in Montreal, and would make our yearly (or bi-yearly) 14-hour trek of 3 flights down to Anguilla (Montreal-JFK, JFK-San Juan, San Juan-Anguilla), we only wanted to stay in one Anguilla villa...
After our first "discovery" of Tortue (a "last-second rescue," actually), Tortue Anguilla villa was our home away from home.
It's faster now to fly to Anguilla from many NorthEastern cities. Take Jet Blue non-stop to St. Maarten, then
Anguilla Air Services
across to AXA. It cuts the time and aggravation by half.
On every Anguilla vacation, we only knew we were really "home" when we stepped foot through Tortue's doors, walked out onto the veranda, the trades filling our nostrils and catching our hair, and took in the first panoramas of the best beach in the Caribbean, famous Shoal Bay East.
The enormous space, the breeze, the view, the pool, the location, the reasonable price... what a deal!
Since those early Anguilla days, we have moved to Anguilla and live in our own Anguilla home, full time. Gone are our economical Tortue Anguilla villa vacations. Now we're on vacation full-time! ;-) (Hah! My Dad works as hard as ever!)
While recently passing through Shoal Bay, Tortue Villa caught our eye. We got in touch with Karlyn (Tortue's manager) and decided to take a trip down memory lane...
Since our last stay, there were a few changes. It looks newer than ever.
The beds are new, the counters have been re-finished, the chairs, too. There is new art on the walls. Tortue sure has kept up!
New Tortue Beds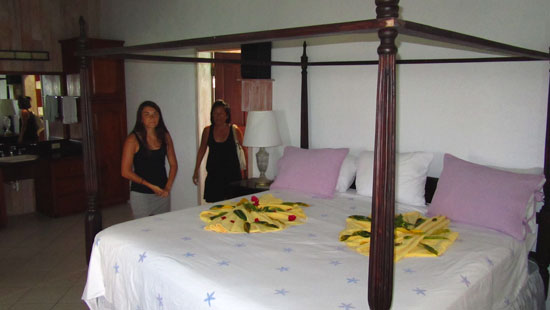 New Anguilla Dining Room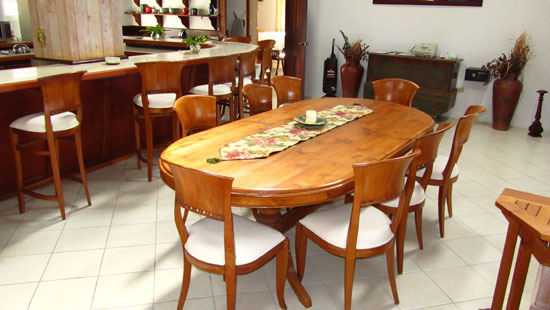 Revisiting Anguilla Tortue Villa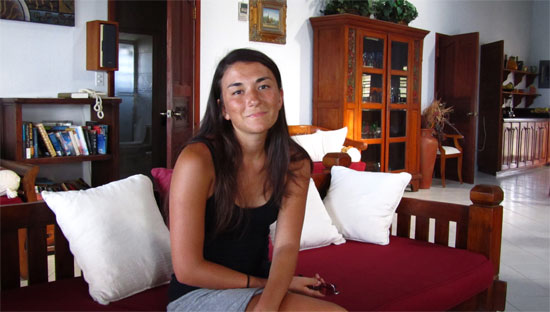 Back on Tortue's Veranda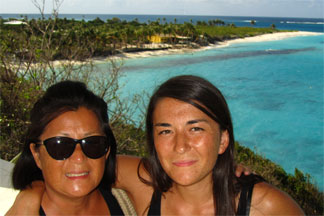 There were changes here, and upgrades there, and best of all?
Tortue Villa is still the Anguilla villa that, if you're on a budget and looking for a great deal, we don't know of a more great-value spot.
We were immediately transported back to yesteryear.
The memories came rushing back.
My Mom was near tears as she thought of how little we were.
We stepped out onto the terrace for that priceless view of Shoal Bay...
View From Tortue

As mentioned earlier, they even have a clearing down near the sea-rocks where you can lounge on beach chairs, right by the seaside. I wish they had their Shoal Bay sea-side sun spot when we were staying at Tortue Villa!
No doubt about it, Tortue Villa's still got it.
To read more about our Anguilla vacations at Tortue Villa, please click here.
Tips For Booking With Tortue Anguilla Villa
Many people travel to Anguilla with larger budgets. If that's you, this is the luxury Anguilla villa we recommended. My parents loved it.
Rate Update!
For a while Tortue Villa was only renting 3-4 bedrooms. It was still well worth it to rent three bedrooms even if you only used two! The value Tortue Villa offers is exceptional for the price. (Of course you could always bring friends and split the cost. You won't feel crowded in a villa this huge!)
But now, if you are only seeking 2 bedrooms, Tortue Villa may just be able to accommodate you at a discounted rate!
It doesn't hurt to ask. As my "Nana" used to always say, If you don't ask, you don't know! :-)
The privacy, the seclusion, all on an exotic island... It doesn't take much to understand the allure of villa vacations.
If you're on a more economical budget, Tortue affords you both privacy and space, in a very comfortable and roomy accommodation, all located in one of the island's most desirable spots.
You can save hundreds of dollars on dining out night after night, by dining in and cooking in Tortue's fully equipped kitchen and eating on the terrace, with our own endless vistas.
Tortue truly offers a high-value and highly affordable Anguilla villa experience.