An Effortless, Yet Rewarding Experience
On Caribbean Family Vacations
Whenever people ask me, "What do you do on Caribbean family vacations?"
I smile.
Of course, you can spend hours, upon days, upon weeks sprawled on the soft, scorching sand of Shoal Bay East.
But on our Caribbean family vacations, we spend more time tracing our way back from off-roads, off of back-roads, off of no-roads, to our villa.
We've sweated and dehydrated on high, cliff-side hikes.
We've been pricked by sea urchins and slipped on wet sea rocks while whelking.
You can say we definitely have a feel for the island!
Of course, this was no different on our most recent Caribbean vacation.
The adventure began as most do... My Dad behind the wheel of our Jeep without a map of Anguilla. (He forgot it, as usual! Ha! Ha!)
We were simply driving around the picturesque working village, Island Harbor.
I was gazing out my window at the sheer beauty of Scilly Cay. It sits so serene out in the middle of that turquoise bay, dotted with colorful, wooden boats.
It was another warm, sunny, not-a-cloud-in-these-blue-skies Anguilla day and I was relaxing in the back seat of our Jeep.
But then my Dad saw this sign...
"We haven't taken a drive up around here in years," he exclaimed.
I rolled my eyes, laughing at him, "Here we go again."
Several sharp turns and dirt roads later, we found Island Ridge Road.
As much as I like to laugh at my Dad and his crazy curiosity, it always pays off.
The road led to a small promontory, wide enough for maybe two cars.
This ledge sits high and mighty above Island Harbor and its surrounding areas, and provides breathtaking views that extend in all directions...
Savannah Bay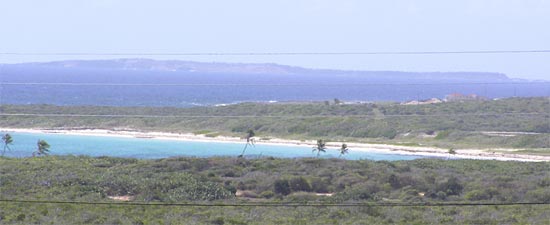 Island Harbor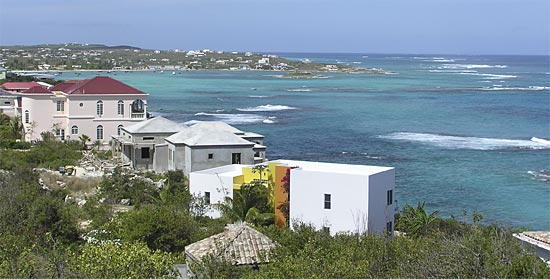 Captain's Bay


Scrub Island

... I told you! You can see forever.
Ok, ok. No, you can't see to Miami, but I think if you squint, Puerto Rico's that dot in the distance. ;-)
I have to admit, of all the adventures on our Caribbean family vacations, our Island Ridge Road discovery was the least strenuous!
My Dad even captured a photograph of my mom, sister and I against a breathtaking back drop, without us looking flushed, sweaty and ready to collapse...
Calm At Last!

We haven't experienced such an exercise-free magic moment since those sunset drinks at Malliouhana...
How about we make this tradition, Dad? ;-)