"Good Cookies" at
Tequila Sunrise Villa, Anguilla, B.W.I.
"The week was nothing short of amazing... The Chefs, incredible... Tequila Sunrise Villa, majestic... We feel so humbled," Paul Simpson reminisced after returning to New Jersey from a one week stay at Tequila Sunrise Villa in Anguilla.
Chef Alfred Portale & The Simpson Family at Tequila Sunrise Villa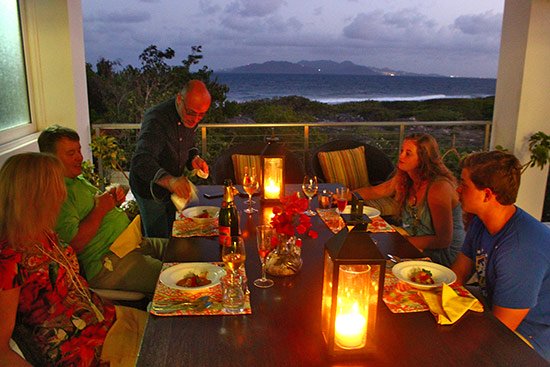 It had been a week of celebrations after being top bidders on an auctioned prize, a luxurious getaway to Tequila Sunrise Villa in Anguilla, at Cookies For Kids' Cancer's gala at New York's The Waterfront in February, 2015.
Toasting to Another Idyllic Evening with Chef Marc Forgione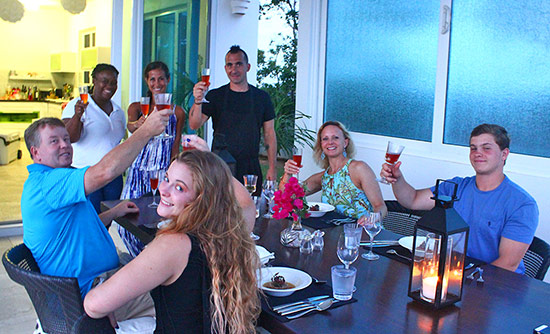 Together with their family, Paul and wife Becky Simpson were celebrating both their 25th wedding anniversary and a foundation that has made astounding strides in curing pediatric cancer.
True "Good Cookies"
It was in 2007 that Cookies For Kids' Cancer founder, Gretchen Witt's two year old son, Liam was diagnosed with pediatric cancer.
At the time, the disease was terminal, without a cure.
Liam fought his battle with cancer for four years until a day in 2011 when he tragically passed away.
Grief inspired the Witts to begin a foundation.
Through country-wide bake sales and star-studded fundraisers, and with a nation behind them, Cookies For Kids' Cancer (CFKC) has achieved true greatness, impacting and changing the lives of families forever.
Their son had always been taken by the colors of Tequila Sunrise Villa, planning trips to the bright property in the distant future. His passion and the Witts' story moved owners of Tequila Sunrise Villa, Robin and Joel Globus to help.
Captivating Colors at Tequila Sunrise Villa

A Ticket to Tequila Sunrise Villa & A Culinary Competition
Over the past two years, Tequila Sunrise Villa has raised over $100,000 for CFKC at fundraising events.
One such event was CFKC's annual benefit last held in New York City in February, 2015. John Rzeznik (of the Goo Goo Dolls) played, top chefs, including Jonathan Benno and Dan Kluger, prepared meals for attendees, amongst them Brooke Shields, and many more gave back in big ways at the event's auction.
Tequila Sunrise Villa had one of the most exciting auctioned packages of all.
Inspired by the prize Tequila Sunrise Villa had assembled for the previous year's auction, Chef Marc Forgione, Michelin-starred chef, winner of The Next Iron Chef and a regular visitor to Anguilla, offered his culinary talents for two nights of the winner's stay, and challenged world-famous Chef Alfred Portale to do the same. He accepted, and was quickly joined by renowned Anguilla chefs.
Chef Marc Forgione at Tequila Sunrise Villa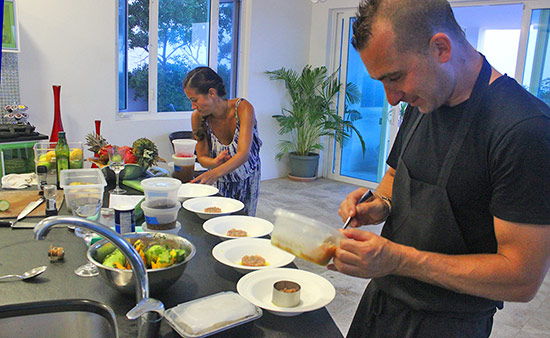 The prize blossomed into a ticket to the colliding of two prestigious culinary worlds, NYC and Anguilla, at Tequila Sunrise Villa.
Tequila Sunrise Villa's full package, included...
Roundtrip airfare
A week at Tequila Sunrise Villa
Breakfast prepared daily, car rental, champagnes, wines, tequila
World-class, in-villa chefs nightly

Chef Marc Alvarez & Sous Chef Teron Thompson, and Jahadia Webster, Anguilla - Straw Hat
Chef Carrie & Jerry Bogar, Sous Chef Kerry Richardson, and Nova Romney, Anguilla - Veya
Chef Marc Forgione, NYC - Restaurant Marc Forgione, American Cut and Keh-Yo (2 nights)
Chef Alfred Portale, NYC - Gotham Bar and Grill (2 nights)
Chef Dale Carty, Anguilla - Tasty's
The Simpsons With Top Anguilla Chef Dale Carty

The bid closed out at $60,000, the entire event raising over $1,000,000.
A few months later, the winning family, the Simpsons departed from their home in New Jersey, Anguilla-bound.
Blissful Caribbean Days at Tequila Sunrise Villa
This tranquil setting greeted them upon arrival...
The Tranquility Wrapped in Blue View from Tequila Sunrise Villa

Mornings of breakfast prepared in-villa by the villa's warm and welcoming housekeeper, Heather, blissful afternoons spent pool-side gazing out to the Caribbean Sea, St. Martin and St. Barths on the horizon...
Becky & Heather

With limitless ice-cold Patron on tap, daily turn down service and sandy beachfront a short stroll away, their days at Tequila Sunrise Villa were peaceful and serene.
Come evening? The Caribbean sky put on spectacular sunsets and the chefs took to the kitchen...
Chef Showdown, Anguilla Style!
It was here, in the kitchen where the action began!
Armed with five-star menus, the freshest island ingredients, fine wines and professional staff, a lighthearted, jovial culinary competition ensued amongst the visiting and resident chefs.
Chef Marc Alvarez, Sous Chef Teron Thompson,
Owner Anne Parles and Jahadia Webster of Straw Hat With
Paul, Claire, Becky and Paul Simpson

From "Night One," Chef Marc Alvarez, Straw Hat's Executive Chef, set a high bar with dishes including sea urchin mousse with cucumber and tomato-ginger water, poached crayfish with hearts of palm, avocado and ruby red grapefruit, and local goat schnitzel with purple potato and butter bean ragout.
This was far from your average in-villa dinner of BBQ ribs and chicken!
Chef Marc's Candy Cane Beet Salad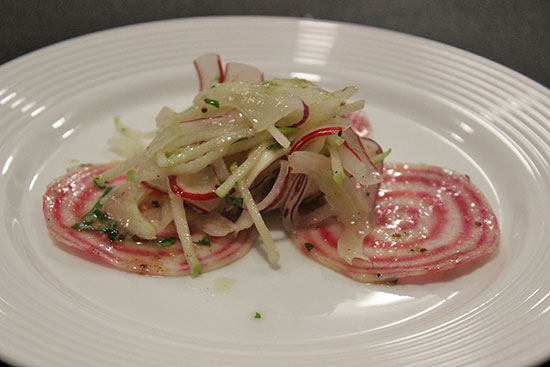 Chef Carrie Bogar, owner of Veya, followed up on "Night Two" with equally innovative creations.
Team Veya, Owners Jerry and Chef Carrie, and Nova Romney,
Inside Tequila Sunrise Villa

The likes of cauliflower and parsnip bisque with butter poached lobster and fresh mahi mahi with Viking sea salt, Tagine spice, parsnip puree, black garlic lentils and beet and apple slaw, graced Chef Carrie's menu...
Chef Carrie Preparing Snapper Cevice

... all served in style on Tequila Sunrise Villa's breezy, wide terrace.
Villa Mascot, Billy Enjoying the Caribbean Breeze

The following four nights were Michelin-starred NYC Chefs Marc Forgione and Alfred Portale's chance to respond!
Chef Marc kicked things up a notch when he arrived at Tequila Sunrise Villa with a special charcoal grill, flown in all the way from NYC.
The Charcoal Grill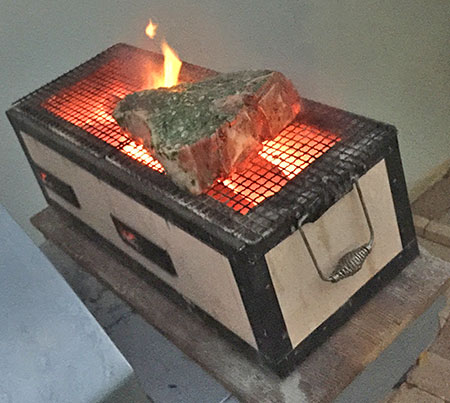 ... complete with an outstanding, t-bone steak!
The Steak

Expertly seasoned and cooked to perfection, expectations reached new heights.
Ready to be Served!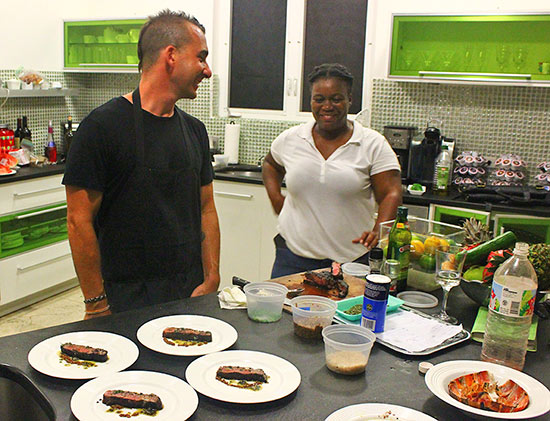 Naturally, Chef Marc's creations didn't end there.
Chef Marc's Finishing Touches on the Tartare

Fresh tartares, dishes of lobster, memorable and decadent chocolate mousse desserts were all on the menu, all executed with unique, modern flair.
Chef Alfred's Fresh-Made Tortellini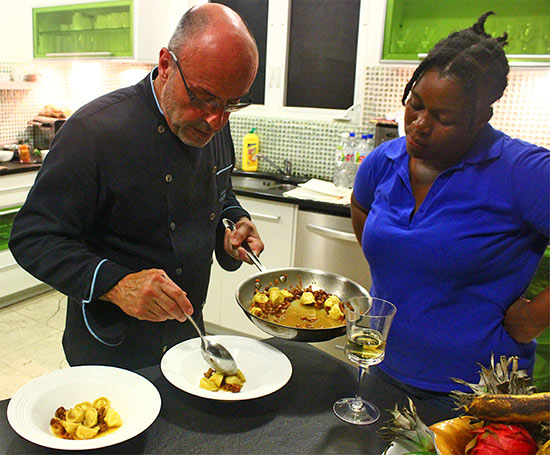 Chef Alfred Portale kept the New York momentum going with delicate appetizers, including yellow tomato gazpacho with local crayfish, topped with compressed melon.
Sweet corn tortellini in a chanterelle mushroom sauce and duck breast with foie gras were up next, no attention to detail spared. Chef Alfred's macadamia cake with pineapple and lemon sorbet made for an exquisite sweet ending on his second of two nights at Tequila Sunrise Villa.
L.I. Duck Breast & Seared Foie Gras With Spinach, Quinoa, Currants and Grilled Mango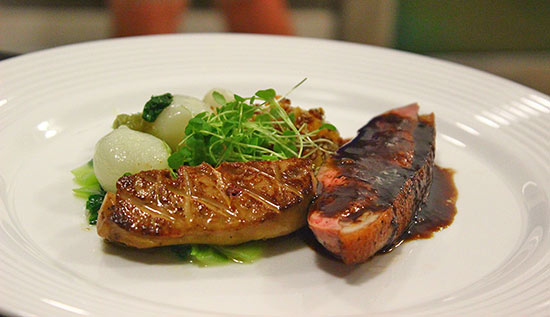 Finally, on the Simpson's last evening, Chef Dale Carty of Tasty's represented Anguilla, sending the Simpsons off with a true taste of Caribbean cuisine...
Chef Dale's Grilled Chicken Atop Corn Fritters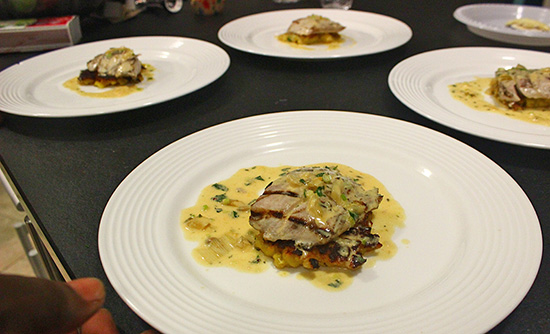 With curried goat & West Indian rice, chicken breast atop a corn fritter, tuna carpaccio with fresh conch, Chef Dale brought a wide variety of classic Caribbean dishes and flavors to the haute-cuisine setting.
When all was sipped and sampled, who was the winner of the NYC-AXA chef showdown? You would have to say the Simpsons!
Be A "Good Cookie"
At such a stunning villa, owned by two of the most kind-hearted people, there isn't a more fitting setting for a gastronomic event in the name of a deeply important and positive cause.
A Memorable Week in the Name of Cookies For Kids' Cancer


From Left to Right: Marc Alvarez, Sophie and Alfred Portale, Marc Forgione, Peter Parles, Nova Romney,
Teron Thompson, Paul Simpson, Kenroy Herbert, Claire Simpson, Billy, Becky Simpson, Dale Carty,
Heather Heyliger, Carrie & Jerry Bogar and Kerry Richardson
Others in Anguilla who pitched in to bring this event to life include Kenroy Herbert of Ricketts & Associates' Anguilla Luxury Collection, CuisinArt Golf Resort & Spa and General Manager, Stephane Zaharia who hosted the visiting chefs and Carrie & Jerry Bogar, owners of Veya, and Peter & Anne Parles, owners of Straw Hat, who coordinated the week-long event with visiting chefs.
With all of the help, support and generosity over the years, Cookies For Kids' Cancer has now discovered treatments that would have saved Liam Witt had they been available in 2007. These treatments will also be made available to children in Anguilla.
Cookies For Kids' Cancer's research and work continues today. Tequila Sunrise Villa continues, too, to offer their villa as auctioned prizes at CFKC fundraisers, and for all bookings made through www.cookiesforkidscancer.org, the first 10% of your rental cost - you donate directly to Cookies For Kids' Cancer. Then, Tequila Sunrise Villa offers an additional 5% off of your rental for being a good cookie!
For more on how you can be a good cookie, visit Cookies For Kids' Cancer here.
For more on Tequila Sunrise Villa, visit their official website here.