Tequila Sunrise Villa Fundraisers...
Giving Back
With their hearts invested in Anguilla, Robin and Joel Globus are two of the most giving, sweetest people I know. They care. They give back. When I first moved to NYC, before having met me in person, Robin offered her home and her phone numbers should I ever get into trouble. They are good people and bring light wherever they go.
Here are just a few examples of their generosity and big hearts.
Cookies For Kids' Cancer
In 2007, 2 year old Liam Witt was tragically diagnosed with neuroblastoma.
His mom (Gretchen) and dad (Larry) quickly learned of the limited options for treatment due to the fact that research for pediatric cancer was so under-funded.
Shocked by this truth, they established the not-for-profit, Cookies For Kids' Cancer.
With Liam's passion for baking, it all started with 96,000 cookies that they (with 250 volunteers) baked in one weekend, raising over $400,000 for research.
Over the years the fund has grown substantially. It has had such a huge impact that because of funds provided for research there is now chemo therapy available that would have cured her son.
Gretchen and Larry Witt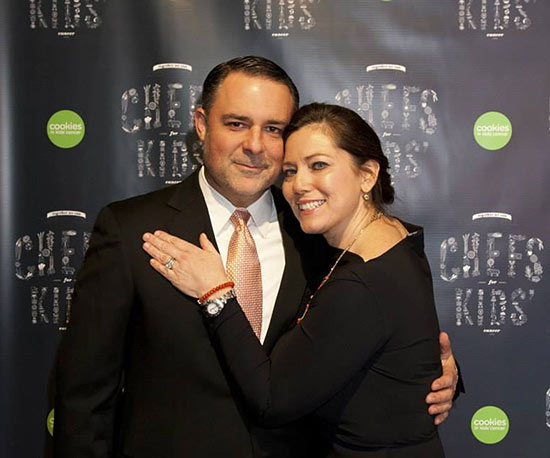 In 2011 when Liam was 7 years old, he sadly lost his battle with cancer and passed away. His family retreated to a villa Liam always wanted to visit, Tequila Sunrise Villa. He had loved the colors.
The villa was his screen saver in hopes that he would get better and go to "The House." That is how Joel and Robin were introduced to Gretchen, Larry and Ella (Liam's sister), and Cookies For Kids' Cancer.
Cookies For Kids' Cancer has partnered with companies like Glad, King Arthur Flour and OXO. Adults and children bake and sell cookies, Gretchen gives talks around the US and they hold large fundraising events.
Chefs For Kids' Cancer
Chefs For Kids was one such event held this February 25 at the Altman Building in NYC. 40+ of New York City's top chefs cooked for those who bought tables at the event, creating a special dish for each table.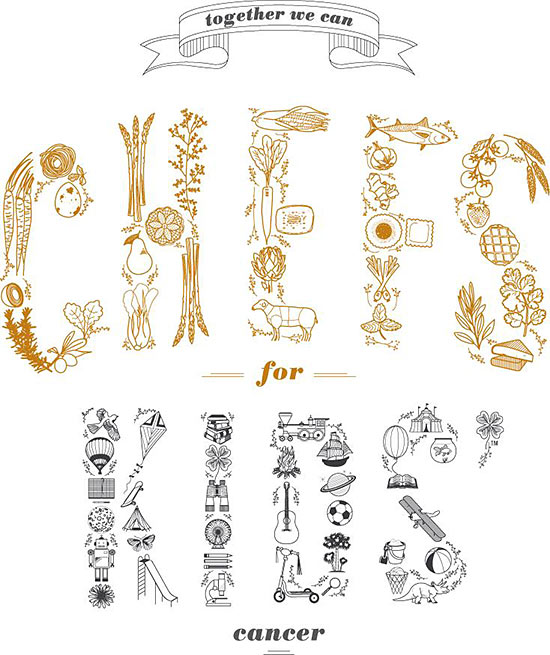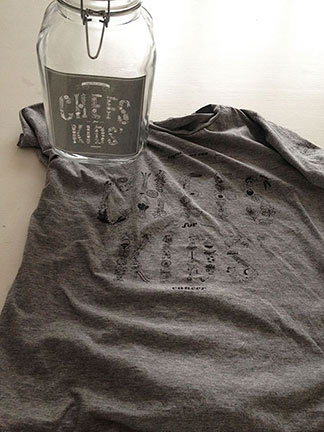 Chefs included John Adler (Franny's), Nick Anderer (Maialino), Nate Appleman (Chipotle), Marco Canora (Hearth & Terroir), Hugue Dufour (M. Wells Steakhouse), Marc Forgione (Restaurant Marc Forgione), Sean Gray (Momofuku Ko), Alex Guarnaschelli (Butter), Gavin Kaysen (Cafe Boulud), Anna Klinger (al di la Trattoria), Mark Ladner (Del Posto), Jason Lawless (Tocqueville), Shane McBride (Schiller's & Balthazar), Marc Murphy (Benchmarc Restaurants), Adam Nadel (Lincoln Ristorante), Sisha Ortuzar (Riverpark), Ben Pollinger (Oceana Restaurant), Matt Rudofker (Momofuku Ssam Bar), Justin Smillie (Il Buco Alimentari e Vineria), Bill Telepan (Telepan Restaurant), Michael Toscano (Perla, Montmartre, Jeffrey's Grocery), Cédric Vongerichten (Perry St Restaurant), Damon Wise (Lafayette), Danny Ye (Harlow), Geoffrey Zakarian (The National Bar & Dining Rooms).
The event also featured special appearances by Mario Batali and the Barenaked Ladies, as well as guest speaker, Dr. Michael P. Laquaglia (Chief of Pediatric Surgery at Memorial Sloan-Kettering). Co-chairs and founders, Gretchen and Larry Witt, as well as chef co-chairs for the event, Jonathan Benno (Lincoln Ristorante) and Dan Kluger (ABC Kitchen) were also in attendance.
Pastry chefs created an original cookie for each table. They included Richard Capizzi's Mostaccioli (Lincoln Ristorante), Karen DeMasco's Peanut Butter Oatmeal Chocolate Chip Cookie (Pastry Chef & Author), Ginger Fisher's Sugar & Spice Oatmeal Cookie (The Marrow), Dorie Greenspan's World Peace Cookie (Pastry Chef & Author), Karlie Kloss' Perfect 10 Cookie Dairy-Free Gluten-Free (Karlie's Kookies), Emily Luchetti Toasted Almond Chocolate Chunk Cookie (Farallon & Waterbar), Sheila G. Mains' Brownie Brittle Peanut Butter Petit Fours (Brownie Brittle, LLC) , Jenny McCoy's Nutty Meringue (Pastry Chef & Author), Erin McKenna's Chocolate Chip Cookie Vegan Gluten-Free and Soy-Free (Baby Cakes NYC), Pichet Ong's Hip Chip Cookie Gluten-Free (batch, LLC), Sarah Sanneh's Molasses Spice Cookie (Pies 'n' Thighs), Karen Tack & Alan Richardson's Chocolate Dipped Orange Sugar Cookie (Hello Cupcake!), Christina Tosi's Compost Cookie (Momofuku Milk Bar), Zac Young's Chocolate Mint Julep Cookie (David Burke Group).
And, the mixologist on site was Jim Meehan of PDT.
At The Altman Building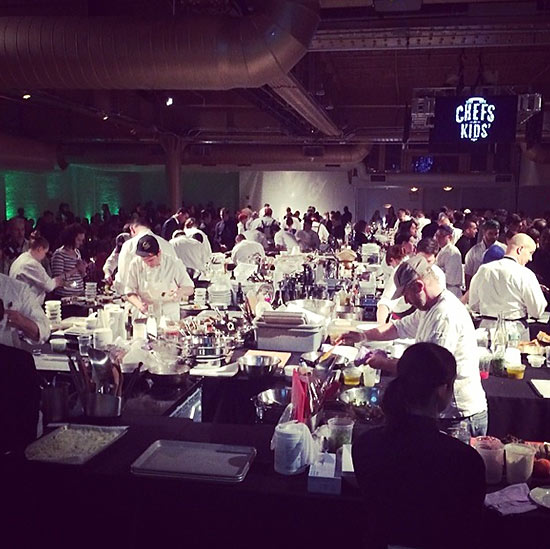 Photo Courtesy of Cookies For Kids' Cancer Instagram
On top of that, prizes were auctioned throughout the evening. One of the prizes was a stay here in Anguilla at Tequila Sunrise Villa. Tequila Sunrise Villa generously put together a package that was auctioned at the fundraiser which included 2 weeks at Tequila Sunrise, dinner at Straw Hat, Barrel Stay, Dolce Vita, Picante, Veya and Blanchards, lunch at Scilly Cay, car rental from Richardson Car Rental, transport on Anguilla Air Services and a large certificate to ZaZAA Boutique.
Tequila Sunrise's package raised $58,000.
Over 350 guests were in attendance including Paul Rudd whose children went to school with Liam. Together, they raised $900,000 for pediatric cancer research.
Paul Rudd at Chefs For Kids' Cancer
Joel Globus in the Background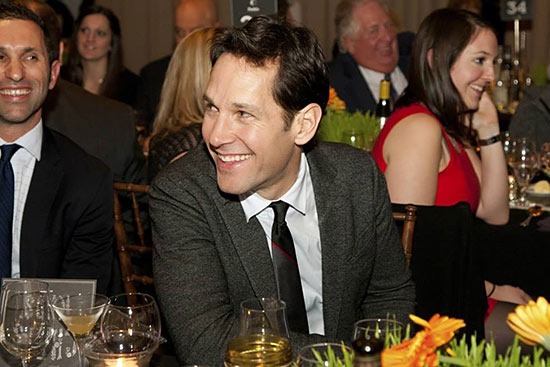 A tremendous congratulations to Cookies For Kids' Cancer, Tequila Sunrise owners Robin and Joel and everyone involved.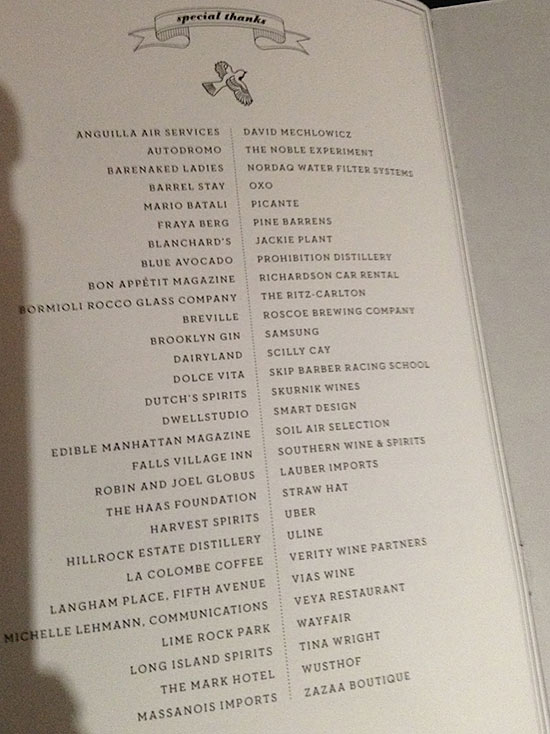 An event and a fund that changes lives, this touching story truly brings tears to my eyes.
2015 Update
Chefs For Kids' Cancer's 2015 fundraising gala was a tremendous success!
Held Feb. 26 at The Waterfront in NYC, the event was co-hosted by Chefs Jonathan Benno and Dan Kluger, with Julie Reiner as mixologist and John Rzeznik (the Goo Goo Dolls) providing an acoustic set.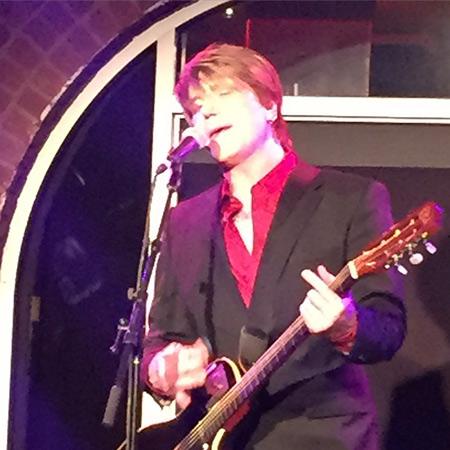 Alex Guarnaschelli from Butter prepared culinary delights for Robin & Joel's table at the event, including seared Hudson Valley duck breakfast and duck rillettes with ginger and roasted purple top turnips...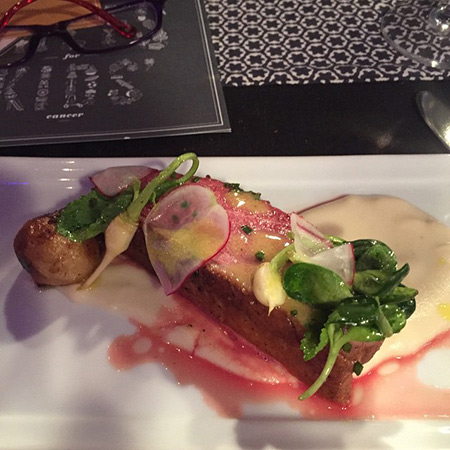 One week at Tequila Sunrise Villa was also an auctioned prize at the event. This year, that prize is complete with special celebrity chefs each night of the winner's stay!
Chefs include...
Marc Forgione of Restaurant Marc Forgione (also the winner of Next Iron Chef) for two nights
Alfred Portale of Gotham Bar and Grill for two nights
Nick Dellinger of Straw Hat
Carrie Bogar of Veya
Dale Carty of Tasty's
Joel & Robin's package raised $60,000!
A tremendous achievement for a critically important cause.
For the full story on the Cookies For Kids' Cancer week in Anguilla, click here.
More on Cookies For Kids' Cancer.
On-Island Causes
Sunset Homes Fun Day For Children
Held yearly by Janine and Ian "Sugar George" Edwards, Sunset Homes Fun Day For Children puts on an event for children, with an afternoon of games and activities. It really brings the community together attracting over 100 Anguilla youth.
2013 marked their 11th event. Tequila Sunrise is an active participant in the event, this year donating over 100 backpacks which were provided to children to help further youth education.
More on Sunset Homes Annual Fun Day here.
Other Important Causes