La Villa...
Fabulous French Dining in Sandy Ground
Update 2017: La Villa has closed.
By: Kristin Bourne
Anguilla's newest restaurant is not only a welcomed option on the boater-friendly, restaurant and nightlife mecca of Sandy Ground, it's a proper addition to the island's already incredible medley of beachside restaurants, and with some outstanding differences. I'll save my favorite aspect until the end.
Introducing the wonderful, La Villa Restaurant & Bar.
La Villa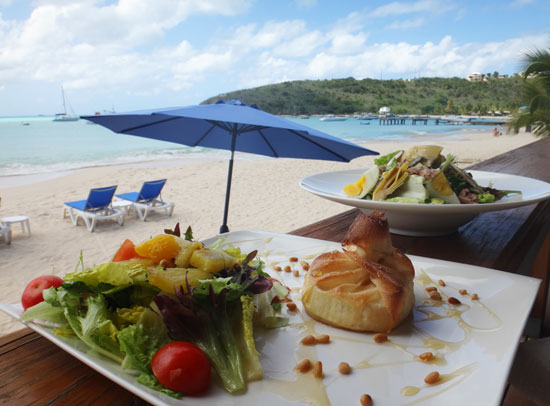 La Villa is the second restaurant to owner Mickaël Hospital. The original La Villa currently operates in France, in an eastern commune near the Swiss border.
I find it exciting for Anguilla to have a sister restaurant in such a splendid part of the world. I would presume the feeling might be mutual since the island of Anguilla is a special place too.
The restaurant has opened in the former location of Didier and Veronique's "Le Bar".
Some cosmetic alterations have been made and the entrance to the restaurant is from the beach side, where you'll find a couple of beach tables right in the sand as well as a loungers and umbrellas.
Enter La Villa from the beach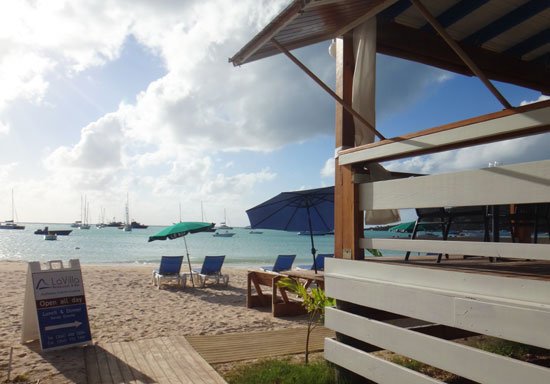 Artful touches inside La Villa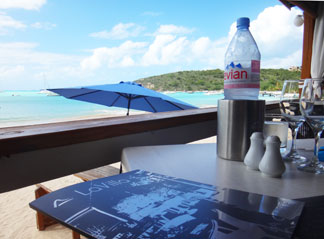 My lunch date and I stepped inside and our server Marlene greeted us right away and an introduction with Mickaël immediately followed. We felt welcomed from the instant we arrived.
We chose to sit inside where we had a great view of the entire bay from a slightly elevated position above the white sand.
Menus arrived as we were getting comfortable. I was excited to see what they had to offer and wanted to choose wisely as to sample a variety from the menu without overdoing it.
Refresh!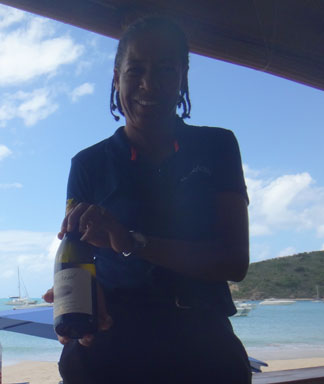 We were asked if we wanted flat or sparkling water. Soon after a bottle of Evian arrived and was kept chilled on our table.
I ordered an $8 glass of Chardonnay. To my surprise and delight, the bottle was displayed to me, then poured at the table.
I found that to be a superb touch.
Given that my choice was on the low-end of the price range for a glass of wine, it was perfect in taste, temperature and the pour was generous.
The wine list had a nice and varied selection of wines. Naturally, there are French wine options and joining them are options from Italy, the United States, South Africa, Spain, Argentina and Chile.
There's a full bar with aperitifs, gin, vodka, rum, whiskey, beer, digestives and sodas, juices and water.
Enticing Starters
We ordered a Nicoise Salad and Crusted Goat Cheese from the "Starters" section of the menu.
The Nicoise Salad was chilled and fresh and the flavors blended together ideally. The size was nice and there was no skimping on the good stuff like the hard boiled eggs, the tuna, artichokes, anchovies, black olives and the French Vinaigrette dressing amount was just right for my taste. All menu prices were in US dollars and the Nicoise Salad was priced at $15.
Salad Nicoise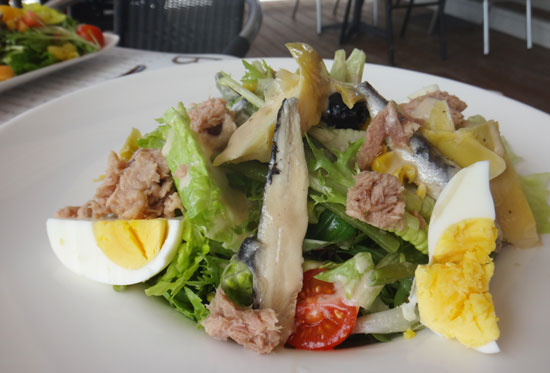 The Crusted Goat Cheese presentation was artful. It was a plate I hated to demolish but my sorrow was forgotten as soon as the first bite touched my tastebuds. It was more scrumptious than I had imagined and paired nicely with a Roquette salad. Also, $15.
Crusted Goat Cheese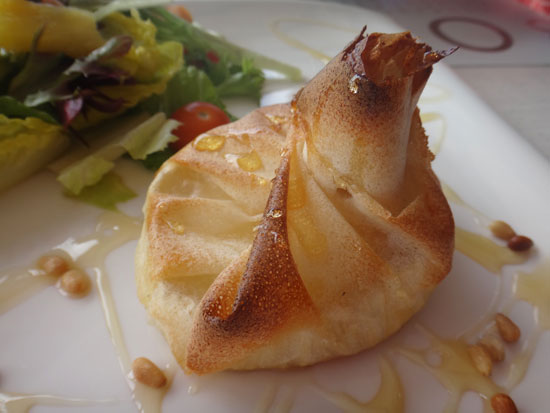 Other starter options include a Caesar Salad for $14 with the option to add chicken for an additional $4. Another salad selection was the Salad Gourmande of romaine, green beans, foie gras toast, smoked duck, lardons, figs and roasted walnuts for $17.
More starters included the Tuna Tartare for $18, the Beef Carpaccio for $17, Cassette d' escargot de Bourgogne for $16 and the Terrine de foie gras for $19, described as a confit with Pineapple and Rum.
They also offer a tapas for sharing suited for two people. It's priced at $18 and includes a selection of small tapas of Squid Salad, Saucisson, Iberic Ham, Fois Gras Toast and Tuna Tartare.
As we dined on our starter and salad, I noticed the house music was at a good decibel level. With the sound of the surf and the other diners, we could chat without shouting and still hear the music well enough to feel a bit mentally transported to what I know of St. Barth, but lucky for us we where still there on a gorgeous Anguilla beach.
Sandy Ground View from La Villa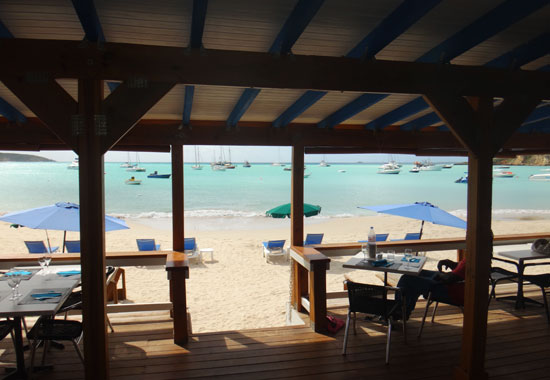 Mains
The steak selection at La Villa

Next up were the "Mains."
We ordered the Entrecôte and the Mahi Mahi.
The Entrecôte (a nice cut from the rib section) was simply grilled with sea salt and is served with a sauce if you choose. I chose to try the Roquefort and Morel sauce. As much as I love sauce, I enjoyed the flavor of the steak so well it was delicious sans sauce... or with it just to change up the flavors as I ate. A perk for certain.
Ratatouille Provencale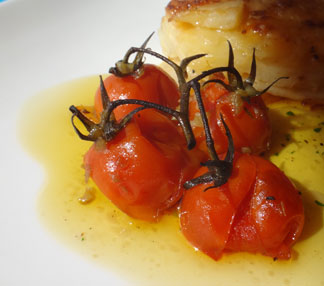 The accompaniments to the Entrecôte entree were Dauphinois Potatoes and Ratatouille Provencale of vine tomatoes. For me, it was just the right quantity following the lovely starters. It was $29.
The second entree was La Villa's Mahi Mahi. Grilled, served with lemon white sauce, rice and Ratatouille Provencale. We subbed rice for Dauphinois Potatoes. The fish was cooked perfectly. It's priced at $26.
Mahi Mahi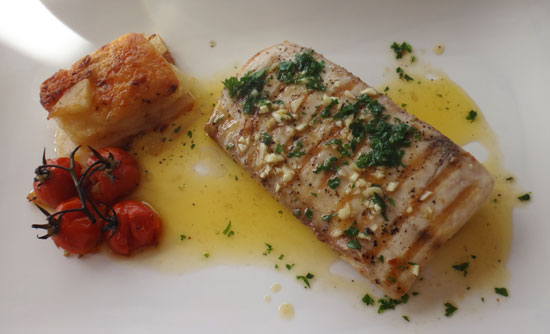 Other mains sounded divine as well! They are: Tuna Tataki (likely cooked tuna, soy, sesame, fragrant white rice and wok vegetables), Grilled Crayfish or Lobster, Beef Tartare (Angus beef, cognac, brioche bread and quail egg), Chicken filet (served with creamy morel sauce) and there's a Langoustine Grille (grilled lobster, risotto and zucchini with lobster sauce). The mains range in price from $19 to $40.
There go a couple of Burger La Villa's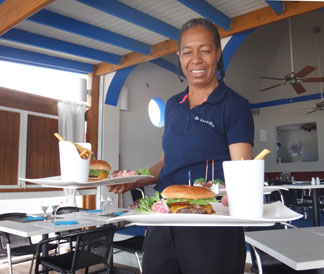 We were fortunate enough to glimpse the Burger La Villa. Two were ordered by some fellow late lunchers.
It's described as Beef Charolais, Reblochon cheese, cornichons, bacon, red onion and homemade burger sauce. It's served with french fries and salad and is $19.
For Children
Kids are not left out at this Anguilla restaurant! They can choose from Chicken Nuggets or Fish Fingers. Either are served with french fries, salad or vegetables. For dessert, it's one scoop of ice cream. All for $10.
Delightful Desserts
There were so many that were tempting but since we were two people attempting to taste as much as possible, we went for the Gourmandise. It was a pretty display of 4 petit desserts and served with a shot of Limoncello. The Gourmandise is $10 and includes lemon sorbet, coconut creme brûlée, chocolate mouse and a fruit salad.
The Gourmandise dessert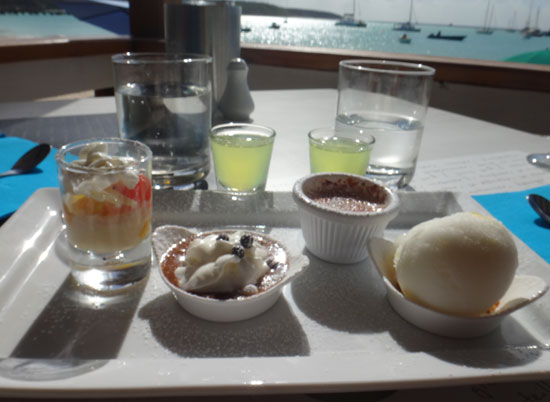 Lemon sorbet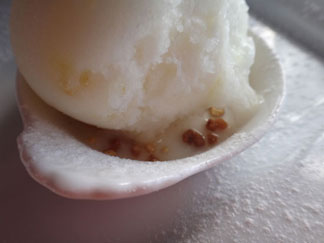 It was a delightful combination and the standouts were the lemon sorbet and the coconut créme brûlée.
On my next visit, I'll be going for the Homemade Tarte Tatin, served with salted butter caramel ice cream. There's also a Croquantin (chocolate mousse with caramel), a classic Créme Brûlée and plenty of sorbet or ice cream to choose from including vanilla, chocolate, pistachio, salted butter caramel, strawberry, raspberry, lemon and blackcurrant.
The desserts range in price from $9.50 to $14 and the ice cream is $3.50 per scoop, $6.50 for two scoops or $9.50 for three scoops.
The La Villa Experience
There are so many wonderful things to report about La Villa but my favorite positive is the hospitality and genuine guest appreciation I felt at La Villa.
Mickaël Hospital, owner of La Villa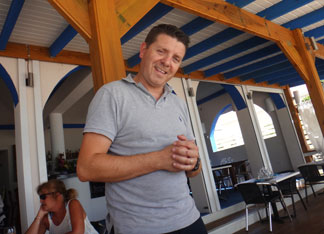 The entire afternoon from beginning to end was filled with greats. Great service, great view, great food and it left me feeling happy for the rest of my day.
Since we patrons have options, I appreciate being made to feel welcome at a restaurant. Mickaël and his team accomplished that in a seemingly effortless way. Naturals!
When you feel at home somewhere that's not your home, it's a good feeling. Top that feeling off with delicious wine, wonderful menu options and great tasting, quality food, overlooking the white sand and clear blue water and bobbing sailboats of Sandy Ground. It's ideal.
Until next time, La Villa!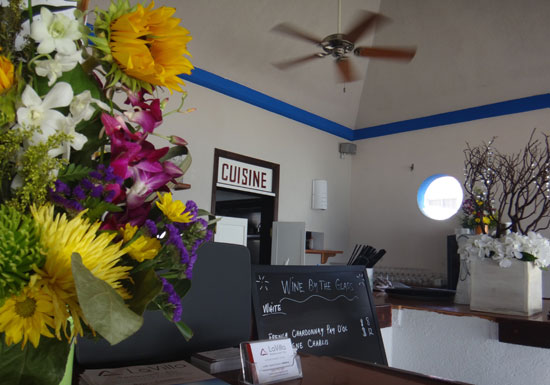 Map, Contact & Hours
Directions: Just before Bijoux Boutique if you are coming from the side of Sandy Ground that goes past the turn to Roy's.
Hours: Open daily for lunch (11:30am-3pm) and dinner (6-10pm). Closed Monday.
Tel: 264-498-3229