Saba Island: A Remote Getaway
Day 3 & 4
Over a breakfast of omelets and french toast (which were out of this world!), Sam and I decided to stay one more night.
An extra night in Saba would be less than $100 USD, and the fees for changing our flight would be minimal.
It was definitely do-able.
Lighthearted and with a spring in our step, we figured today would be the day...
Today would be hike day!
Saba is full of trails. Many people travel to Saba for the challenging hikes.
The toughest one of all (it takes 2-3 hours total) is up to Saba's highest peak, Mt. Scenery. It is 2877 ft. high, the highest point in the "Kingdom of the Netherlands".
No one hikes up here for the view though. The mountain only spends maybe 20 days a year at the very most cloud-free. At the top, you are in the sky!
We set off around mid-day...
Day 3: Saba Hike #2: Mt. Scenery
Most Mt. Scenery hikers start from Windwardside. We cheated a little bit and started from Ecolodge which is already halfway between Windwardside and the top of Mt. Scenery.
The hike begins at a nice and easy pace, but quickly gets steep.
Not Too Long Before Our First Rest...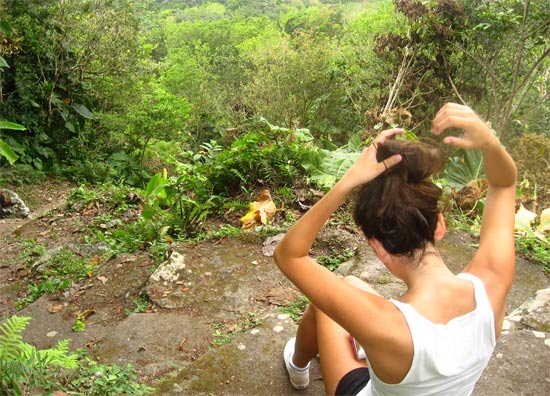 The trail was beautiful, lush and green. The air was humid, but still cool.
As we climbed the rock steps, I kept remembering what a friend told me, "If you think you have it bad, imagine what the people who built the trail went through!" That kept me going for a while, but then I thought... I would never sign up to construct a stone path up a 2877 ft. high mountain on an 89° incline!
We continued on...
Sam kept pointing out different flowers and plants that grow freely in Saba, but have such a tough time in Anguilla...
Bird of paradise, philodendrons galore.
He read that orchids grow wild in Saba too, but we never saw them.
The forest was quiet, with only chirping sounds coming from deeper inside the thick of the woods, off the path.
We passed a few fellow hikers on the trail, but otherwise? It was silent.
Although I knew that Saba is not home to any jungle cats or threatening animals, I was waiting for a velociraptor to pounce out in front of us on the trail!
I still felt like I was that paleontologist...
The one thing I learnt while I was hiking? I need to join a gym. We stopped at least a dozen times to catch our breath, sip some water, and contemplate turning around.
The trail was back and forth, back and forth. Everytime we would turn a corner, I would pray for flat land, only to be met with another tower of steps. Exhausting.
But we persisted!
With every few hundred feet, the air would change. Everything would feel more damp, humid and sometimes very cold. When the cool air evaporated? We were left with pure rainforest.
At last we came to some level ground and a fork in a road. If you want mudslides and a challenging way to get to the top that involves a rope, they say to go left. If not, go right.
Worn out and tired, we didn't need the extra challenge. We took the easy route.
And then...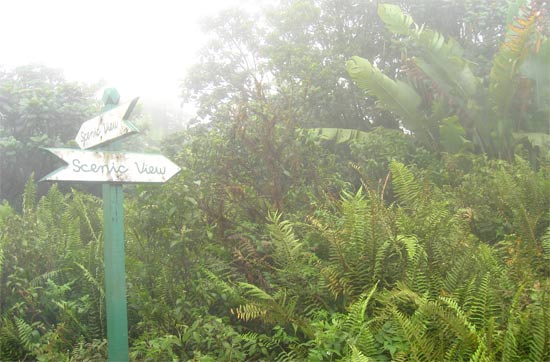 We Made It!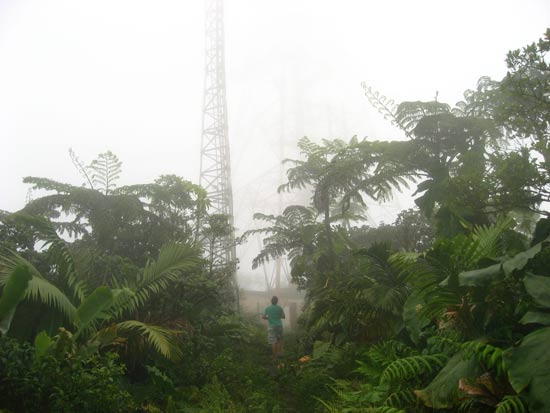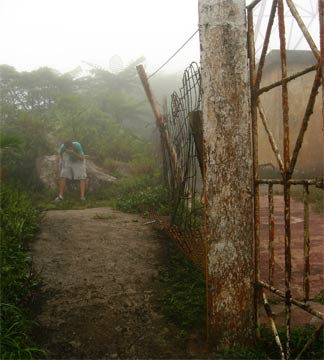 A Tired Sam in the Distance
We couldn't see the top of the radio tower, my immediate vision even felt foggy and impaired.
We were in the clouds.
We could see them whipping past.
We could hear them whistling through the tower.
Eerie.
The air was cool and refreshing. I took a load off and didn't want to move.
The top of Mt. Scenery may be creepy and foggy with rusted metal gates, but I was exhausted!
After a good rest, we were ready to descend.
I Am Tired Too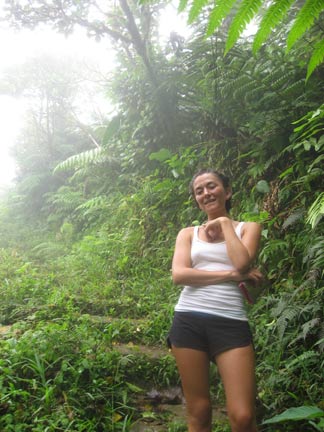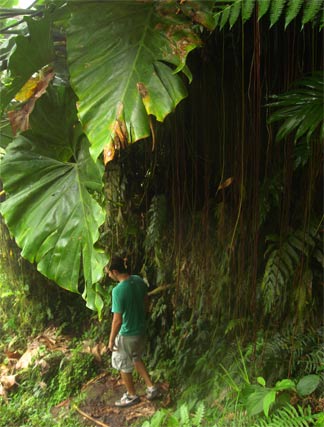 We were both tired, shaky, and excited to get to the bottom of the trail.
On top of that, the trail was wet and the rocks were slippery.
We took each step with care on the way down.
I wanted to get back to Ecolodge, but I didn't want to get there in a body cast!
The hike down was more enjoyable than the hike up.
Our lungs weren't at capacity, and our minds weren't furiously wondering, how much longer?
We took our time, enjoyed the scenery, and had a laugh over how red in the face we were!
To our surprise, the sky even started clearing...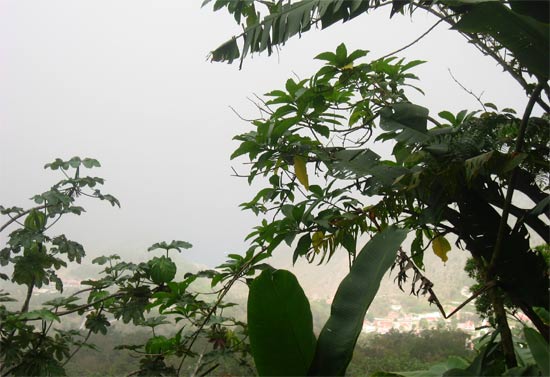 Back at the Beginning of the Trail, At Last!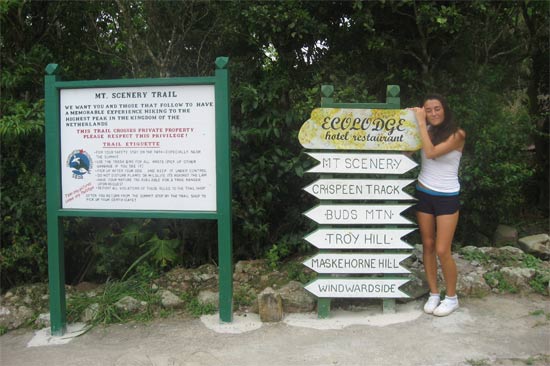 I was so tired I could have taken a nap on a post (as you can see!), but there wouldn't be any napping for a while. Ecolodge was booked up, so we had to find something else.
Sweaty, we grabbed our bags from Ecolodge and thanked for them for the stay. It is a wonderful spot for a reasonable cost! We would be back.
We stumbled into Lynn's dive shop in Windward side. She said she would give us a hand and find us a place to stay. Sure enough, she pulled through! We changed our flight, and then looked for a spot to eat while we waited for our room.
Lynn recommended Saba Snack, just down the road...
Saba Restaurants: Saba Snack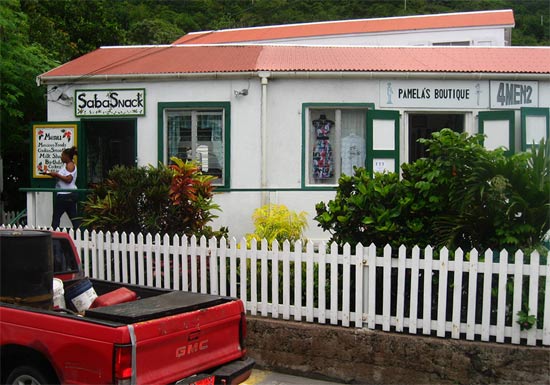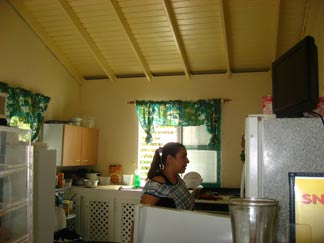 Once you have walked into Saba Snack, you have seen the entire operation.
The Saba restaurant is in a quaint Saban home, with a small kitchen in the back, you can see it in the photo.
That is where all of the preparing and cooking happens.
Inside seems to be only for ordering to dine outside on their patio, or for take out.
When we went there were two ladies working, sharing the job of taking orders, cooking and serving. The menu featured burritos, tacos, cookies, cakes and even milkshakes! An interesting mix.
Lynn recommended the burritos, so two beef burritos we ordered.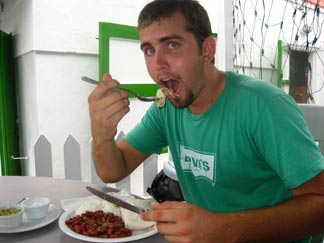 In perfect time, out they came.
They were served with beans, rice, guacamole and sour cream.
Before our waitress left, Sam asked her where she was from... Columbia!
These two ladies sure know how to make a burrito.
They were delicious, but my favorite part was the homemade feel.
It felt like these two ladies had invited you into their kitchen and made a hearty meal just to warm you up!
They did make me feel better after that grueling hike. Sam and I sat and relaxed for a while after, enjoying the quiet scene on the streets of Windwardside.
And then? It was on to our Saba hotel...
Saba Hotels: El Momo
After spending three hours climbing vertical walls, the last thing I felt like doing was walking on anything with an incline. So, you can imagine my dismay when I found out El Momo was up "Booby Hill". Sabans who live in the residential area of course, don't find it a challenge at all.
I, on the other hand, was nearly in tears.
But the hike wasn't over even once we were at the top of Booby Hill. El Momo is also on a cliffside. We pushed our bodies into overdrive and got up that hill, too!
My calves were on fire.
El Momo Main Building & Pool Area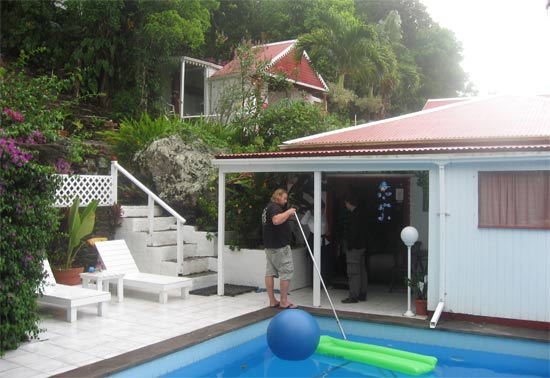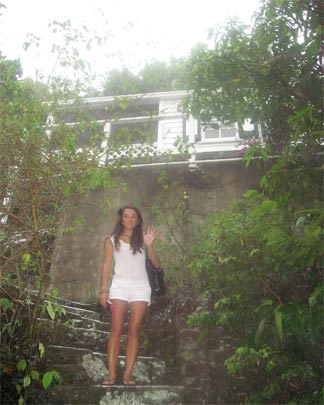 We made it!
Petr, the man who runs the hotel with his girlfriend Sophie, greeted us kindly and warmly.
Noticing our tired, worn out faces, he wasted no time in scooping up my bag and bringing us to our cottage.
Like Ecolodge, this Saba hotel is made up of cottages scattered throughout the property.
Our cottage was on the most remote part of the land, on the highest peak. That meant more stairs.
Up we went again!
The hike was well worth it...
On top of the remarkable views, the cottage was nicely furnished with hardwood floors and an outdoor kitchen/dining area. We even had hot showers!
Once we settled in, we went back down those stairs to have a drink and chat with some other guests and with Petr and Sophie. Everyone was gathered around the reception/pool area. Ecolodge has more of a formal, professional feel. El Momo was more personal and intimate.
Petr and Sophie live on site. Their apartment is just behind the reception area. Petr brought us in and showed us around. It's where they cook your breakfast, too!
Time passed fast and before we knew it, we were walking back down Booby Hill to make our reservation at...
Saba Restaurants: Brigadoon, Again!
On our way down we got a nice nighttime view of Windwardside...
View From Booby Hill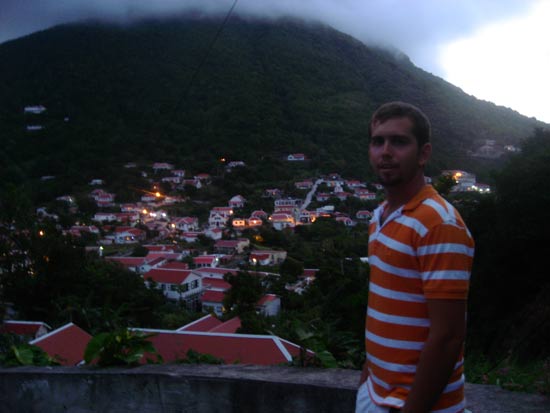 Getting a reservation at Brigadoon on our last night was a little tough. The restaurant had a huge party and it was "Sushi Saturday", but they managed to squeeze us in!
Michael was definitely overloaded that night, but when he found out we were there, he took the time to come out of the kitchen and see how we were. It was real a treat seeing him again, he is such a nice guy.
Trisha and Aaron, a waiter we hadn't seen before, were our servers that night.
For a hectic night, Trisha was as sweet as ever! We wished we had met Aaron the night before. He is an interesting guy from a small island (population 180!) in the BVI's. They all took great care of us.
No need to look at the menu this time.
We ordered the falafel and hummus plate (again), and the seafood chowder (again - this time the meal portion!), and a creamy, shrimp pasta we had been eyeing since the night before.
With a bottle of wine, it was a perfect meal.
The best end to any trip!
Before we left, we had to get a photo of Sam with Trisha. She had a thing for him... ;-)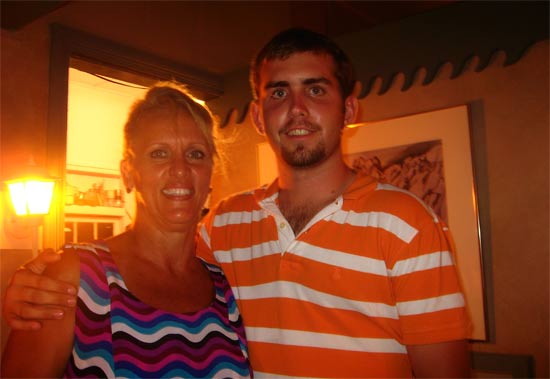 Day 4: Leaving Saba
That night was cool and stormy. Our cottage at El Momo was appropriately named "In The Sky", and during those thunderstorms, we were quite literally in the storm. Lightning and thunder surrounded us.
The next morning was still wet and rainy. We took the morning slow and enjoyed a tasty breakfast Sophie prepared for us... Toasted baguette, homemade bread, fruits, eggs and bacon. All for $6 USD.
The prices always shocked us!
As we settled up with El Momo, and headed back down to Windwardside to say bye to Lynn, we couldn't help but feel a little sad.
Mt. Scenery On Our Last Day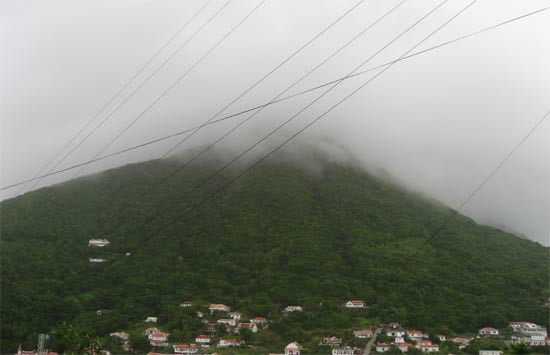 We arrived at the airport and approached the WinAir counter. They reissued our tickets, and didn't even charge us the fee for changing flights! The man at the counter said, "My boss says it's OK, don't worry about it." Can you imagine? No security check either.
The people are so relaxed, warm and kind hearted. If you ask for help, people here will go out of their way to lend a hand and make you feel welcome.
From its people, to its food, to its landscape, Saba is a pristine island.
It was a special trip.
Good-Bye Saba! Four days wasn't enough... We will be back!