St. Lucia Travel and Tours:
Venturing Out of St. Lucia Resorts
It had been two blissful days of "vegging" in our St. Lucia resort...
Rum punches, room service and sun loungers. This is what St. Lucia travel dreams are made of.
But with only one day of St. Lucia travel remaining we knew we had to do the impossible. We had to leave our St. Lucia resort for a few hours at least.
Our desire to stay pampered in our St. Lucia hotel was strong, but our urge to discover was stronger.
We couldn't take a flight to St. Lucia and not experience the island.
There was no surpressing our curiosity!
So began our self-guided St. Lucia tours...
Day 3: St. Lucia Car Rental, St. Lucia Tours and The Pitons
The first step? Finding our freedom, finding a St. Lucia car rental.
Cap Maison promptly organized a St. Lucia car rental for us the very same morning. It seems that Anguilla car rentals raise the bar for the standards of rental cars in the Caribbean.
A few tips on St. Lucia car rental...
1) Skip the insurance if your credit card covers you.
2) Only register 1 driver. The license is $22 USD.
3) Insist they deliver the car with a full tank of gas. We only realized that we only had 1/8th of a tank of gas when it was too late!
4) Make sure you insist on getting a new car. We didn't, and wound up with a jalopy of an automobile. The exterior was decent (a few rusting spots and dents and nicks), but once inside?
Low air conditioning, weak suspension, endless creaking of the back hatch. The thought of the breaks cutting out on St. Lucia's windy mountain roads did cross our minds.
"This is the only car we have," didn't give us much room to negotiate. We signed the papers and took this St. Lucia travel lesson in stride.
Buckled up and on the left hand side of the road, our St. Lucia travel adventure really began.
First must-see on our St. Lucia map? Rodney Bay St. Lucia...
Rodney Bay St. Lucia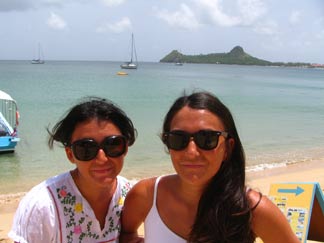 Rodney Bay is one of St. Lucia's most popular beaches. In fact, it is one of the most popular destinations in the Caribbean, particularly for yachting.
The small community of Rodney Bay has been crafted for the sun-seeker in all of us.
This town has it all, perhaps because Rodney Bay is one of St. Lucia's biggest beaches.
Rodney Bay's fun town is rich with eateries, buzzing nightlife spots, Internet cafes, shops, and St. Lucia resorts and hotels. Sandals St. Lucia is located on the Northern side of the beach.
The town opens onto the beach where plenty of St. Lucia resorts and hotels are ready to rent jet skis, Hobie cats, or even give you a parasailing lesson.
Rodney Bay is the kind of spot that keeps you busy for weeks. Why not? Everything you could ever want from St. Lucia travel is right here. You never have to leave!
Pigeon Island National Landmark
Off in the distance, spotted from the shores of Rodney Bay, is Pigeon Island National Landmark. Despite being called an island, it is connected to St. Lucia. The "island" is open for tours...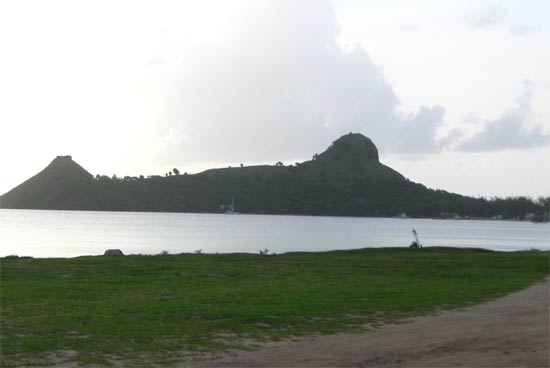 This 40 acre heritage site highlights St. Lucia's history. Here the French battled the English for control of St. Lucia in the 1700s, acting as one of the island's main forts.
The island went back and forth between French and English control 14 times before becoming an independent nation. You can see the French influence in the naming of many of the beaches and towns, the driving on the left hand side can be attributed to the English. Aside from lingering (and diminishing) European influence, there is an even more present Creole culture.
Too bad we didn't have a chance to visit the island's museum to get more insight into the island's rich, but rocky, history.
In terms of St. Lucia travel, you can enjoy two very private beaches on Pigeon Island. It also hosts St. Lucia's Jazz Festival every year.
Next up...
Castries St. Lucia's Capital
Castries From a Distance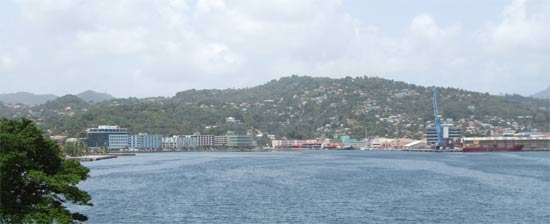 Castries is St. Lucia's busiest town, its core filled with small shops most of which are local businesses, catering to the daily needs of local St. Lucians going about their day-to-day routines. Banks, centers of commerce, travel agencies.
Within the core of Castries is the Roman Catholic Cathedral of the Immaculate Conception, built in 1899. The Cathedral is near a calm park that provides an escape from the busy city, Derek Walcott Square.
Derek Walcott is a national hero, a prolific writer, a 1992 Nobel laureate.
On the outskirts of town, away from most of the dense hustle and bustle, St. Lucia travel is catered to the cruise ships.
This is where they dock.
Duty free shops and nice restaurants surround the area.
Keep your eyes peeled for parking around the outskirts of Castries, you won't find any parking in the center of Castries!
St. Lucia Travel Heading South
Castries was our last stop before taking our St. Lucia travel adventure directly south to Soufriere, the sight of some of the island's most talked about sights.
The drive from the North to Soufriere is a long one. There is no straight, direct highway or short cuts. My Dad said it was some of the most difficult driving of his life, more grueling than on our St. Barts vacation! "Expect to weave and work," he warns.
I'm surprised not one of us got car sick. Must be our iron stomachs!
The driving is up, down and around, hugging the sides of the cliffs. When you do break around the bend though, all that driving, upset stomach and nausea sure is worth it...
We passed quaint, picture-perfect bay, after quaint, picture-perfect bay.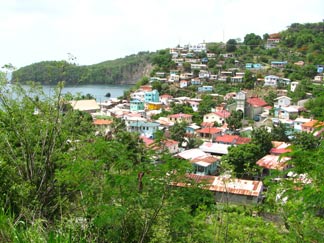 As we drove through the small sleepy villages we realized how markedly different St. Lucia really is.
Many homes are built with wood and corrugated metal, their foundation resting on cinder blocks.
Along the sides of roads women carry buckets of mangos and water on their heads.
In many ways, it is a different world in St. Lucia.
As our St. Lucia travel adventure continued, we learned something else about the long stretch from Castries to Soufriere.
There are no gas stations in between.
Unfortunately, like so many other travel lessons, this one would also be learned the hard way.
Before I realized how low on gas we really were my Dad was flagging down a Texaco truck.
I knew this was a bad sign.
Could he spare some gas?
All he could do was deliver the solemn truth, "You don't have enough to make it to Soufriere, and you don't have enough to make it back to Castries. Good luck."
The quiet fishing village, Anse La Ray, would soon become our savior...
We drove down to Anse La Raye. The small village was calm, locals riding bikes, sleeping in hammocks under swaying palm trees. This is the Caribbean people write about.
We forewent the shadier looking streets and pulled in near the fishermen knitting their nets. My Dad got out to ask some fishermen for gas. We became a sight for many eyes. The community pulled together and was quick to help us in our quest for "petrol." A man gave us some shells he collected from his dives. Once the gas was in our car, we gave our thanks and everyone split up.
We were back on our way, Soufriere-bound.
Tip: If you're short on gas fill up before leaving Castries or Soufriere.
A Word of Warning
St. Lucia travel is, for the most part, safe. You are generally well protected within the walls of your resort and along guided tours.
If you do some solo-exploring stick to public areas. Never venture into back alleys in towns, and never take nature hikes or tours alone. Always have a guide "in the wild."
As for villages and towns, be prepared to be approached, sometimes rather aggressively, by people looking to either sell you things or simply asking for money. Be firm, and don't follow vendors down side streets and alleys. If it doesn't look or feel safe, it's not worth taking the chance.
Do not flash money, jewelry or electronics. Petty crime, robberies and theft, has been reported by tourists.
Upon arriving home from St. Lucia I have heard a few "horror stories" from people who ventured off alone, both on foot and from the "safety" of their St. Lucia car rental. We never knew! Hiring a taxi for a few hours to guide you through St. Lucia streets may be a safer approach to seeing the island.
Always be cautious and mindful and you should be fine.
Soufriere and The Pitons
Previous sights that made our eyeballs explode would not prepare us for the heavenly site of the Pitons...
It was like a breath of cool air!
We stopped the car and gazed, an "awe" settling over us before we pulled safely to the side. Some moments just can't wait.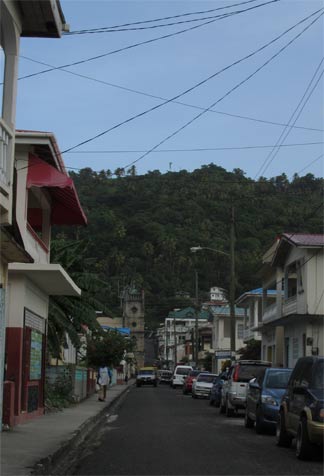 Soufriere was once the island's capital.
Today it is a fishing town and home to one of the prettiest St. Lucia beaches.
The town has a hospital, grocery store, many homes, a church, and small shops mostly catering to locals.
There are some local craft stores and small Creole restaurants too.
Closer to the town's beach we noticed the sleepy feel similar to Anse La Ray.
The main strip was more alive. Children coming home from school, people working, traffic.
We drove down a few main streets, but didn't do any on-foot exploring.
Though the town's beach was picturesque from a distance, it was not inviting.
Our eyes lit up when we saw the Soufriere gas station.
No more empty tanks!
Time to fill up.
Just around the corner from the gas station we marveled at the Pitons...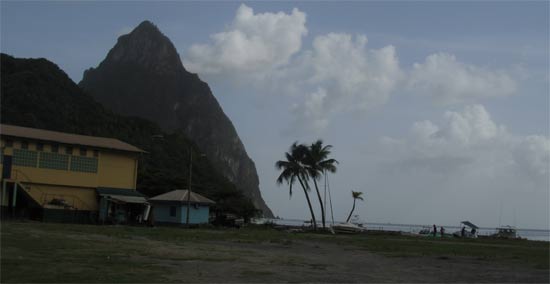 The Pitons are two "volcanic plugs." Petit Piton and Gros Piton reach approximately 2500 feet. You can take guided tours to the top, a 5 hour trip total. We were sweltering enough as it was in our partially air-conditioned St. Lucia car rental. We passed on the hike and settled on enjoying the Pitons with our eyes (the thought of a hike was really a non-starter to begin with!).
St. Lucia Travel to The Volcano and Sulphur Springs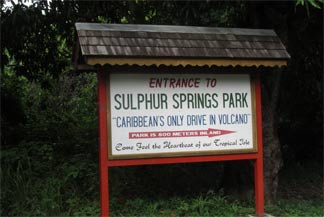 The sign isn't lying! You actually drive in the volcano.
From the time you drive down the road you are already "in" the caldera.
This is a must-see for anyone who has never seen a volcano. My parents have been to walk-in volcanoes all around the world, from Hawaii to New Zealand. Still, it was a St. Lucia travel treat for them.
The tour costs $5 US/per person or $8 US/per person to tour the volcano and sulphur springs and experience the mud baths.
We didn't have time for the mud bath so we opted for just the St. Lucia tour of the volcano, which included a visit to the site's museum all about volcanoes!
The potent sulphur smell hit us before we even saw the steaming sulphur floors. Who was cooking with rotten eggs?
At least the odor kept the mosquitoes at bay (they are a real pest on St. Lucia travel).
St. Lucia travel scenery is truly special.
From magical waterfalls to the bubbling cauldrons...
Where else can you see this in the Caribbean?
Our informative guide, Angel, recounted how the park used to provide visitors with a more intimate volcano experience, allowing guests the opportunity to walk along designated areas in the crater.
That was until a guide was demonstrating the volcano's firmness, jumping on the rocks with full force.
Next? A cruel twist of irony, the ground gave way. He sunk to his waist in a burning hot sulphur pool.
He was pulled out in time to survive with 2nd degree burns.
To this day he has the scars.
St. Lucia's volcano last exploded in the 1700s. It is monitored regularly by scientists who can predict any coming explosion with enough time to evacuate.
We later learnt that the potent smell was a good thing. When the crater stops smoking, smells die and the bubbles settle head for the hills! Err, I mean the shores and get the first boat off of the island before she blows! (Just kidding, seismologists today can predict volcano eruptions and St. Lucia's is not supposed to blow for another hundred years.)
The volcano was the last sight on our St. Lucia travel adventure agenda. With that, we braced ourselves for the endless weave back to our St. Lucia resort, Cap Maison, our curious minds satisfied.
We had seen St. Lucia.
Our only request? We wished we had one more day of "vegging" at our St. Lucia hotel. We wound up returning to Cap Maison only to catch the sunset. We never did get in that last private-pool plunge on the roof top terrace. We had a morning date with a LIAT flight home.
Our hearts were heavy to leave St. Lucia, but there is no place like home, especially when home is Anguilla! ;-)