Unforgettable Family Vacations in Anguilla
at Tequila Sunrise Villa
It was on a family vacation back in 2002 that we fell in love with Anguilla.
Was it the utter tranquility? The pristine, crowd-free beaches? The kind, welcoming people? How about all of the above!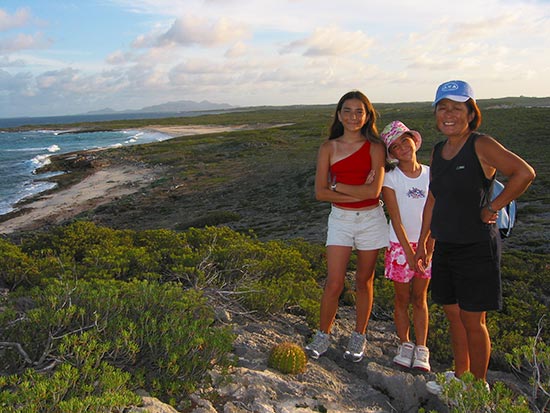 Before we moved to Anguilla in 2008, family vacations on the island meant one thing... quality time together. Whether it was beaching or hiking, spotting whales or catching fish on a hand-line, some of our most memorable family vacation moments were made in Anguilla.
One aspect key to a successful vacation was finding the right place to stay. Villas go a long way in providing personal space and privacy. They have always been our pick on family trips.
Had Tequila Sunrise Villa been on the market back when we were vacationing in Anguilla, it would have been a top choice.
Owner of Tequila Sunrise Villa, Robin with Family in Anguilla

The reason is simple. Joel and Robin Globus, the owners, designed their villa with family in mind. With two children, and plenty of family who love the Caribbean, Joel and Robin's home is ideal for families traveling together.
Inside Tequila Sunrise
Striking the right balance between privacy and shared space is key when it comes to picking and choosing a villa. Tequila Sunrise gets it right.
First... their "great room." It features a spacious gourmet kitchen with plenty of counter space and a large dining table. Stocked with every modern appliance you need, cooking up a storm and staying in for the evening is always an option.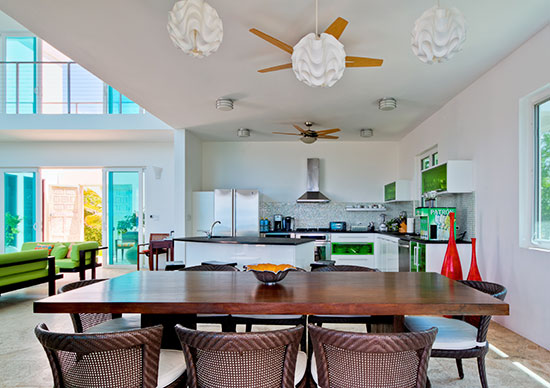 Adjacent to the kitchen and dining area is the living area. It features cushy, colorful couches and a large flatscreen TV with Satellite (and 100 channels) and DVD player.
There is also a laptop with fax/scanner/copier in the main room, which comes in handy when printing out your boarding passes to skip the check-in line when departing Anguilla.
Second... the bedrooms. The villa boasts three suite-style bedrooms. Each bedroom offers views of the Caribbean Sea and St. Martin in the distance. They are complete with a full bathroom, a flatscreen TV with DVD player, air conditioning and an iPod docking station.
The two bedrooms on the villa's second floor have private balconies, too. Locking off from the rest of the villa, you are truly secluded once you close your bedroom door.
It is a terrific set up for families traveling with older children or with grandparents, aunts and uncles. The separate suite-style bedrooms provide personal space, while still having the advantage of the larger living space to spend time together. If you're traveling with young kids, they can all stay together in a separate bedroom, too. Or, cots can be brought in if they want to sleep near their parents.
Third... the outdoor living space has that extra special touch, that one aspect my sister and I craved on every vacation in Anguilla... a pool.
Jumping Into The Pool at Tequila Sunrise Villa

A negative edge pool, its blue seemingly drops off into the Caribbean Sea in the distance.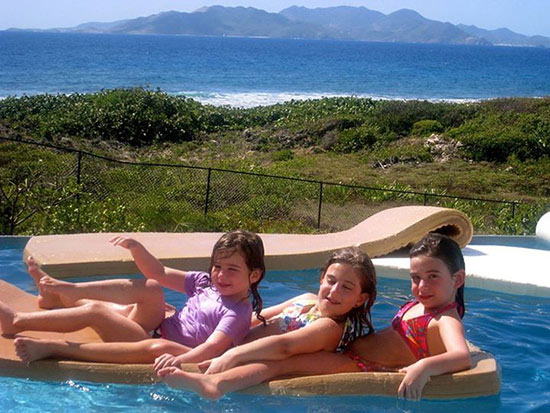 The villa also features luxurious sun loungers, umbrellas, towels and pool rafts.
The Kind Company & Endless Service
When it comes to day-to-day living at Tequila Sunrise, there is one lady who makes everything that much better... Heather.
Long-Term Guest Jennifer with her Family & Heather

With a warm, sweet spirit, you take to Heather right away.
Each and every day of your stay, Heather takes care of you, making you feel right at home. From preparing breakfast in the morning, to taking care of your laundry, to making the beds and cleaning the villa, she goes above and beyond.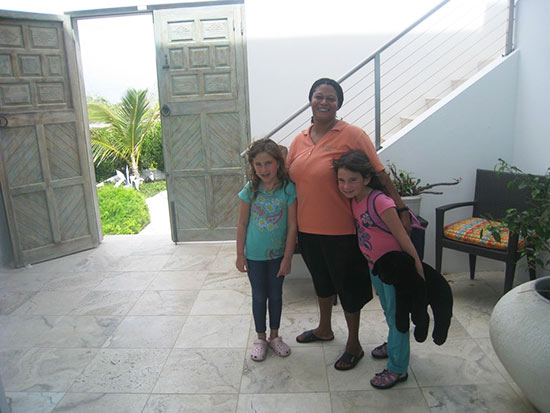 Billy The Billy Goat!
We can't forget to mention the villa's mascot...
Billy!

An adorable stuffed goat, it's hard to not fall for Billy.

Originally from New Jersey, Billy moved to Anguilla when Robin and Joel opened Tequila Sunrise. Since then? He has been all over the island. You can read more about Billy and his adventures with guests around Anguilla, here.
The Beach
From the pool, to the gourmet kitchen, to the TV with endless channels, there are many ways to spend your day at Tequila Sunrise.
Perhaps the best way of all? At the beach!
Dropsey Bay (also known as Lovers' Cove), a quiet little cove facing south to St. Martin, over the Caribbean Sea is just a two minute walk away.
Tranquil, with barely a ripple on the surface of this tiny inlet, it has the best beginner snorkeling on the island. Tequila Sunrise has floaties, life jackets, beach chairs, umbrellas and coolers all available in the villa for you to use on the beach.
Owner Joel Globus Snorkeling at Dropsey Bay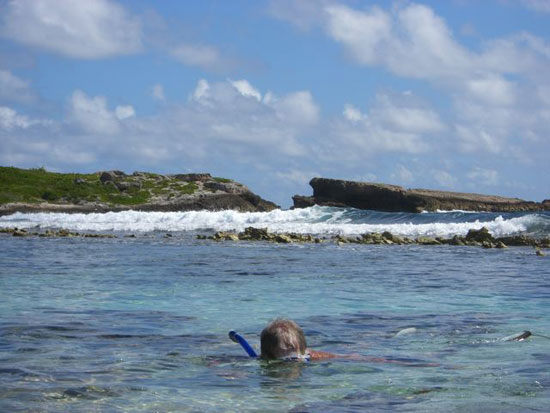 Tip: The best hours for snorkeling at Dropsey Bay are in the morning up to mid-afternoon during high tide. By late afternoon certain reefs become too shallow to snorkel. Save the late afternoon visits for enjoying the sunset! :-)
Even More!...
Once the sun goes down and the kids are tucked up in bed? It's time for a drink or two with Tequila Sunrise's signature amenity... unlimited Patron served at 8°!
The villa also boasts free calls to the US and Canada, a mobile phone for use on-island and 24 hour concierge service. They will also meet you when you arrive in Anguilla and bring you "home" to Tequila Sunrise.
From start to finish, Tequila Sunrise takes care of every worry and concern, delivering relaxing and luxurious vacations at very reasonable rates.
Time together in a luxurious home and a picture-perfect destination, where exploring and adventuring is plenty (and safe!).. this is what family vacations at Tequila Sunrise are made of.
And, I'm not the only one who thinks so. ;-)
Jennifer and Lorne are repeat Tequila Sunrise Villa guests who have indeed fallen in love with Heather, the villa and everything it offers. Long-term visitors to Anguilla, they return year upon year with their children and parents.
Jennifer, Lorne and Their Family Outside Tequila Sunrise
with the Talented Omari Banks

Tequila Sunrise is special to us for many reasons. Besides getting married at Tequila Sunrise Villa on Lovers' Cove we always look forward to coming back for the beautiful views, breathtaking beaches, stunning infinity pool overlooking St. Martin and you can't beat the world class service from Heather and the entire staff. My personal favorites are the outdoor shower, the Patron machine and last but not least Billy!
Tequila Sunrise Villa is the most beautiful place we have vacationed. We truly feel lucky to have had and continue to have the opportunity to come back.
-Jennifer & Lorne
... there you have it! :-)
Now, you can celebrate Thanksgiving with the whole family at Tequila Sunrise Villa with their Thanksgiving Special!...
Tequila Sunrise Villa is offering a mouthwatering Thanksgiving Special for direct bookings during the holiday. A private chef will prepare and serve a traditional Thanksgiving Dinner dinner for 2BR ($943/night) or 3 BR ($1,158/night) 1-week booking between 11/22-11/29.
For more information, contact owner Joel Globus direct below...