Viceroy Anguilla Resort
by Mike
(San Francisco, USA)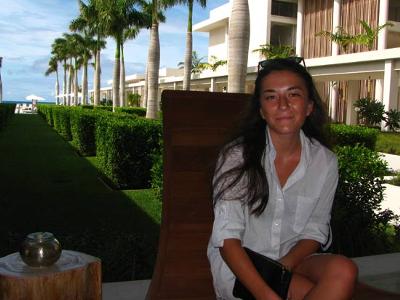 The Entrace at Viceroy
First of all, spectacular site! You're providing a great service to Anguilla - especially to the local businesses. I think your reviews are down to earth and exactly what people who have never been to Anguilla (like myself) are looking for. You're clearly passionate about the place and it shows. I have no idea if you're too busy to give me a quick answer to a couple questions I have - and if you are, no worries at all.

I made the last minute decision to head to Anguilla during the week of Aug 23rd. I know its the off season, but in a way that appeals to me. I've never been to Anguilla before, and I've narrowed it down to three hotels: the Viceroy, CuisinArt and the Cap Juluca.

There's plenty of info on the CuisinArt and Cap Juluca - including your overviews, which were very helpful, but there is not a lot out there on the Viceroy as it is so new. I wanted to see if you had been over there yet and if you have any opinion or heard anything from others that are knowledgeable about the island.

The second question I have is regarding a ferry over from St. Maarten. The issue we've got is that our flight doesn't land until 7:50 pm (we are coming in from San Francisco, so getting in earlier isn't an option). By what I've read, it looks like our only option would be a private ferry for nearly $500.

I'm fine paying that if that's our only option, but it would be great if there was some other way over. If you have any suggestions it would be very helpful.

Thanks Nori, keep up the great work!

Best,
Mike

Nori's Reply: Mike, thank you so much for your kind words! I am so glad to hear that my stories have been so helpful.

I've uploaded some photos of Viceroy to round out your report.


You will love Anguilla in the off season. It is ever so tranquil at the end of August. You are well into peak hurricane season (end-August/September/early October). Keep your eye on stormpulse.com. It has almost become a sport for my parents to watch this site and see what is forming off the coast of Africa.
Sure, many restaurants do close, but many are still open. Plus, the off season has the hottest hotel deals!
In terms of Anguilla hotels and Anguilla resorts...
Cap Juluca
has the most unique feel. With Moorish architecture, and a beach virtually all their own, you feel worlds away. This Anguilla resort was built in the 1980s. They recently renovated the exterior of the resort and it's spectacular. The rooms are a bit rustic for the cost, though. They are currently closed and undergoing further renovations to polish and finish up those rustic interiors. It will once again be the jewel of Anguilla.
CuisinArt
feels more familiar, with Four Seasons-type/North American high-end furnishings and architecture. It has been our favorite high-end hotel when we stayed here (before moving here).
Their restaurant is one of the best "resort restaurants," featuring the freshest vegetables grown in their on-site hydroponic gardens. They are on one of the best big beaches in Anguilla, Rendezvous Bay. Breakfast on your terrace is special.
Viceroy is the latest addition to the five star Anguilla resorts. Viceroy opened late in 2009. They were off to a rough start over that Christmas season. They have, though, been ironing out the kinks, refining the details, bringing in new management teams.
They took me on a complete tour of the facility and I must say it is much nicer than I originally thought. When it was being built, it looked like this huge concrete jungle.
But now, this Anguilla resort is visually stunning. The finishings are ultra-high-end, the landscaping extraordinary. I've been remiss in not publishing my complete review on this. I have uploaded some of our Viceroy photos in the meantime.
On a cliff, it straddles two of the best beaches in the world (Meads Bay and Barnes Bay), with the main restaurant and the
Sunset Lounge
in the central area, out on the promontory between the two beaches.
We have gone several times to the Sunset Lounge for a light meal and drinks. A terrific spot with wonderful views and surprisingly good sushi (not up to higher end New York standards, say, but perfectly good). Be sure to try my sister's favorite dish, their spicy shrimp! The Sunset Lounge has quickly become one of our favorite spots.
The resort's location is truly special. The decor is modern. Think Miami. Tall palms sway, the negative edge pool provides cliffside swims with endless views. It is a stylish spot.
Viceroy
had some mixed reviews at the start. But management has listened and improved in many areas. They know how to say "sorry", with generous upgrades. Service is improving. You will be well taken care of. Please do feedback here with your own review if you stay at Viceroy.
My recommendation? Negotiate a villa for a room rate if you can. It's summer and you can get some great deals. If you can land that, take Viceroy.
In terms of your flight to Anguilla, I assume you could not fly to Puerto Rico and arrange a flight with one of Anguilla's smaller airlines that flies to Anguilla a few times per day. Cape Air starts, too, in December, from Puerto Rico. But that's too late for you.
So I'll assume St. Martin was "the only option." Unfortunately, even the $500 private Caribbean charter is not a legal option, as far as I know. I've heard of folks bending the rules, but officially, even the private "taxis" and private charters cannot travel past that time either because Immigration closes after the last ferry to Anguilla comes in. So there's no way in.
Here's the best suggestion:
Take a cab over to the French side and stay at L'Esplanade.
Enjoy an evening on the french side of St. Martin. Then take the public ferry over to Anguilla in the morning. My parents really enjoyed the 2 nights they stayed there (never did an official review, though).
I know it is a drag to not be able to reach your final destination in one day. But making a mini trip of it and experiencing St. Martin on the French side, with exquisite dining for dinner and breakfast isn't all that bad. ;-)
For information on visting St. Maarten and St. Martin, click here
.
Thank you so much again, Mike.
I would love to hear all about your travels to Anguilla when you get home
!
Have a wonderful trip.