Yum Yum Restaurant...
Be Sure To Bring Your Appetite!
Update: Yum Yum has moved to The Strip. They are open 8am to 11 for breakfast. 11:45 to 2pm. 2 to 6:30pm wings and fries only. 6:30-10pm normal food. Closed Wednesday and Sunday.
By: Kirmani Honoré
It was a sad day when La Collena, the funky Mexican restaurant, closed its doors. The good news is this...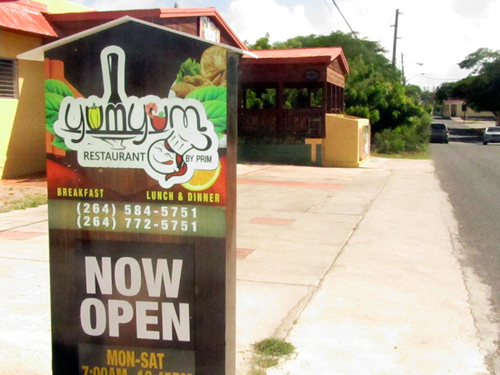 Yum Yum Restaurant has sprung up in his place. Revamped, it is a trendy lunch spot and popular for casual dinner dates. They even serve breakfast! And it's kids-friendly.
Last week, my sister and I decided to grab a light lunch. Conveniently located (in The Valley), we popped over as our stomachs rumbled. We arrived just after the lunch rush hour when everything had calmed down.
The Setting
Yum Yum has kept the general color scheme of its predescessor, La Collena. The tan colored exterior walls and dark brown wooden pillars follow you up the walkway and into the patio area.
Lunch tables and barstools overlook the street from the patio.
The Patio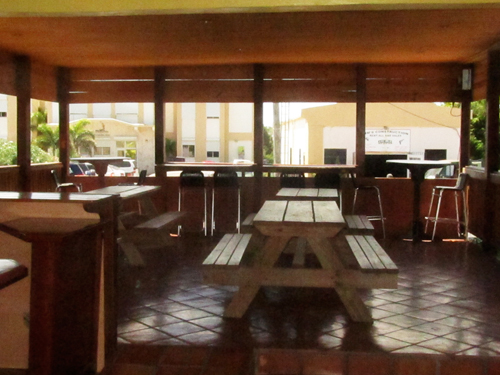 Inside, mint table clothes and stark white chairs complement the bright green walls.
Pretty Interior Color Combinations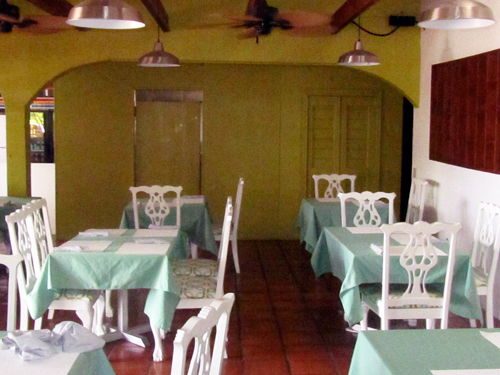 Lights and fans hang from above. Sweet objects adorn the walls and ceiling. From shelves with pretty decorative candles to driftwood above...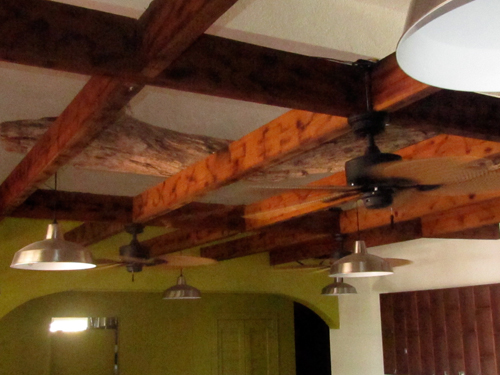 A warm day in Anguilla, we chose to sit outside. With a gentle breeze blowing through, it's the perfect place for enjoying a light lunch at Yum Yum.
The Menu
We were seated and given our menus promptly. The Yum Yum menu is jam-packed with YUM! ;-)
The breakfast menu has everything from sirloin steak and eggs, eggs and salmon, to cereals and even red velvet pancakes
The menu only gets better from there... pastas, full entrees, a myriad of finger foods, including hot-dogs, sandwiches, burgers, wings, even wraps and homemade hummus!
With so many delicious options, it was time for our taste buds to do the thinking.
My sister had her eyes on the Yum Yum Wings... fried wings glazed in Yum Yum's special sauce with a side of blue cheese dip.
Yum, Indeed...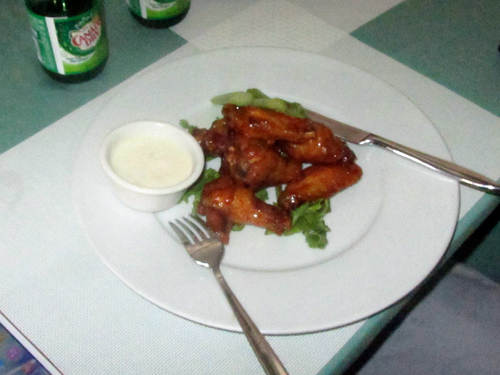 No doubt delicious, even I had to take a bite. They were served piping hot and covered with a sweet sauce that just made us want more.
As for me? Chicken Parmigiana, please. Unfortunately they were fresh out of that. We had just missed the last order that went out with the lunch hour rush. Nachos with meat sauce and gaucamole? Chicken sliders? Margherita pizza? Shot down all three times. Darn! Lunch must have been busy.
But, I didn't give up!
The Cry Baby Burger sounded like something completely different and delicious... on paper. When it arrived, I was amazed.
A towering burger stacked with 5-6 crisp, golden, giant onion rings and packed with spicy mayo came to our table.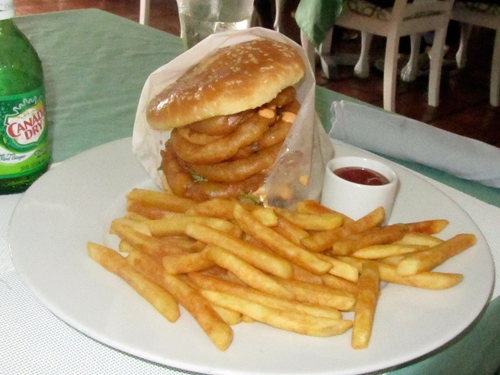 Juicy and delicate to the touch, it was messy. In the midst of the tasty, fried goodness though, that mess didn't seem to matter. ;-)
It hadn't been the "light lunch" I promised myself, but we all have to indulge once in a while. And at Yum Yum, where the menu is indeed yum, you do just that!
Map, Hours & Contact
Directions: Yum Yum is just up the road from Albert Lake's Whole Sale Supermarket on the opposite side of the street.
Hours: 7am-10pm, Mon-Sat
Tel.: 264-584-5751/772-5751