<![endif]-->
An Anguilla Restaurant For Lazy,
Tasty Shoal Bay Afternoons...
Tropical Sunset
Tropical Sunset At A Glance
Tucked away on the quiet side of Shoal Bay East, Tropical Sunset is a top choice if you're seeking relaxation, peace, beach chairs, good food and drinks, and at reasonable prices.
More on Tropical Sunset, below...
Shoal Bay East is loved by all, from CondeNast travel writers, to tourists, to locals. Beauty aside, it has plenty to offer.
Lunch until around 4pm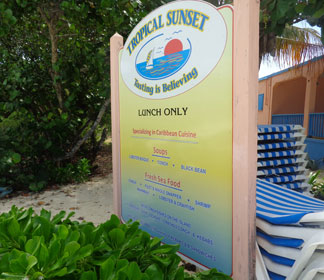 Shoal Bay is a long and wide stretch of beach facing northwest.
The beach has an elbow bend (referred to as "the bend") that leads to another stretch of sand facing northeast.
Here, a completely different but equally amazing view if offered.
Shoal Bay may be the "busiest" beach on the island, which is still "quiet" compared to beaches around the Caribbean.
Many hotels and restaurants line the beach... Madeariman, Shoal Bay Villas , and Uncle Ernie's are a few favorites.

This beach, more than any other beach on Anguilla, has plenty of umbrellas and loungers available for rent.
If you want to enjoy Shoal Bay, have lunch, and enjoy loungers and umbrellas away from the bevy, try Tropical Sunset!
Can't beat a beachfront lunch!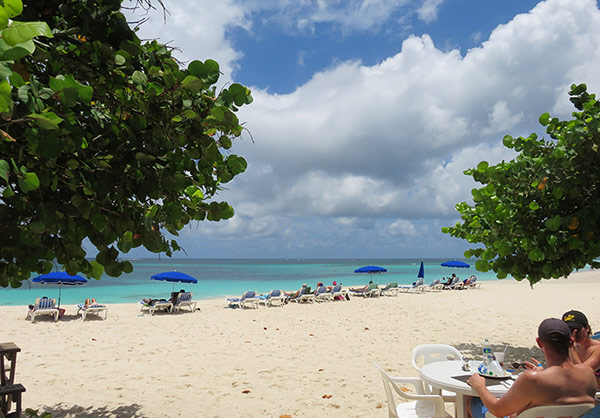 Not only is Tropical Sunset the farthest west on the beach, set apart from the other businesses, they also serve good food.
The menu has a variety of options, from salads and sandwiches (including a hamburger and fish sandwich) to combos (ribs and chicken), to a grilled fish entree and lobster.
Indoor eating area at Tropical Sunset

They also have a daily specials menu that is written on a chalk board.
On it, you'll find items such as crab fritters and coconut crusted snapper.
I should also add that Tropical Sunset has my favorite pina colada on the island.
They make it from scratch and you can taste it! The price is right too, $5 US without rum and $7 US with rum.
The prices in general are fair.
The prices for sandwiches and combos are in the low teen's/twenties in US dollars and the highest priced entree is the lobster at $38 US.
That may be one of the lower priced lobsters I've seen for beachfront dining (with exception to the $5 lobsters you'll see during Anguilla's Festival del Mar).
Fresh Grilled Snapper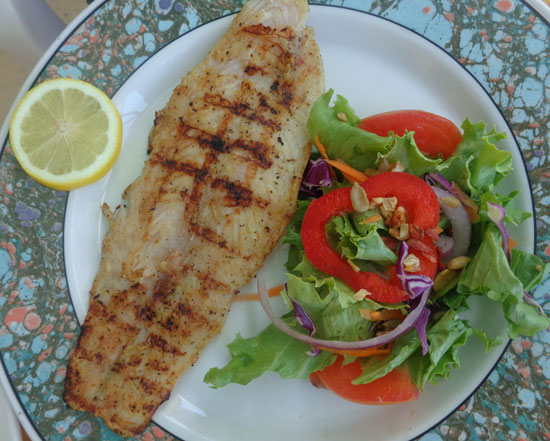 Tropical Sunset is very casual and has an ideal location on Shoal Bay. It's a relaxing way to spend your afternoon... order your food and go for a swim while you wait, have lunch, then nap in the shade of the umbrella. How does it get better than that?
Directions, Hours & Contact
Directions: Tropical Sunset opens around 9:30am and starts closing up shop around 5pm.
To reach it by automobile, drive toward Shoal Bay as though you are going down to Uncle Ernie's. Before you reach the beach, you will see a Tropical Sunset sign on a newly paved road.
Take that left on the paved road and then take a right (which is marked with another sign) and drive down that dirt road to the sea. You can park anywhere and will see Tropical Sunset sitting beautifully amidst the seagrape trees.
The beach is yours!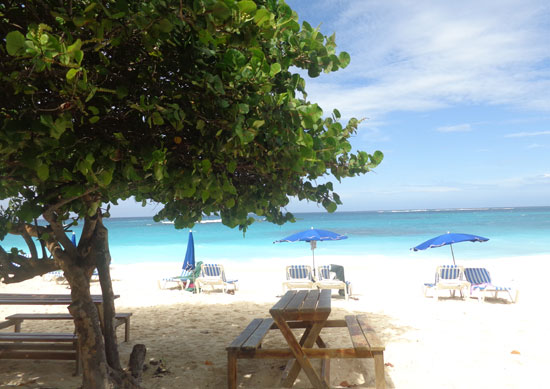 If you are already on Shoal Bay and want to walk, just head west! Tropical Sunset is painted pinkish-peach with blue accents and will have anywhere from 5-8 chair/umbrellas set up along with a few picnic-style tables on the sand.
Relax, enjoy and stick around for the "Tropical Sunset" which you will be able to see off to your left!
Tropical Sunset
Good for a quiet day on Shoal Bay East, Tropical Sunset is tucked away from the busier parts of Shoal Bay.
Hours: Everyday for lunch, 9:30am-5pm.
Tel: 264-497-2076
More Info: Free parking, free WiFi, $10 for 2 beach chairs and 1 umbrella.