Ken and Nori,
Hope all's well up north! I just returned home from a week on Rendezvous Bay, staying at the Great House overlooking the beautiful blue waters of Anguilla. Needless to say, I had, yet again, a wonderful time.
On this trip I did note one thing: changes.
A lot of construction is going on - it's all mainly for Anguilla condos and luxury villas, such as Temenos and its golf course. Also, Cocoloba was taken over and more luxurious Anguilla villas will be built in the resort's place.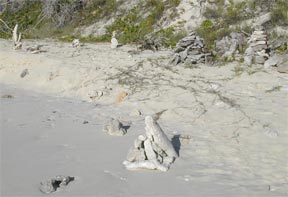 Stonehenge Minor (an old favorite spot), seems to be showing signs of change.
The MAJOR piece of driftwood at its entrance is gone.
Oh well...
Remember Dolphin Fantaseas and Corals (restaurant)? The two were bought out by Dolphins Discovery. The company has brought in more, younger dolphins. Now, they seem to get about 100 people per day almost all from St. Martin and cruise ships.
One thing that did not change however was the eating: it's as great as ever! My wife and I enjoyed wonderful lunches at Smokey's, George's, Tasty's.....
And we tried a few new places for dinner:
Picante, the Mexican restaurant was very good.
Barrel Stay has new ownership (Bob Mazza sold out to Jacquie Ruan and others) and new chef (Graham) with his hostess wife (Jill). My wife and I had both dinner and lunch there and food was excellent. HIGHLY recommended.
Flavour's did not disappoint either - it is now a "steakhouse" (run by Cap Juluca) and is very successful!
And then, we had our usual wonderful dinner experience at Hibernia.
Take good care, have a nice trip yourselves.
Steve Cohen
New Jersey USA
Sounds like Mr. Cohen had a great trip. We're looking forward to great eating, the ocean and the ever-changing Stonehenge!
Thanks for sharing Mr. Cohen - I always look forward to hearing of your most recent trip. It's always greatly appreciated! :-)