Diving In Anguilla...
An Anguilla Dive Journal...
My First Real Dive as a Certified Diver,
Diving Wreck of M/V Commerce
By: Kristin Bourne
Fast forward to early December. I was back in Anguilla on a vacation with my mom. I was staying a few days longer than she was and planned to do my first real dive just after she left.
My feelings about it were so complex. I was excited but hesitant, nervous but thrilled and anxious. Those mix of emotions are sure to give you butterflies in your stomach every time.
I was sharing my excitement and fears leading up to my dive with my friend, Sam.
Dougie is always at the right place at the right time!
This whale sighting is a rare treat in Anguilla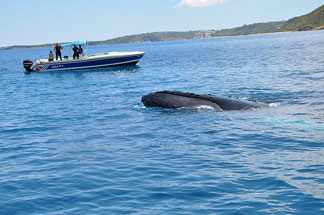 Sam is from Anguilla and has grown up diving.
He told me that he thought that Douglas Carty might be great for me to go out on a dive with.
Douglas, aka Dougie, owns and operates Special 'D' Diving & Charters. He runs his operation out of Sandy Ground.
He is a native of Anguilla and has been diving for most of his life.
The sea around Anguilla is his back yard.
Together, he and Pounkie take you out to the dive sites on the boat "Desha" which is lovingly named after his daughter.
I learned that Dougie has spent years as a divemaster for a P.A.D.I operation and safety is very important to him. I was about to find out exactly how first class he is.
That morning, my friend Sam let me know that he and my friend Christian (yes...the very same Christian as from The Ferryboat Inn) were going to come along for a dive as well.
We drove down to Sandy Ground and parked at Johnno's which is next door to Sammy's BBQ and Special 'D' Diving.
Tip:
Sammy is Dougie's brother. Sammy's BBQ is one of my favorite places to get excellent local food, fresh Wahoo steak, ribs, saltfish, etc.
Dougie's boat was all ready to go at the wharf. We walked straight to the wharf, climbed aboard Desha and were on our way.
This is where you leave from when you dive with Dougie...the Sandy Ground wharf
Dougie explained where we were going to dive.
He laid it out like a blueprint, in fact: depths, entrance/exit, condition of the wreck, and let us know what types of sea life we might expect to see on that particular dive.
Since I was an intimidated first time diver, I found that Dougie took away any anxiety I had.
Since I was a solo diver, Dougie was my "dive buddy". That, combined with having my friends Sam and Christian who are experienced, around me! How's that for feeling as comfortable as possible?!
Both Dougie and Pounkie made me feel as secure as possible in what I was about to do.
Pounkie helped me get geared up and made sure I had proper weights. He stayed right there with me on the side of the boat until I was ready to do my backward roll into my first real dive!
Diving the Wreck of the M/V Commerce
It was time, time to do my first backward roll in to the ocean. My friends had already entered the water and were long gone!
I'm pleased to report I did a successful backward roll with Pounkie by my side and Dougie was right there waiting for me in the water.
Pounkie stays on the boat. Dougie and I made our way over to the mooring line and began to follow it down, down, down.
Dougie of Special 'D' Diving & Charters

Down to where though?! We were at the wreck of the M/V Commerce!
The Commerce was sunk intentionally in 1986 to create an artificial reef.
Besides the wreck itself providing interesting hiding places for glorious sea life, the bow actually rests near a natural reef that is home to plenty of fish.
It rests on the northern side of Anguilla not too far from Crocus and Limestone Bays, in case you are checking your map.
Depth of the Commerce, which is about 150 feet long, ranges from 60 feet to 80 feet, as it sits on a slope.
Those depths would be a grand new adventure for me since I had only been to 30 feet when I did my open water certification.
I held Dougie's hand and as we started our descent to the Commerce, I had to remember to "clear" my ears every 3 feet.
I discovered that my ears were not extremely cooperative.
Dougie was right there with me as I managed the issue. He kept his eyes on me and was making sure I was comfortable with the pressure in my ears before further descent.
I know how impatient I was feeling since I just wanted to get down to the star of the show. I also must admit, the surface, or close to it, is the most intimidating part of diving for me I've found. So that is another reason that I wanted to get closer to the bottom and the wreck...
I was impressed with Dougie's patience. Our descent was not quick (or should I say, normal) due to my ears and the pressure in them. The good news is that patience pays off! Once I reached a certain depth, my ears gave in and we were then able to get to the good stuff.
As we started swimming down in a more head-first fashion, my ears were cooperating, and we were getting farther from the surface so the water was clearing up a bit. I then saw some barracuda "hovering" nearby and I saw some big bubbles pass by.
Those bubbles were coming from Sam and Christian... There were my friends! An exciting sight to see since I'm used to only seeing them on land ;-)
Diving in Anguilla, you will see enormous lobsters!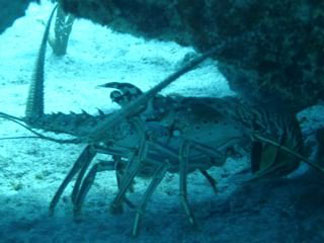 Just as I noticed them I start seeing the dark silhouette of this huge ship behind them, sitting on the bottom of the sea.
Butterflies in my stomach again!
It was so eerie and intimidating (there's that word again!) but I was excited to have this experience under my belt.
When Dougie and I were close to the wreck, we started around it to the right.
Dougie had told us to be on the lookout for African pompano fish. Sure enough! Right away, there were several, shiny, silvery, graceful, flat African Pompano. They were kind enough to stick close and give us a good look. Beautiful!
I couldn't move my eyes around fast enough. I wanted to see everything and not miss anything!
Tough to do with Dougie nearby, he sees everything and points out things you would never see anyway. His eyes are like lasers under the water!!
I saw so many fish: large and small, mostly very colorful. I loved the feeling of moving right along with them.
I also saw how advanced my friends were at diving. Sam encouraged me to do one of my skills in taking my mask off, putting it back on, and clearing it. I didn't as I was too chicken, but he did it. Old pro.
People will tell you that Dougie hardly uses any air. I haven't looked at his gauge to see if this is true but I believe it based what I've seen from him. Not only is he very professional, he is talented.
When it was time to start making our way back up to the boat, I was sad.
I could have stayed down there all day! It was like a dream. A good dream!
The ascent up the mooring line was better that the descent was on my ears, of course. I could feel the pressure releasing and I know now that I am someone who might always have ear issues when diving.
Settling up back at the Sandy Ground wharf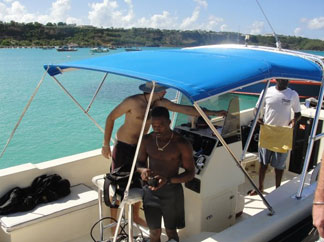 That's ok as long as I can still dive!
Our "decompression stop" or "safety stop" was another new and interesting moment for me.
Dougie stopped us at the proper depth. As we held on to the rope, I was looking around me, still straining to see anything and everything I could.
If you dive, you know at that depth you may only see a large random fish or two pass by. I didn't realize that so much until I starting diving.
I was looking away from Dougie and then I remember thinking suddenly that he must be joking around and pulling on the already taut rope. I felt some kind of a "pull."
I looked over over at him and he didn't appear to be phased by anything at that moment. He wasn't pulling on the rope or doing anything of the sort!
After a minute, I realize what I am feeling is current. The current had changed from when we went in, I guess. That was so cool! It was a very cool ending to a very cool adventure.
I'm forever grateful for Sam having suggested entertaining a dive with Dougie. He goes out of his way to ensure safety, comfort, fun, and he maximizes a dive by pointing out so many incredible things you may not notice on your own. Who could ask for more?
M/V Commerce
northern coast of Anguilla between Crocus and Limestone Bays
60 - 80 feet deep
150 feet long
Expect to see large lobsters, eels, larger fish schools, spadefish, barracuda, hoggfish