Diving In Anguilla...
An Anguilla Dive Journal...
Summer Diving & Two Dives in One Day,
Stingray Dive and Frenchman's Reef
By: Kristin Bourne
Late summer arrives and it's time for another trip and another dive in Anguilla! This time was my first time visiting for Anguilla Carnival.
I had let some of my friends that live in Anguilla know that I was coming. My friend Gert-Jan suggested we do an Anguilla dive while I was visiting. He always went diving with his wife, but since she was pregnant at the time, that allowed for me to have a dive buddy in Gert-Jan.
I promised to babysit after they had their baby so they could both go diving together again ;-)
He told me he would check Marjon's availability and we would go out for a dive soon.
This would be my first time doing a real dive with Marjon of Anguillian Divers. Until this point I had only done my 2 days of Open Water Certification with her. I had not been out on her boat yet!
Anguillian Divers boat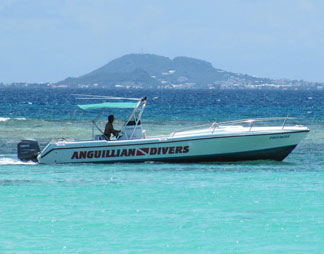 Another new adventure for the day is that we would be doing two dives and I had only done two total, and at two different times. Never had I done two dives in one day.
I met Gert-Jan, Marjon, and Todd (her assistant) at the wharf at Cove Bay on the southern side of Anguilla.
Just as I had done with my first time under the sea, during my first open water certification dive, I had said to myself, "I hope I don't see an octopus on the first time".
Similarly on this day, I told myself that I didn't want to go to a particular site that I knew Marjon went to.
It's a site that you won't find information about on-line as it's a spot many would likely hope remains mostly unknown as to leave it undisturbed.
Lovers of the sea can appreciate this, I'm sure.
We got on board and were quickly on our way to our first dive site, and what do you know? We are headed exactly where I was hoping we wouldn't! I didn't share my thoughts because deep down I knew that it would be just fine and that I would be very likely to enjoy it.
I don't know why I feel more nervous about these things associated with diving. I'm not usually a very easily intimidated person. I guess my newness to diving and being so close to such sea life is part of it. Yet I'm drawn to it because I love the ocean, I'm still very respectful of it, and yet still find it all somewhat daunting.
So, we arrive at the site which is a small wreck on the south side of Anguilla. It is known mostly for very friendly, very large stingrays which is why I was semi-hoping that it wouldn't be our destination. I guess you could say I still felt like a diver who just wanted to see "pretty fish" and turtles, not so much giant stingrays.
Marjon on her boat

I gave myself a quick and easy pep-talk and went to the back of the boat to check my gear and get ready to meet some big stingrays.
This was the first time I was diving on the south side of Anguilla. I'm not sure if it was this particular day or if it's always this way, but the swells were larger than what I had experienced on my first 2 dives on the north side of Anguilla.
The boat was rocking. Once Gert-Jan and I were in the water, we took our time getting to the anchor line (as there is not a mooring line here).
During our descent Gert-Jan seemed to have felt something as he was looking down toward his leg. He gave me the "ok" sign and we moved on.
I had forewarned both Gert-Jan and Marjon about my ears and what I had experienced with them on my first dives. I told them, they'll be ok it's just a matter of taking my time.
Note: If you are aren't a diver, you should know that once you have pressure in your ears it will not go away until you clear or ascend. For someone like me, this means descent often means baby steps of slight descend/ascend moves in order to maintain an overall descent to bottom.
Naturally, due to my need for a slower descent, Todd and Marjon were already on the bottom. There amidst the wreck I see many, many stingrays gracefully gliding around them.
It's almost as if the rays were a welcoming committee that seemed happy to see Marjon and Todd. It was beautiful.
Can you imagine all of these stingrays floating around you? This is what it is like!
At one point, Todd had two of them doing what I would call a "fly-by" on him. He stood still and held his hand out and two of the larger stingrays were doing laps around the wreck. They would clearly choose to pass right by his hand for a gentle pat. Pretty special.
I was distracted for part of this dive as I kept getting water in my mask, worse than I had before. I was not successful at clearing it, or when I did, the water would get in there again.
Like a good dive buddy friend, Gert-Jan stood with me and watched and waited until I gave him the "ok" sign. After a while he motioned with his mask to shift my mask further down on my face.
One extra-large hiding stingray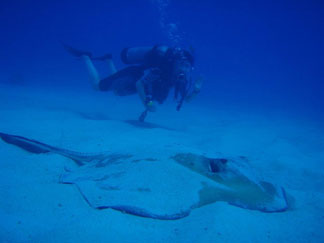 Once I tried that, it helped tremendously. I was so focused on getting the water out I had not thought about completely readjusting my mask.
I was thankful for his pointer and enjoyed the rest of the dive. It was personally a very cool one for me because we were at a spot out from one of my favorite beaches on the island.
Now I would know, as I sit on my favorite beach, that way out beyond, there is a place in the deep where friendly stingrays live.
Anguilla Dive #2... Frenchman's Reef
After we were through with the stingray-friendly dive, we turned the boat west toward our next dive location, Frenchman's Reef!
It is on the western end of Anguilla and is a larger reef. It has rock formations with different types of coral. There is a flat area of the reef at about 30 feet and a drop off to about 80 feet.
Anguilla from anchor at Frenchman's Reef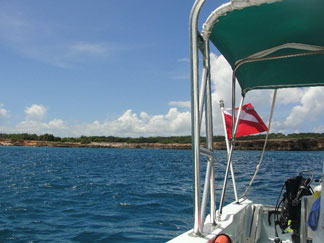 There are ledges there, great for spotting nurse sharks and you can also see plenty of barracuda, lobsters, stingrays, and pretty tropical fish.
We arrived at our destination, which is beautiful by the way, we still had some time left to rest before safely descending again.
As we sat and visited on the boat, the scenery from dive site is majestic.
The western tip of Anguilla reminds me of the Grand Canyon on color. Mind you, I've only seen the Grand Canyon from a airplane.
Anguilla's west end looks carved with earthy layers jutting out of the turquoise sea like a wall of rocky layers.
Beautiful... Not to mention the drive to the dive site. We passed Blue Waters, Cap Juluca, and Cove Castles on Maunday's Bay and Shoal Bay West! Entertainment upon entertainment.
Incredible views from the boat of St. Martin on the way to Frechman's Reef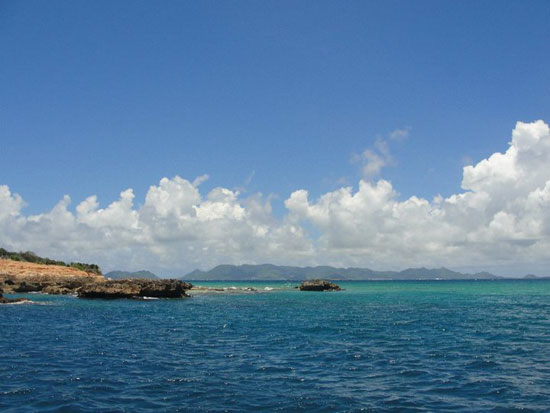 After enough rest, it was time to gear up and go down!
This would be my first dive without a wreck involved in the adventure.
Since my ears tend to give me trouble, I was curious about how a second dive in the same day would effect them.
Marjon explained the underwater layout and directions. I knew I'd be relying on Gert-Jan as my guide since he had been on a dive at Frenchman's Reef before.
Beauty at Frenchman's Reef!

I remember wondering from above the sea, if we would venture close to the shoreline once we were under water, since where we were anchored looked to close to Anguilla itself.
If I recall correctly, we went down using the anchor line once more.
Very fortunately, my ears were much better at adjusting on this second time. That was a great sense of freedom for me to not be held back by any pain in my ears.
Before I knew it, we were there, on the shallow end of the reef.
It was still very full of sunlight and visibility was great. There was a completely different "feel" to this location.
The water was plenty warm, not the usual coolness you feel from deeper water.
Many small fish were all around. The sea fans were gracefully waving in the mild current.
There was an overall golden glow amidst the blue water - beautiful!
Yellowtail Snapper at Frenchman's Reef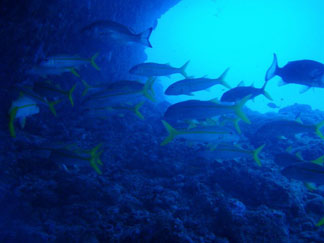 We floated around the ledges and took it all in as we slowly moved deeper.
If you are someone who loves to explore, diving is such a cool way to do it.
I have loved to explore since I was a little kid! Now that I dive, it's like a whole new world to explore.
Granted, I'm "exploring" with a dive buddy and not wandering off solo, there are so many places for your eyes to wonder to as you glide along under the sea.
It was a great day of diving and the boat ride views and company was a bonus.
The only negative was that I left with a slight headache.
I wondered if that was a side-effect of me diving twice in a day... or because I was diving during Anguilla's Carnival week and I had been overexerting myself!
I think the latter! ;-)
I would find out next, as my next dive would be two dives in a day as well!
Frenchman's Reef
western end of Anguilla, just off shore
30 - 80 feet deep
Expect to see stingrays, lobster, barracuda, soft and hard corals, reef fish, nurse sharks