Anguilla Real Estate: The Guide...
Sherricks Bay
Welcome to "no-mans land." And once a no-villa land, too...
This is as close to the Western tip that you can reach by land, without hiking. Hike a vicious trail west and you can reach total seclusion, with a view of Anguillita.
Let's see where we are on the island...
Sherricks Bay can be reached by navigating a maze of semi-sandy roads (generally, take the left fork). Your prize is is a lovely unknown beach with just one villa, and plenty of room for others.
The walk to Lower West End Point, the secluded Western tip, nearly killed my Dad. The walk West starts here.
For an idea of the area, watch the video below...
And if you look to the east, you can see the back of Cove Castle Villas on Shoal Bay West Beach...
Sherricks Bay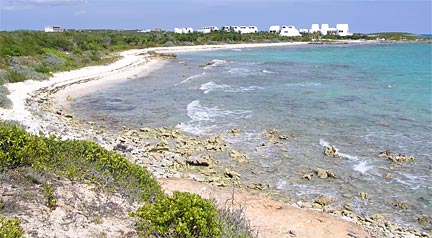 Sherricks Bay is "no-villa" land, although technically one of the Cove Castle villas has been built upon it.
And there are rumors of more to come.
But for now, here's the only Anguilla villa on this deserted sliver of sand...
The fact that it is deserted means there are Anguilla real estate opportuniteis!
Have you tried looking for Anguilla real estate on Shoal Bay West, but came out empty handed? Or simply love seclusion more and turned down Shoal Bay West? If this is the case then you may want to take a look at Sherricks Bay!
The small stretch of sandy beach, with turquoise waters, and the same stunning views out to the mountains of St. Martin, is absolute heaven!
How about a gander at the beautiful bay?
Specks of Sherricks,
You're Right Behind CoveCastle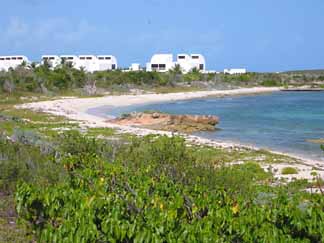 Rocky Front... Your Best Strategy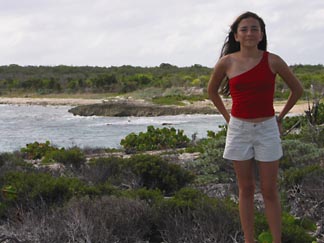 Stunning Sweep... Just You and the Pelicans


The beach really is as remote and pretty as any you'll find in the Caribbean, from Puerto Rico to the A-B-C islands.
So, if you're looking for a secluded piece of Anguilla real estate, with superb views of St. Martin, white sand beach, and peace, then search Sherricks!