Anguilla Real Estate: The Guide...
West End Bay
Welcome to the most overlooked beach in Anguilla, West End Bay. With rich resort beaches and swanky Anguilla villas right next door, you'd think this beach would be well known.
Getting recognition can be tough! However, that spells "opportunity"... sensational land at reasonable prices... both a bit inland as well as seafront. It is an area that is as beautiful as Barnes, but with some truly outstanding Caribbean real estate!
You'll find Anguillians and their families here from time to time. But no one else.
Let's see where we are on the island...
The west end of Anguilla is hot and famous!
Maunday's Bay has Cap Juluca.
Barnes Bay regularly hosts Hollywood stars like Robert deNiro.
Meads Bay boasts Viceroy and Blanchard's Restaurant.
Shoal Bay West has Covecastles and Altamer.
But, amongst all this glitter, West End Bay is tucked away, waiting to be discovered. Or not...
West End Bay


Far in the distance, in the photo above, you can spot the beginning of "mansion lane," AKA Barnes Bay.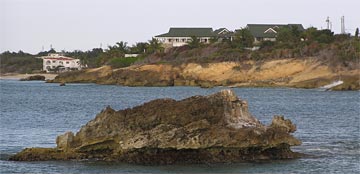 Upon closer inspection, this fabulous Anguilla villa, a mansion in every sense of the word, overlooks both Barnes and West End bays...
Beyond Barnes Bay's glitziest mansion, you can just spy part of Barnes Bay. What views!
Too bad it's not for rent at any price.
While Barnes Bay is lined with opulent villas and mansions owned by the "the winter crowd," West End Bay couldn't be more different...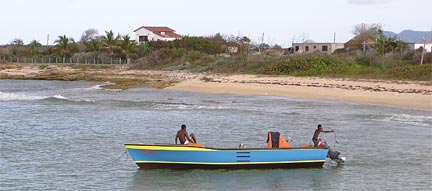 Watch the video below to get a taste of West End Bay...
The beach is dotted with Caribbean style homes, and locals frequent these waters. Whether they're fishing or taking a dip, Anguillians enjoy West End Bay's tranquility.
There is one sensational group of villas on the beach, Indigo Reef Villas...
Indigo Reef Villa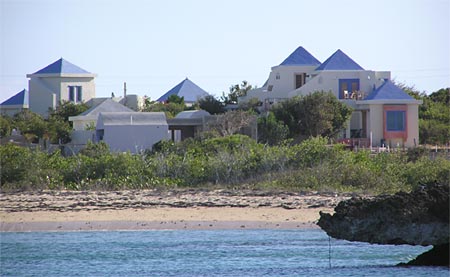 They are privately owned and can be rented.
There are nice and affordable Anguilla real estate opportunities all around Indigo Reef Villa and West End Bay. It's my Dad's "favorite undiscovered beach." Many plots of land for sale are advertised privately (not through an agent).
Let's tour the beach...
The Sweep! Lots of Rocky OceanFront...


Homes on the Rocks...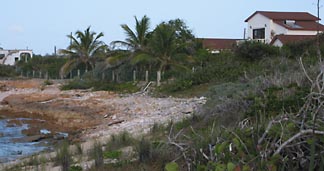 The bay has a good deal of rocky front, perfect for house building by non-Anguillians!
The water is heavenly! Turquoise and warm! Just like Barnes Bay, of course.
And land is available just a bit inland, too...
Secret Little Beach Surrounded by Rocky OceanFront
(Find it and buy it before my dad does!)

Rocky Property at the Far Eastern End
(Green-roofed mansion is at the western end of Barnes)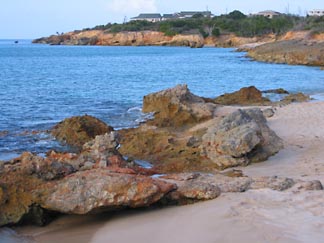 It's a charming, forgotten bay, with ample Anguilla real estate opportunity! No restaurants, no hotels here, but just a few minutes from the best resorts and other charming spots. And the bay speaks for itself.